Book Recommendations/Kitap Önerileri
Hello everyone!
Today I'm back with some book recommendations. I am going to share 4 books with you that I've read and loved. I hope you'll be interested in them too.
Herkese Merhaba!
Bugün sizlere birkaç tane kitap önerisiyle geldim. Çok beğenerek okuduğum 4 tane kitabı size önermek istiyorum. Umarım sizin de ilginizi çekerler.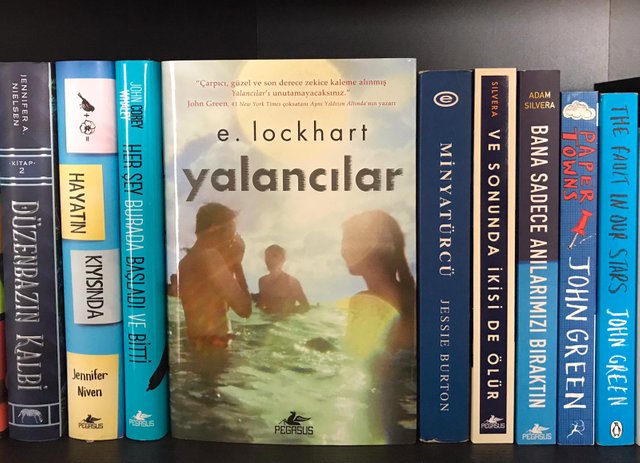 1)We Were Liars - E. Lockhart (Young adult, Psychological thriller)
This is a book I've read last year and it immediately became one of my favorite books. Although it has so many mixed reviews I sided with the people who loved it. If you decide to read this book DO NOT take any spoilers from anyone. I will recommend you to read this book without knowing any information about the plot. Because the plot twist will leave you in shock.
This book follows the story of our main girl Cadence. She and her relatives go to her grandfather's private island every year in the summers. We know that she hit her head on a rock when she was 15 in the sea. That's why her parents don't let her go to the island next year in the summer. She also doesn't remember anything from the accident. She sends messages to her friends and cousins but they never reply. She gets mad at them for not calling her. So when she turns 17 she decides to go back to the island to solve what had happened to her and remember everything. She tries to make her relatives and friends talk and tell her what had happened. And finally learns what had happened.
Yalancılar - E. Lockhart (Genç yetişkin, psikolojik gerilim)
Bu kitabı geçen sene okudum ve hemen en sevdiğim kitapların arasına girdi. Bu kitabı okuyanların yarısı çok beğendiğini yarısı ise hiç beğenmediğini söylüyor ama ben çok sevenlerin tarafındayım. Eğer bu kitabı okumaya karar verirseniz sakın kimseden kitap hakkında bilgi almayın çünkü kitapta sizi aşırı şaşırtacak bir ters köşe bekliyor.
Kitap ana karakterimiz Cadence'ın hikayesini anlatıyor. Cadence ve akrabaları her yaz büyükbabasının özel adasına tatile gidiyorlar. Cadence 15 yaşındayken denizde kafasını bir kayaya çarpıp kaza geçiriyor ve kaza ile ilgili hiçbir şey hatırlamıyor. Ve kazanın travmasından dolayı ailesi bir sonraki yaz adaya gitmesine izin vermiyorlar. Arkadaşları ve kuzenlerine mesaj yazıyor ama cevap alamıyor. Ve onu hiç aramadıkları için de onlara sinirleniyor. Bu yüzden Cadence 17 yaşına geldiğinde yazın tekrar adaya gidip neler olduğunu çözmeye ve kazayı hatırlamaya çalışıyor. Akraba ve arkadaşlarıyla konuşup onlardan neler olduğunu anlatmalarını istiyor. Ve en sonunda gerçekleri öğreniyor.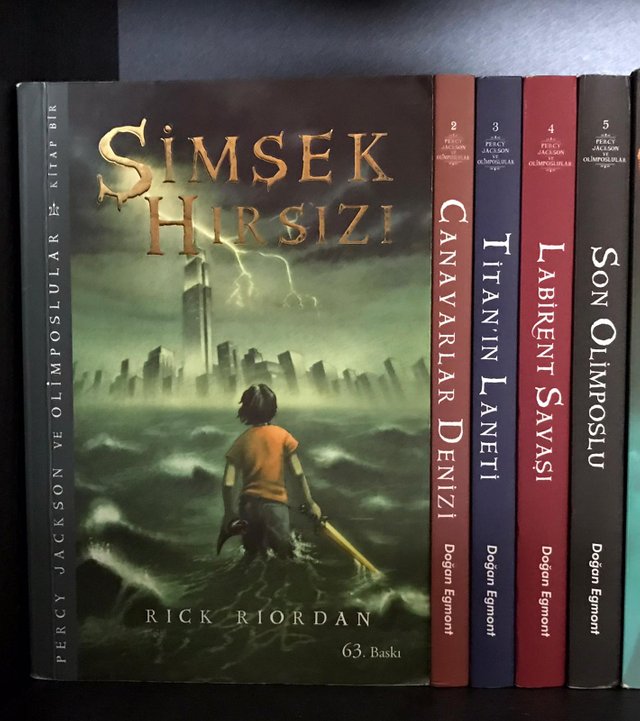 2)Percy Jackson and the Olympians - Rick Riordan (Fantasy, Adventure)
If you like Greek mythology you should definitely pick up this series. This was a book series I've read years ago. This was one of the series that got me into reading. You can suggest this series to your child or younger relatives who don't like reading. This might help them start reading. This series had been made into movies too.
The series has 5 books in total. It follows the story of Percy Jackson who is a half-blood but he's not aware of it. He learns that his father is Poseidon and he gets into a world that he knows nothing about. In the first book of the series (The Lightning Thief) Percy and her two friends have to find Zeus's stolen lightning and prove that he's not a thief.
2)Percy Jackson ve Olimposlular - Rick Riordan (Fantastik, Macera)
Eğer Yunan Mitolojisi ilginizi çekiyor ise bu seriye mutlaka bir şans vermelisiniz. Bu seriyi yıllar önce okumuştum ve bu seri bana okumayı sevdiren kitapların arasındadır. Bu kitabı daha çok okumayı sevmeyen çocuğunuz ya da küçük yaşta akrabanız varsa onlara önerebilirsiniz. Belki onların da okumayı sevmesine yardımcı olabilir. Bu seri aynı zamanda 2 filme de uyarlandı.
Seride toplam 5 kitap var. Kitap karakterimiz melez olduğunu bilmeyen Percy Jackson'ın bunu öğrenmesiyle başlıyor. Percy babasının Poseidon olduğunu öğreniyor ve kendi hiç bilmediği bir dünyanın içinde buluyor. Serinin ilk kitabında (Şimşek Hırsızı) Percy iki arkadaşıyla birlikte Zeus'un çalınan şimşeğini bulup geri getirerek kendisinin bir hırsız olmadığını kanıtlamaya çalışıyor.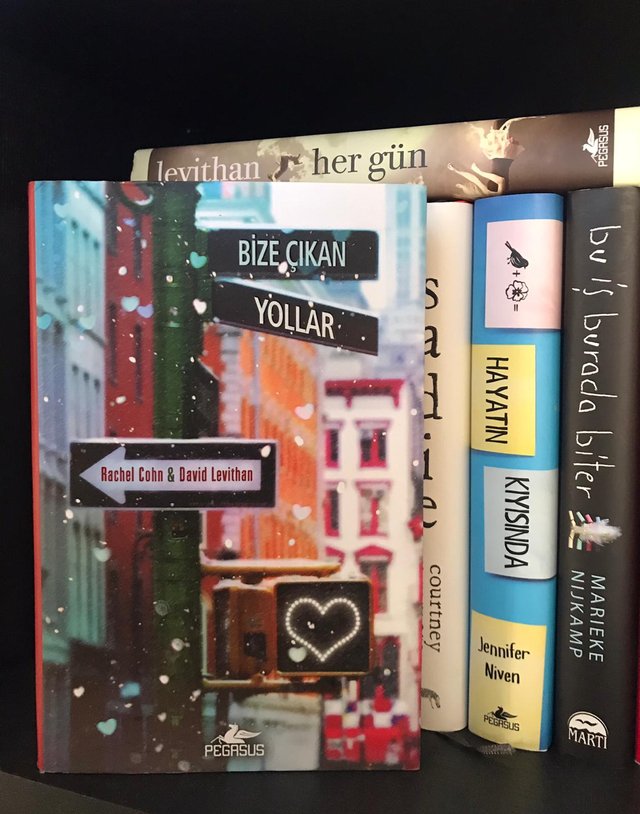 3)Dash and Lily's Book of Dares - Rachel Kohn & David Levithan (Romance fiction)
This was a book I read to take a break from the fantasy series I usually read.
It follows the story of our two characters Dash and Lily. Lily writes some dares on a red cover notebook and puts the notebook on a shelf on her favorite bookshelf in the town. Dash finds the notebook and does the dares and writes his own conditions and leaves to the place Lily described. They continue to communicate through this notebook and fall in love.
3)Bize Çıkan Yollar - Rachel Kohn & David Levithan (Romantik kurgu)
Bu kitabı genelde okuduğum fantastik seriler dışında bir şey okumak istediğim için elime almıştım.
Bu kitap ana karakterlerimiz Lily ve Dash'in hikayesini anlatıyor. Lily kırmızı kapaklı bir deftere birkaç meydan okuma yazarak en sevdiği kitapçının bir rafına bırakıyor. Bu defteri bulan Dash meydan okumaları yerine getirip kendi koşullarını yazıp defteri söylenen yere bırakıyor. Bu defter üzerinden iletişim kurmaya devam edip birbirlerine aşık olma hikayeleri anlatılıyor.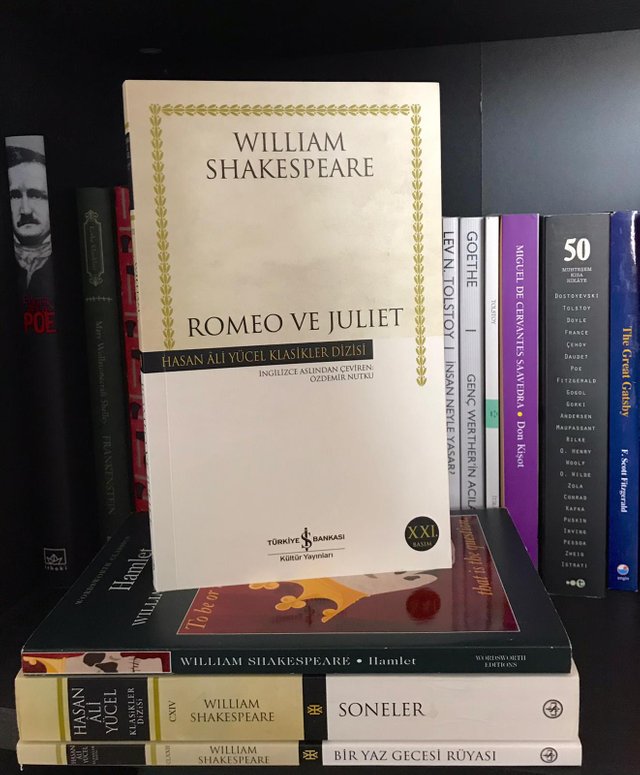 4)Romeo and Juliet - William Shakespeare ( Romance, Tragedy)
I wanted to include this book because we all heard about this book and we all know the story but not all of us have read it. But I think it's a must-read book. The book follows the tragic story about an impossible love between the two children of the families that hate each other. They met by coincidence in a celebration and fell in love. But their families are against it. So they get married without their parent's knowledge. But Romeo kills a family member of the Capulet's and gets exiled.
4)Romeo ve Juliet - William Shakespeare (Romantik, Trajedi)
Bu klasiği buraya eklemek istedim çünkü herkes bu kitabın adını duymuş ve konusunu biliyor olsa da birçoğumuz henüz okumamışızdır. Bence herkesin mutlaka okuması gereken bir kitap. Bu kitap düşman ailelerin çocuklarının birbirine olan imkansız aşklarının trajik hikayesini anlatıyor. Tesadüfen bir kutlamada karşılaşan ikili birbirlerine aşık olurlar ama aileleri bu ilişkiye izin vermeyeceği için gizlice evlenirler. Romeo bir gün Capulet ailesinden birini öldürüp sürgün ediliyor.
Saygılarımla,
Aslı