Local food Competition/Steem Activity Club by @bubbling
Herkese merhaba!
Ülkemizde en çok Akdeniz ve Ege Bölgesinde yetişmekte olan enginar karaciğere çok faydalı ve antioksidan özelliği olan bir besindir. Düzenli olarak tüketildiğinde sindirim ve bağışıklık sistemini güçlendirir. Bugün sizlerle bizim İzmirli olarak çok severek tükettiğimiz "İzmir usulü Enginar Dolması" tarifi paylaşacağım.
Hello everyone!
Artichoke is a beneficial nutrient for the liver and it can be used as an antioxidant. It grows mostly in the Mediterranean and Aegean Region in our country. If you eat it regularly, it will strengthen your digestive and immune system. Today as an Izmirian, I'm going to share the recipe of "Izmir style stuffed artichoke" that we love eating.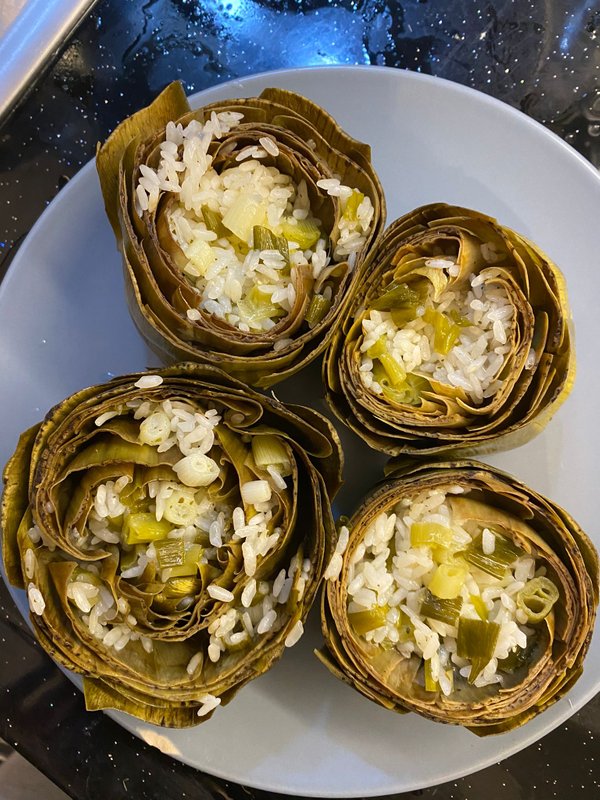 Malzemeler:
4 enginar
1 çay bardağı zeytinyağı
4 yemek kaşığı pirinç
Yarım demet yeşil soğan
1 limon
Yarım çay kaşığı toz şeker
Tuz
Karabiber
Nane
İsteğe bağlı olarak yarım demet maydanoz ve dereotu (Ben sevmediğim için kullanmadım)
Ingredients:

4 artichoke
1 tea glass of olive oil
4 tablespoon of rice
half a bundle of green onion
1 lemon
half teaspoon of granulated sugar
salt
black pepper
mint
(optional) half a bundle of parsley and dill (I don't like them so I didn't use them)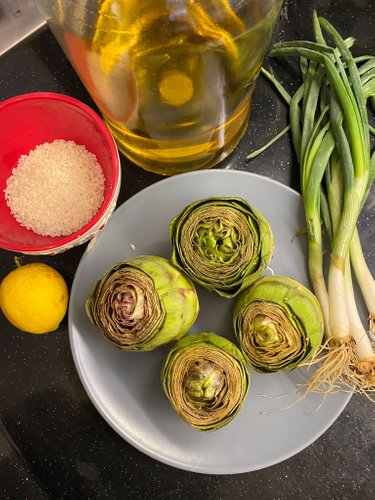 1.Enginarların yapraklarına zarar vermeden iç kısımlarını kaşık ile temizleyelim.
Clean the insides of the artichoke with a spoon without damaging the leaves.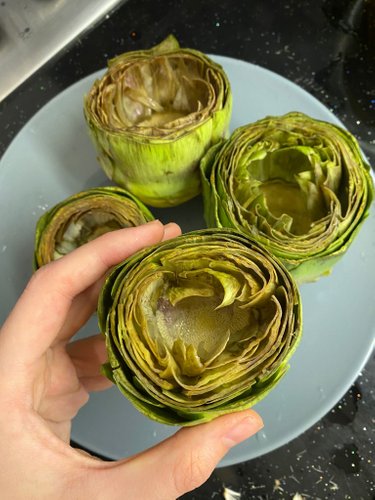 2.Pirinci güzelce yıkayıp süzelim.
2.Wash and strain the rice well.
3.İç harcı için taze soğanı(maydanoz ve dereotunu) doğradıktan sonra yıkayıp süzdüğümüz pirinç ile karıştıralım.
3.Cut the green onions (if you want to add the parsley and dill add them too) and mix them with the rice we washed for the filling.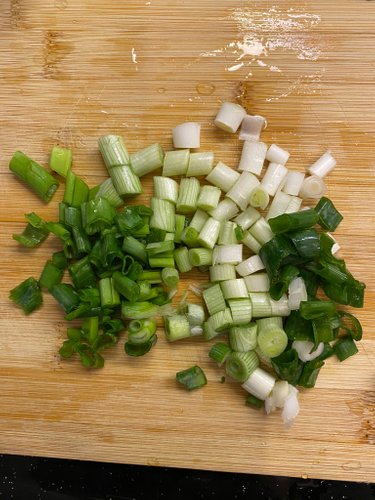 4.Harcın içine toz şeker, baharatlar, yarım limon suyu ve çeyrek çay bardağı zeytinyağını ilave edelim.
4.Add the sugar, seasonings, half of the lemon's water, and one-fourth of the tea glass of olive oil.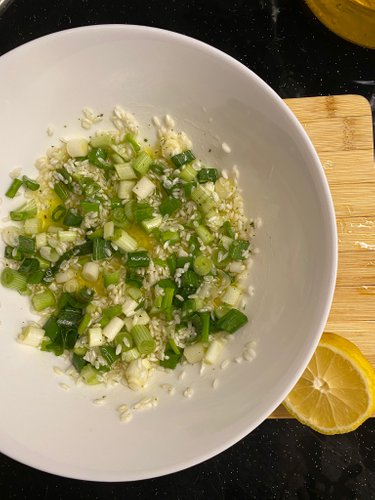 5.Enginarların içini hazırladığımız harç ile dolduralım.
5.Fill the artichokes with the filling we made.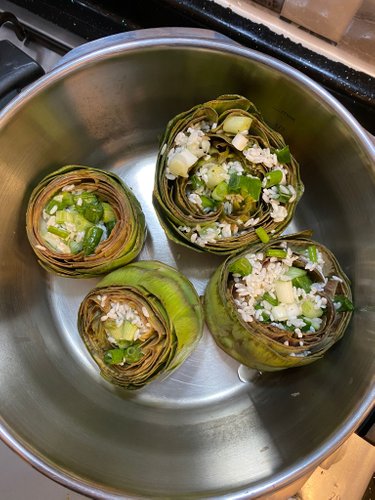 6.Enginarların üzerine yarım limonun suyu ve kalan zeytinyağını ekleyelim.
6.Pour the other half of the lemon water and the rest of the olive oil we have left in the glass on top of the artichokes.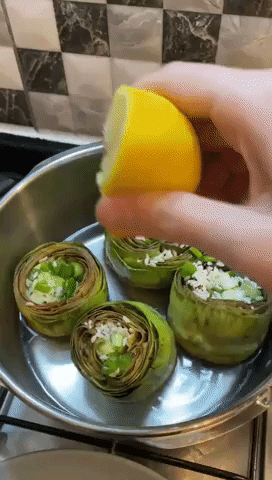 *Ben düdüklü tencere kullandığım için 10 dakikada enginarlarım hazır hale geldi, eğer normal tencerede yapacaksanız biraz daha uzun sürede pişecek ve ortalama 40 dakika pirinçler yumuşayana kadar beklemeniz yeterli olacaktır.
*Because I use a pressure cooker they were ready after 10 minutes but, if you're going to use a regular pot it will take longer for it to cook. It should be ready in around 40 minutes. You should wait for the rice to soften.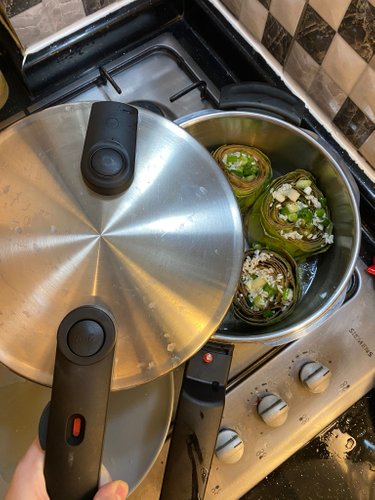 Enginar dolmamız hazır, afiyet olsun! 😊
Our artichoke stuffings are ready, Bon appetit! 😊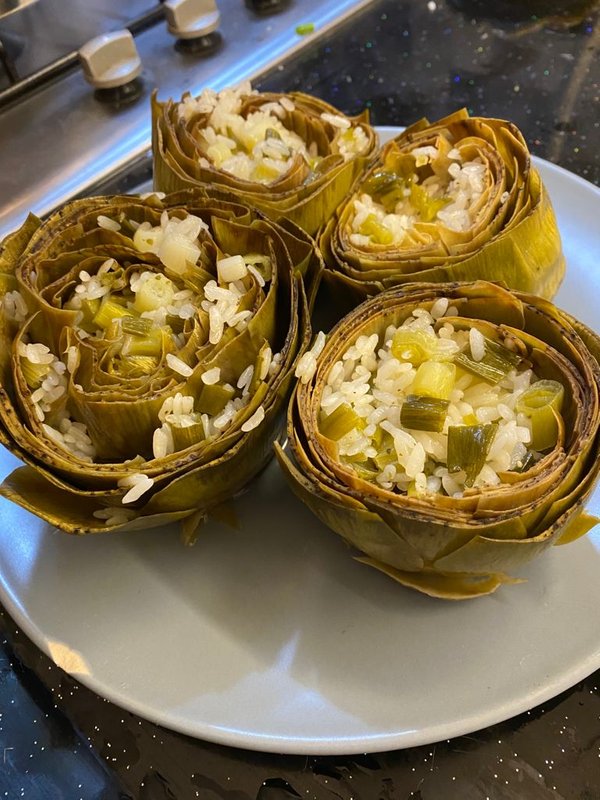 @bircan @biaa @gulfuren sizlerden de güzel yemeklerle yarışmaya katılımınızı bekliyoruz :)
Sevgiler,
Aslı