Welcome To The Steemit Contest Club Community / Steemit Contest Club Topluluğuna Hoşgeldiniz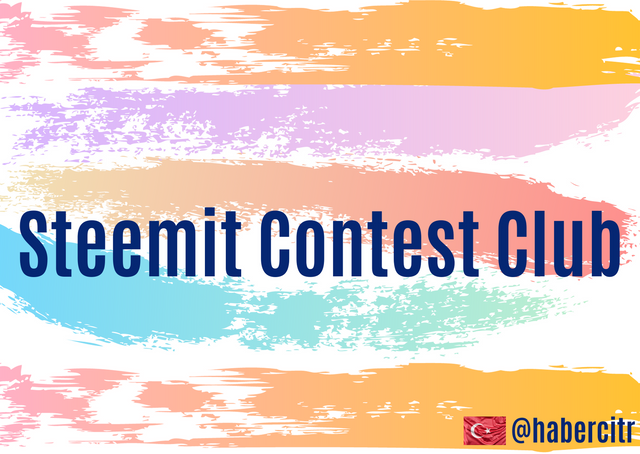 Steemit Contest Club Community;
Hello everyone, I am happy to announce this new community to you.
The aim of our group is to gather all the competitions held on the steemit platform in the same place. I believe that this community, Steemit platform, which I think will make users aware of all competitions, will also come to beautiful places.
I participated in the @steemingcurators team's feedback contest,I mentioned this idea in my submission to the contest. I hope that we will contribute to the newcomers through these competitions.
I am organizing competitions on my @ habercitr account. This community that I think will allow new members to stay in steemit for longer, there will be an opportunity for them to rise. They'll have fun and they'll get rewards from us for strengthening their accounts.
I also serve as moderator of the developing Steemit-Turkey community, steemit contest club is a beautiful step taken in the name of the development of the steemit-Turkey community, which is our main community.
Our community is open to anyone who organizes competitions. I hope that all communities share their competitions in the Steemit constest Club. In this way, it becomes a community where people can easily reach competitions and win beautiful prizes.

Rules ;
We are open to competitions in all languages.
Your content should not contain hoax.
Please specify the source at all images you use in contest posts.
You can share all content entering the competition area.
Tag usage; #steemitcontestclub #scc #contest (sample in whichever country your shipment belongs to; # turkey)

I need your precious thoughts.
THANK YOU!!
Greetings,
habercitr
---
---
Steemit Contest Club Topluluğu;
Merhaba arkadaşlar bu yeni topluluğu sizlere duyurmaktan mutluluk duyuyorum.
Topluluğumuzun amacı steemit platformun da yapılan bütün yarışmaları aynı yerde toplamaktır. Kullanıcıların, bütün yarışmalardan haberi olması adına düşündüğüm bu topluluğun, steemit platforumun da güzel yerelere geleceğine inanıyorum.
@steemingcurators ekibinin geri bildirim yarışmasına katlımıştım, bu fikrimi yarışmaya katıldığım gönderimde belirtmiştim. Umarım yeni gelen üyelere bu yarışmalar sayesinde katkıda bulunuruz.
@habercitr hesabımda yarışmalar düzenlemekteyim. Yeni gelen üyelerin steemit te daha uzun süre tutunmasını düşündüğüm bu topluluk, onlar içinde yükselme adına fırsat olacaktır. Hem eğlenecekler, hem de hesaplarını güçlendirme adına bizlerden ödüller kazanacaklardır.
Gelişmekte olan steemit-turkiye topluluğun da moderatör olarak görev yapmaktayım, steemit contest club ,ana topululuğumuz olan steemit-turkiye topuluğunun gelişmesi adına atılmış güzel bir adımdır.
Topluluğumuz yarışma düzenleyen herkese açıktır. Dilerim ki bütün topluluklar yarışmalarını Steemit constest Club ta paylaşır. Böylece insanların rahatlıkla yarışmalara ulaşacağı ve güzel ödüller kazanacağı bir topluluk haline gelir.

Kurallar ;
Tüm dillerde yapılacak olan yarışmalara açığız.
İçerikleriniz aldatmaca içermemeli.
Yarışma gönderilerin de kullandığınız tüm görseller de kaynak belirtiniz.
Yarışma alanına giren tüm içerikleri paylaşabilirsiniz.
Etiket kullanımı; #steemitcontestclub #scc #contest (gönderiniz hangi ülkeye aitse, Örnek; #turkey)

Değerli düşüncelerinize ihtiyacım var.
TEŞEKKÜR EDERİM!!
Selamlar…
habercitr
---
---
Cc. @steemcurator01, @steemitblog


Cameroon (@njiatanga), Ghana (@njaywan, @oppongk), Nigeria (@bright-obias, @whitestallion, @beautychicks, @focusnow), Uganda (@yohan2on), Mexico (@leveuf), Argentina (@belenguerra, @fendit), Venezuela (@albenis, @inspiracion, @wilmer1988, @adeljose, @anasuleidy, @edlili24, @mariita52, @tocho2), Bangladesh (@rex-sumon, @tarpan, @toufiq777), India (@neerajkr03, @rishabh99946, @sapwood), Indonesia (@anroja, @ernaerningsih, @nazarul, @radjasalman), Italy (@girolamomarotta), Japan (@cryptokannon), Pakistan (@rashid001), Sri Lanka (@besticofinder, @randulakoralage), Italy (@girolamomarotta), Russia (@filinpaul, @knopka145), Turkey (@e-r-k-a-n, @svm038, @alikoc07), Ukraine (@antorv, @olesia) New Zealand (@kiwiscanfly) Latin America ( @belenguerra) @steemchiller.
#steemitcontestclub #scc #contest #steem #steemit #community #steemit-turkiye #turkiye