Our Steem Activity Club Community and Steemit Platform Rules - Reminder - Information.
---
Greetings Steem Activity Club and Dear Steemians.
I would like to share with you our community and some rules on Steemit Platform.
The aim is to build a quality community and ensure that good and quality content is created on the Steemit Platform.
There are some specific rules for this. Our request is to remember and obey these rules.
---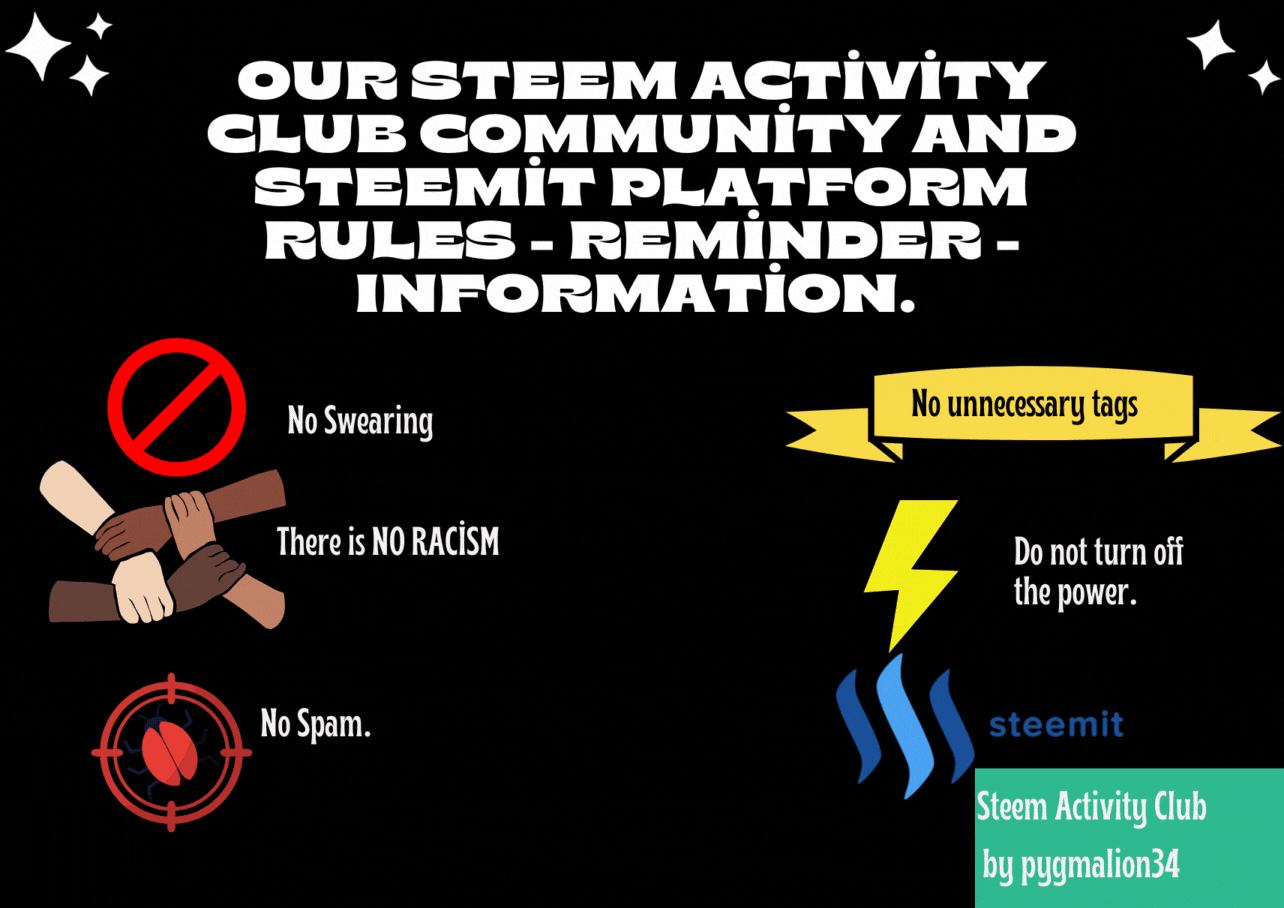 I specially prepared by Canva. Canva
Our Community and General Steemit Platform Rules.
You can share in all languages.
Your content should not be fraudulent.
Please indicate the source of the images you use in your articles and that do not belong to you.
Do not tag Steemcurator01, Steemcurator02 and other curators.
Use the tags of your activities correctly.
Do the success missions of the Steemit Platform. Newcomers' Community
It is important to do Steem Power Up to move the Steemit Platform to better places.
Use of labels; #steemactivityclub #mydailyactivity #activity #thediarygame #steemitexclusive (sample of your shipment from the country to which it belongs; #turkey)
No Profanity, No Racism, pornographic and ridiculous posts are prohibited.
Be active on the community and Steemit platform.
Do not spam in the community and on the Steemit platform.
What you share on the Steemit platform must be self and specific to the Steemit platform.
Those who do not follow the rules will be muted indefinitely.

With our love and respect. Don't forget to support us.
One for all, all for one. Steemit is Unity and Family.

Please Resteem and Upvote. :)
#steemactivityclub
#activity
#steemitexclusive
#contest
#steemit-turkiye
#promo-steem
#mydailyactivity

We always welcome your support positively. All for one, one for all.