Black Acres Of The Gambia: There Will Be An Entire Ulog Written About Them
In this ulog, i spoke about my intention to write an entire ulog dedicated to a growing YouTube channel and enterprise called 'black acres of the Gambia', to publish it on blockchain also as a long term avenue to create awareness to 'blockchain technology'.
Your Boy Terry
I am currently running a kickstarter (crowdfunding) directly on Facebook, whereupon you can support this endeavor with a donation. To become a donor: https://bit.ly/macrohard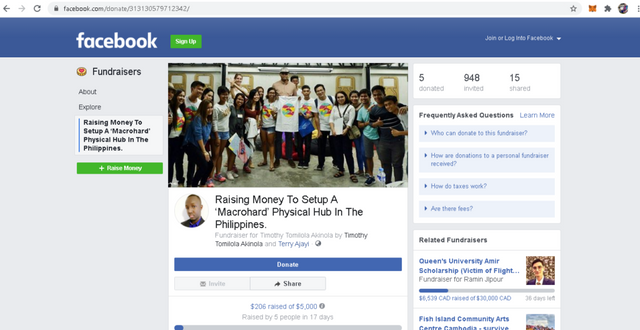 ---
---
Kindly note: To date, i have funded the development of '3 online start-ups' that focuses on the Philippines' audience, up to their 'alpha' stage. You can find an example of these start-ups on 'https://marlians.com'. It currently has 2,000 user-profiles!
'Macrohard' is a physical venture starting out in the Philippines, that will compliment our online ventures.
Value Proposition For Donors:
Where we have a accrued a solid base of '100–500 Hub members' consisting of 'brother-programmers, brother-enterpreneurs, brother-experts', we will look to help build and promote noble projects/initiatives on behalf of our supporters at a minimal cost or for free. For instance, we can dedicate 50-videos from 50-brothers/sisters to propagating your brand or initiative, have someone code your tool/project or have a brother/sister create your brand-graphics etc.
Other ways we would like to help?
We can create an event in the Philippines dedicated to your cause or enterprise.
We can create an online-movement in relation to your enterprise or cause.
etc.
Being a community-inclined initiative, we will focus on empowering youths of the Philippines, emanating 'entrepreneurs and experts' across a variety of industries. Together, we will dynamically produce 'Philippines-borne innovations', impacting the Philippines directly and contributing to the progress of the Philippines in the global eye.
I currently have an online community made up of 5,000 Filipinos, focused on the 'freelancing' industry. At this stage of our evolution, it has become paramount to have a physical rendezvous avenue in the form of a 'hub' to enhance our impact in the physical Philippines.
Note: Another easy way to contribute to our seed-fund now, is by purchasing a t-shirt from our Teespring apparel store.
Proceeds from sales, will also go towards the setup of our Macrohard hub.
Let Us Work Together On Your Challenge

Do well to subscribe to UloggersTV and turn on notifications and whenever you are ready, say 'you have ordeal' or say 'you are seeking the ever-missing piece of your puzzle on any subject or industry, kindly contact me on '[email protected]' and we will work together within the course of one live-stream (dedicated to you), whereupon i will share my insight as a 'legitimate illiterate', share my screen to help you with tangible online resources that can help you further and share the resources that i have, whatever is available. We will find solutions today!
---