Monthly Map Melee March - With February's winners announced.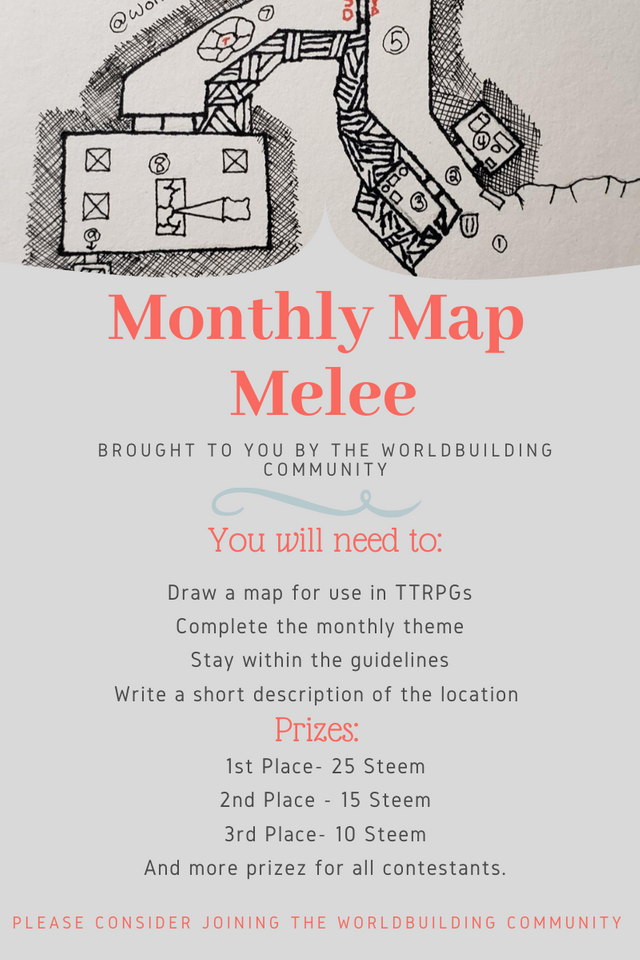 ---
Welcome to the Monthly Map Melee sponsored by the Worldbuilding community where you have the chance to win over 50 steem just by drawing a simple map. The goal of this contest is to help Game Masters from all Tabletop RPG genres to fill up a portfolio of fun and easy to produce maps while simultaneously introducing steemit to one of the most time-consuming parts of the game, world-building. While this can also be one of the most rewarding aspects of the game, it often goes unsung. The bard will sing many tales of the party's glory but never of the GM's. And, damn it, you deserve some recognition for your hard work. We know how many maps are never seen. We have burnt that same midnight oil. We know the pain, but more importantly, we know the pleasure of this hobby and want to spread it to more people in the world.
---
Map Melee Prizes
Main Prize
50 Steem as the total prize pool
1st- 25 Steem
2nd- 15 Steem
3rd- 10 Steem
Additional prizes
10,000 Worldbuilding Tokens (WBT) prize pool
1st- 5,000 WBT
2nd- 2,500 WBT
3rd- 1,500 WBT
Remaining 1,000 WBT will be divided amongst all competitors as a participation prize.
---
What Do You Need To Do?
Draw the map on a grid (paper or digital is accepted. Regular grid paper is fine. If you don't have a grid on your drawing, you will not be penalized for it)
Complete this month's theme (found at the bottom of this list)
Stay within any stipulations (found below the theme)
Must use the tags MapMelee and Worldbuilding
Entrants must leave a comment in this thread with a link to their map. (Either as a link to their blog post or a link to an image of the map in this thread)
Let us know a bit about your map and the ideas behind it
Please consider joining the Worldbuilding Community
---
The Theme For March
The interior layout to a Spaceship.
Must Contain!
Cockpit
Engine Room
Mess Hall / Kitchen
Dormitories for the crew
These are minimum content guidelines, you are more than welcome to go beyond the scope of these stipulations.
---
The contest ends on March 27, 2020.
Contests will end on the last Friday of the month in order to give the judges time to look over all of the entrants. Winners will be selected by 3 Secret Judges that are NOT a part of the Worldbuilding community. The top 3 contestants will have their maps featured in next month's contest with links to both their entry as well as their profile. Payout will be sent within 24 hours of the post announcing the winners of the contest.
---
Here are some examples of some maps for inspiration.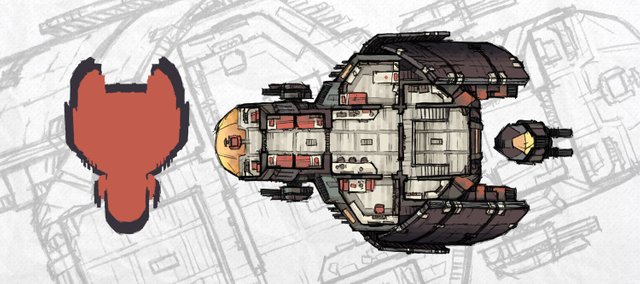 Courtesy of 2minutetabletop.com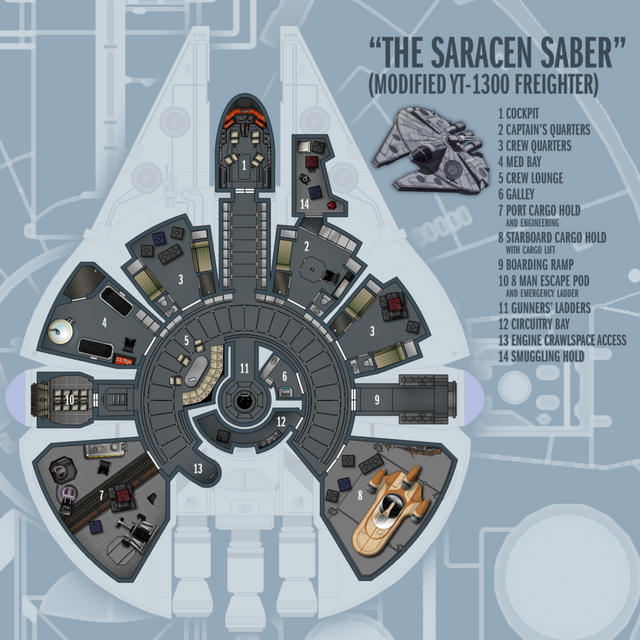 Courtesy of ordofanticus.com
---
---
The worldbuilding community is a new community made by users new to steemit. Unfortunately, we are unable to offer large upvotes or massive amounts of followers, but if you take the time to participate, we know it will grow to be a large community of like-minded writers. Together we can build the foundation for many worlds to spring up on the Steem blockchain. With your writing, these worlds become something you can hold. With your audience, these worlds become alive.
---
---
Announcing The Results Of February's Monthly Map Melee Contest.
3rd place
@brittandjosie's wonderful entry that was a group effort between her kids and herself. It's awesome to see worldbuilding draw in a younger crowd. Their imaginations are full of so much potential to create unique and interesting worlds.
---
2nd place
@manoldonchev's Canyon of Shadows which has an almost isometric view to the map. Very cool to see a bit of 3D effect in the map that allows a better sense of the volume and scale of the complex.
---
1st place
@steemydave's untitled entry. If the artwork doesn't get you, then the short story the post opens with surely will. It's a wonderful example of what a few paragraphs can do to make a place seem like a real place. If I was to be handed just the short story at a session of Dungeons and Dragons I would know that this Game Master understands and is fully committed to the world he is creating.
---
Thank you to all our other entrants, this was a very successful opening round and we look forward to many more contests to come. Prizes will be sent out before 00:01 UTC, March 1st.
---
---