Steem Value Game - Best Steem Value Idea
Hello Steemians and lover's of knowledge.
This post is made in reference to @dobartim contest in @steemvalue community on the topic "Steem Value Idea".
The post is lengthen but I plead you to read to the end, as you will draw much knowledge on how to help play your part to increase Steem value.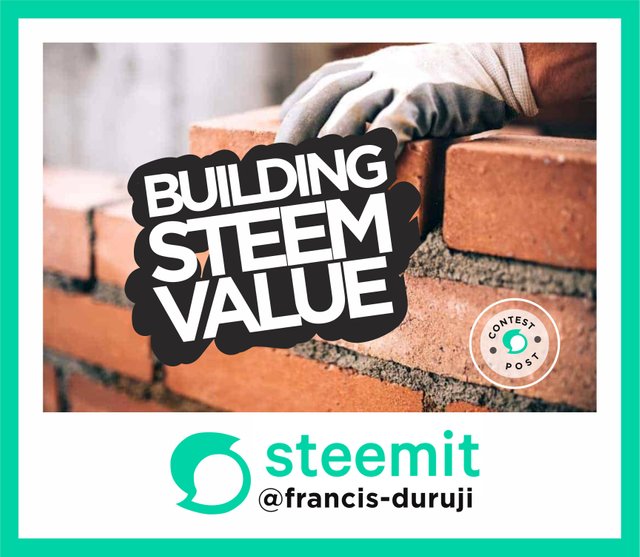 ---
HOW AND WHY I JOINED STEEMIT
Before I joined Steemit on March this year, I was already blogging and building my Facebook page for the website I'm intending to launch soon. The most thing that motivated me in joining this platform is not just that is a social platform but also a paying platform and where you get to meet with as many people as you want to meet across the globe.
---
HOW STEEMIT ADDED VALUE TO MY LIFE
I am a poet, so I write mostly on poems on my Facebook page and other relevant articles too but I have not been rewarded for any and for sure Facebook won't pay you, it only gives you audience.
So, as a young man who wasn't born into a rich family and born into a country with economic melt down, with no plan and future for it's youths, I decided to work it out all for myself. By engaging myself into various kinds of works and mostly importantly on poetry both competitions and on my facebook page.
Knowing and joining Steemit I will say, is the best thing I did for myself and for my poetry life.
For right from this platform I have again more knowledge in regards to my poetry skills. I have learnt from people's poetry too through the poetry contests organized in @steemschools community by @dobartim.
And other knowledge I gained about writing from @belenguerra in @writing&review community in which I have participated in few of her contest.
---
HOW TO HELP BUILD STEEM VALUE
UPVOTING NEW STEEMIANS
According to comment in @stephenkendal contest weeks back on "what you will do with 100 steem, if given to you" https://steemit.com/contest/@francis-duruji/qqi3p3
is to transfer it to Steem power and upvote new Steemians, to help promote and encourage them to stay in Steemit platform.
So, I still maintain that speech and that's what I'm really working on to invest in my Steem power.
If I succeed building a high steem power, I will launch offline training on potential Steemians, bring them to Steemit platform and also support them with upvotes.
Is not easy to create a post and most especially quality ones. Like this post is already taking me almost 3 hours just to gather ideas and write. So when post's (quality ones) come up, try to encourage the writer by giving them upvotes.
ORGANIZING VARIETY OF CONTEST
This idea has been in action even before I joined Steemit with numerous contest over all the communities I have met in Steemit.
Like @davidad, who runs Funny photo's contest on a weekly basis in @worldofxpilar community which I'm a regular participate. So with this contest running every week/day, it motivates Steemians to stay on the platform and by so doing they get to gain more knowledge about the future of Steemit and play their parts to the actualization of the future.
HOSTING OF OFFLINE TRAINING ABOUT STEEMIT PLATFORM
This idea of organizing offline training about Steemit in our locality, is one idea that I know that will help build Steem value rapidly. I'm saying so because I have tried such last year for one online platform in my City and we seen mighty results.
If we can be able to gather at least 10 people in our locality, teach them about Steemit, teach them on the benefits and tell them about the future of steem (where we are seeing Steemit to be in years to come), those 10 people will go out to still tell others, their friends and colleagues and like that Steemit Evangelism have started ooooo. Evangelism isn't just about preaching the word of God but sharing Good news to people.
This is likely to what @mr-greens with his companies account @thegreens is doing in Cameroon.
Here Cameroon Steemit Sensitization Campaign Week 02
@mr-greens can testify of the results and responses he has gotten from this program of his in Cameroon.
---
So with this ideas of mine if pursued will definitely yeild massive fruit for Steemit.
Thank you for reading through.....
Long live STEEMIT
Long live STEEMIT COMMUNITIES
Long live STEEMIT COMMUNITIES FOUNDER
Long live STEEMIT INVESTOR
Long live STEEMIT CURATORS
For the future we see, is not far from us.
Thanks!