What have you been doing over the Christmas holidays? I've been driving around Europe listening to progressive house and drum and bass.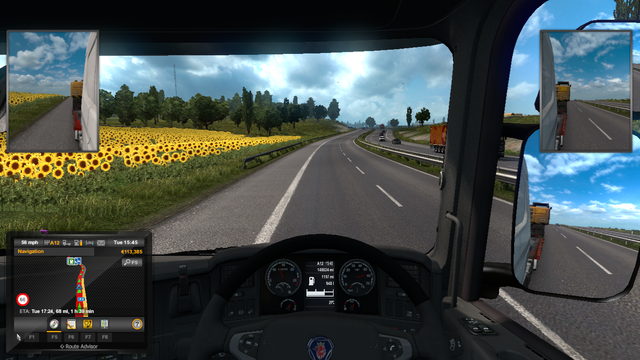 Have you ever seen so many sunflowers in England? Yep, I think the developers of Euro Truck Simulator 2 are from mainland Europe :)
Anyway, this bargain basement game is available on Steam (Not Steem!) for around $5 and has kept me occupied through illness over the festive period. When the person you want to see the most over Christmas has 'plans every day this week with mates', it's the ideal excuse for me to hermit and game.
I have made a personal promise not to consume any beer in January and so finding something else to do instead of nipping to the pub was important. My body hurts from yesterdays workout, but I'm also planning to do far more exercise - there could be a beach holiday come summer and this beer belly needs reducing.
---
Euro Truck Simulator 2
Is mostly played with 4 keys and looks dated, as you can see. Basically, you pick up some cargo and deliver it safely somewhere else. It's so simple to play, but just like driving in real life, not paying attention is the main cause of scrapes, crashes, and fines.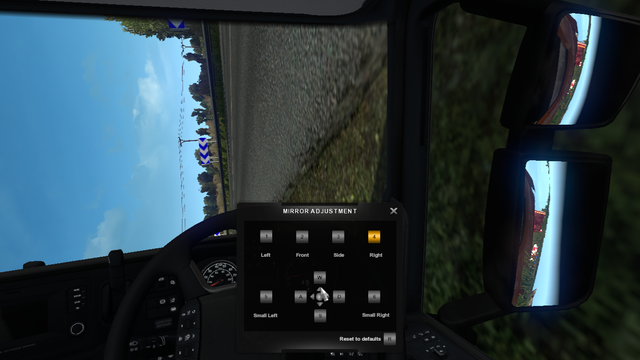 The first screenshot I took :)
I've been fined probably 15 times so far for speeding, and around the same for hitting other vehicles. I've also rolled the truck once, and that wasn't anything to do with other traffic (First day on the job. All in all though, nothing too bad, and certainly not as bad as the scenarios below.....
Occasionally, there will be some lights or cones and then a police car or fire engine parked across the motorway close to the junction off. This indicates that shit has gone down ahead and the junction should not be used. I found this out by going around the car and taking the exit, not realising that on joining the new road that it would be blocked due to an accident.
RTA 1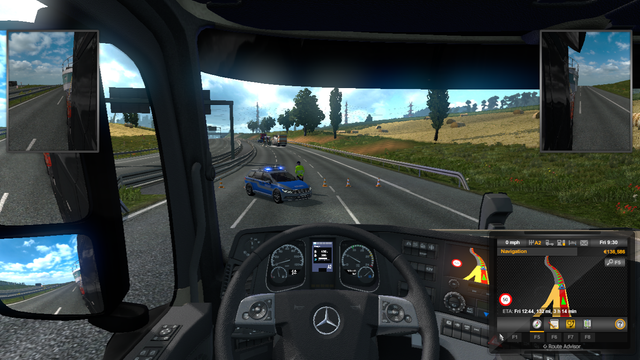 You could fit a truck through there
So the above is what I met after avoiding the 'warning' (Just block the road?) that the motorway would be closed. Maybe though, they wan't you to ignore the warning and come and have a look? The gap on the right looked interesting, and so I made a drive for it (knocking a cone over too).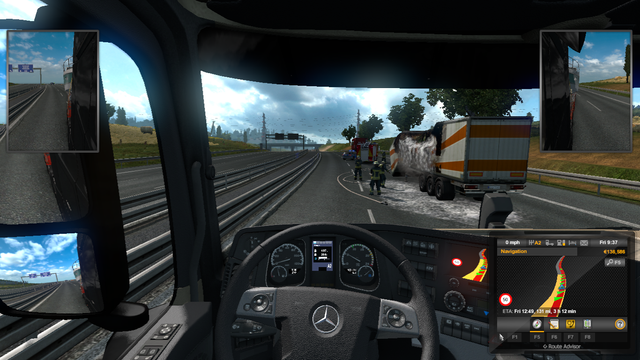 Fire!
Already extinguished - I don't think the game had a kick-starter, and realistic flames cost money. I did think about passing the firemen to the left, but decided to be sensible and go around the right side of the toasted truck.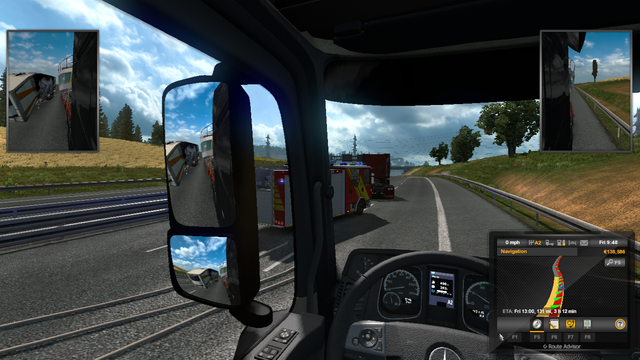 Going around the right side of the toasted truck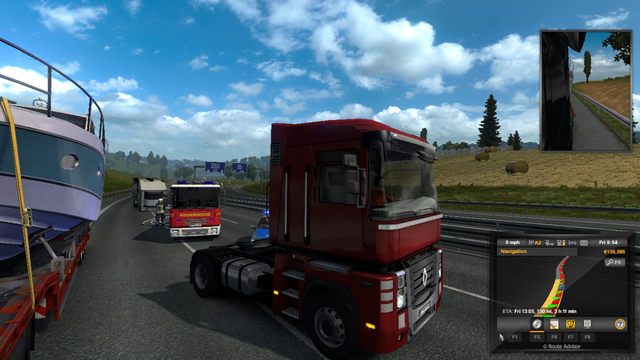 The driver is inside - and he's reading the fucking paper!
Maybe he's not reading the paper, and looking at his insurance coverage. Anyway, at this point I realised (honest) what I was carrying. I tend not to look at the load and just the $$$$, and so I was quite surprised to see what looked like a.....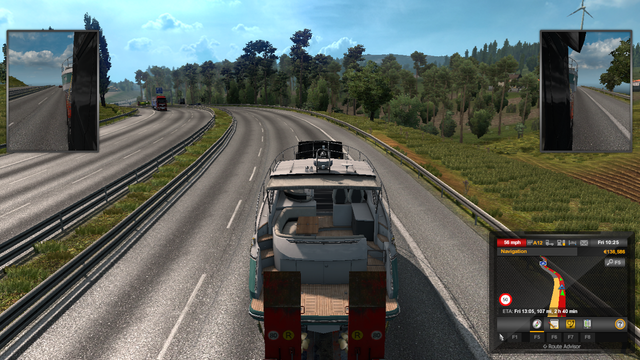 Boat!
No wonder they are paying me $10,000 to go 150 km.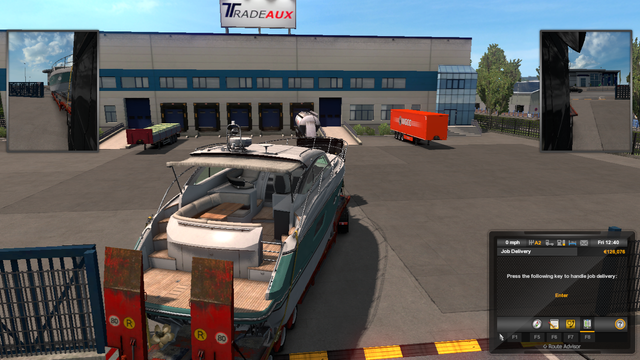 Success
Another shocking parking job, but a successful delivery. And now I can buy some lights to go underneath the truck :D
---
We interrupt this RTA with a little weather.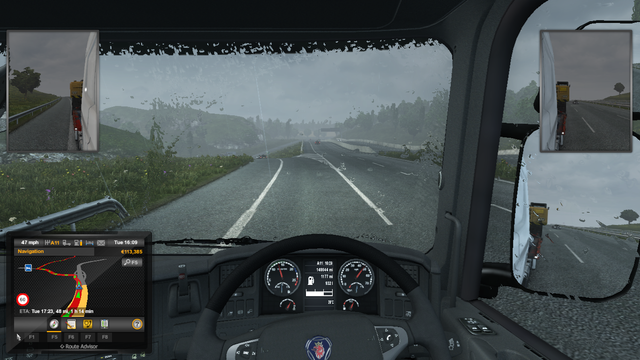 Rain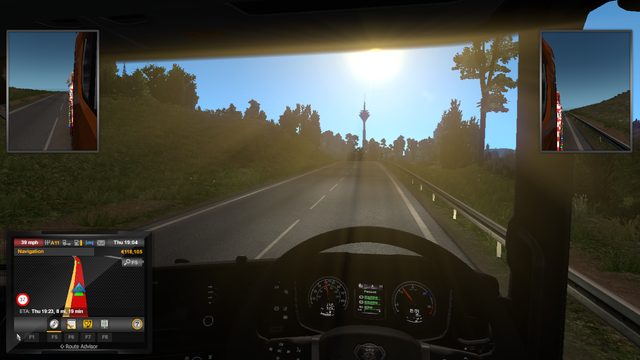 Shine
Both rain and sunshine make it harder to drive but I tend to concentrate more when it's pissing down. I can't afford the sun visor yet but have found the wipers - 3 settings too!
---
RTA 2
This was another incident I passed earlier today and this one looked worse due to the presence airborne paramedics.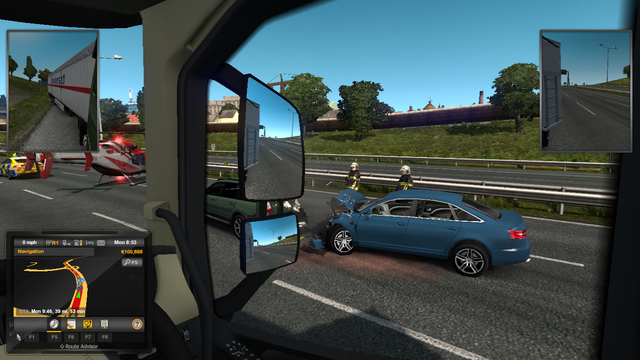 I was putting my make-up on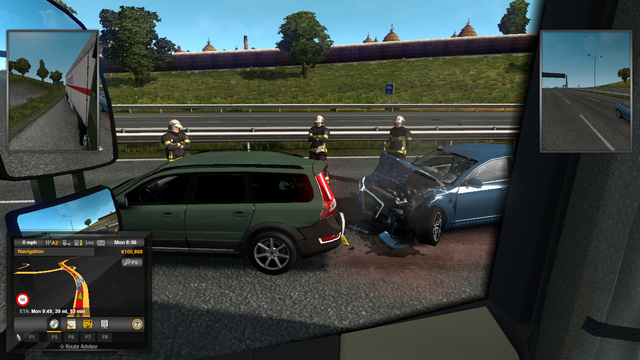 I was on the phone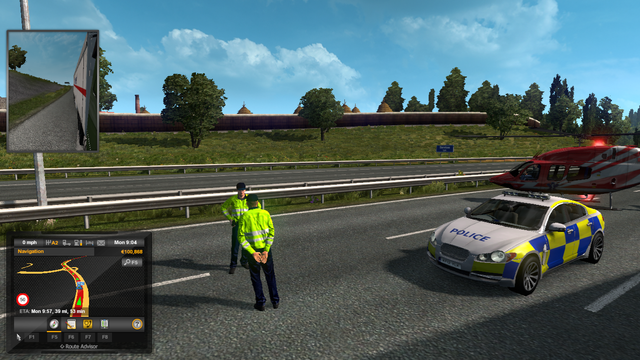 She had her nails done yesterday, 3 might need re-doing
Looks like a low speed shunt, not impressed at all.
I'm not sure how popular this one would be to stream, but could be something to play whilst talking with your audience - at least there would be someone to blame if there was a crash.
---
Have a nice evening all!
Asher