Qwertycoin - Alternative coin for long term investment
Bitcoin is the most expensive digital asset today. To buy bitcoin you need large funds. Therefore, investing in cryptocurrency for those of you who are small investors and are in need of looking for alternative coins. The choice is in Qwertycoin. Qwertycoin is EpoW coin. Egalitarian proof of work coin is an algorithm to QWC.
Users vote for the right order of the transactions, for enabling new features in the protocol and for the honest money supply distribution. Therefore, it is important that during the voting process all participant have equal voting rights.
QWERTYCOIN (QWC)
QWERTYcoin is a true decentralized project. No single institution has a monopoly on the network. In addition, Qwertycoin does not have pre-mining coins.
EPoW To EPoS
Qwertycoin will transition its mining algorithm from EPoW to EPoS after the maximum supply is reached, which is 184.47 billion QWC. This change was made due to the large possibility of energy use and higher transaction costs so that the change to EPoS will minimize energy use and transaction costs. In addition, it is estimated that Qwertycoin users are increasing from the type of mobile gadget. Mobile gadgets require small nodes for synchronization. The EPoS algorithm will answer all these problems.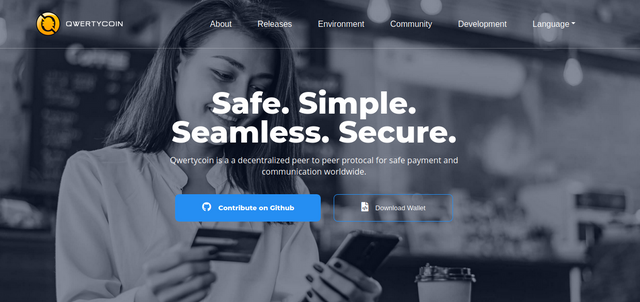 QWERTYCOIN WALLET
Qwertycoin developers have developed various wallets, both mobile wallets and desktop wallets.
To use mobile and web wallet you can visit this wallets
Web Wallet myqwertycoin.com.
Desktop wallets GUI wallets
Windows Wallet win
Mac Mac
Linux Deb
Paper Wallet
Other wallets
other wallet services
EXCHANGES
QWC coin is listed in some exchanges. Here are lists of exchanges where you can buy QWC coins.
COMMUNITY
QWC is supported by an enthusiastic community of developers, miners and holders. Strong community support will be a great asset for QWC to grow. Ypu can visit and join Qwertycoin community Develoment Discussion..
Voting Community.
Qwertycoin will be the next digital asset that will compete with established assets such as bitcoin, dash, ethereum, monero and others. The price of QWC is about $0.000016-$0.000020. It is possible that the QWC price will increase further. To get free QWC, you can also join the bounty job on the bitcointalk QWC bounty.
Qwertycoin official website : Qwertycoin.org
Whitepaper : wp.qwertycoin.org
Doc : doc.qwertycoin.org
Investment opportunities in cryptocurrency are very open. Buying bitcoin requires a lot of cash, investing in altcoins and requires expertise and analysis. With little cash but proper analysis, your profit will be multiplied. Qwertycoin will be your bookmark for alternative coins that you want to diversify your cryptocurrency portfolio.
New coins that have a strong network and are supported by an established community are a consideration for investing or buying coins. Qwertycoin, although new, has a multiplicity as a modern coin. From desktop, web to mobile wallets are also available. In addition there are more than five exchanges that sell and trade QWC for BTC, USD or other coins. Therefore it is not wrong to do research on Qwertycoin as a coin for long-term investment.
PoA : BTT Proof Of Auth