Pan de Azúcar, Río de Janeiro. / Sugarloaf Mountain.
¡Hola! ¿Cómo están?.
Hoy vengo a compartir en esta ocasión un sitio turístico emblemático de la ciudad de Río de Janeiro, Brasil.
Hello, how are you?
Today I come to share on this occasion an emblematic tourist site of the city of Rio de Janeiro, Brazil.
Pan de Azúcar/ Sugarloaf Mountain.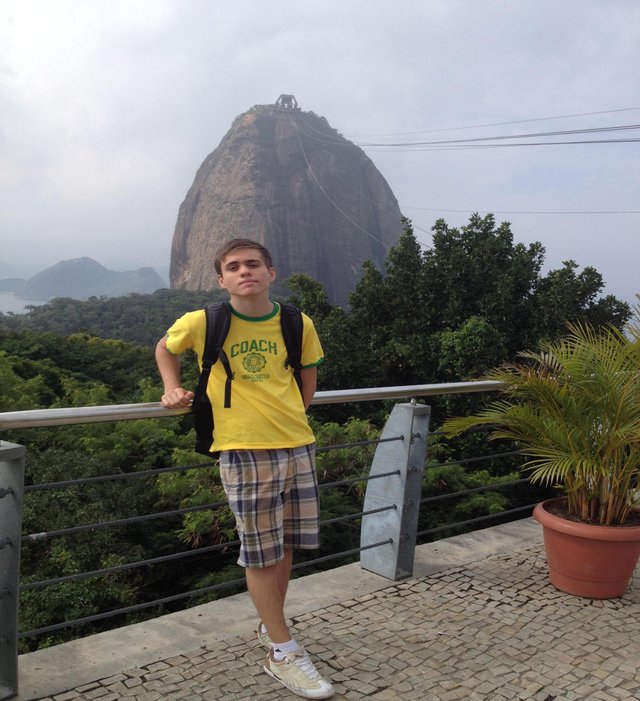 Es un inmenso peñón granítico con forma cónica, tiene una altitud de 750 metros sobre el nivel del mar. De igual manera la forma que tiene en la actualidad se debe a la erosión que ha causado el agua y el viento con el pasar de los años, como también prácticamente no tiene vegetación.
It is a huge granite rock with a conical shape, has an altitude of 750 meters above sea level. Likewise, the shape it has today is due to the erosion caused by water and wind over the years, as well as virtually no vegetation.
El teleférico tiene una capacidad para 65 personas aproximadamente y el trayecto es de unos 1.400 metros. La temperatura promedio en la cima es de alrededor de los 20°C, por lo tanto es bastante fresco y agradable. La cima esta a 396 metros de altura sobre el nivel del mar.
The cable car has a capacity for 65 people and the ride is about 1,400 meters. The average temperature at the top is around 20°C, so it is quite cool and pleasant. The summit is 396 meters above sea level.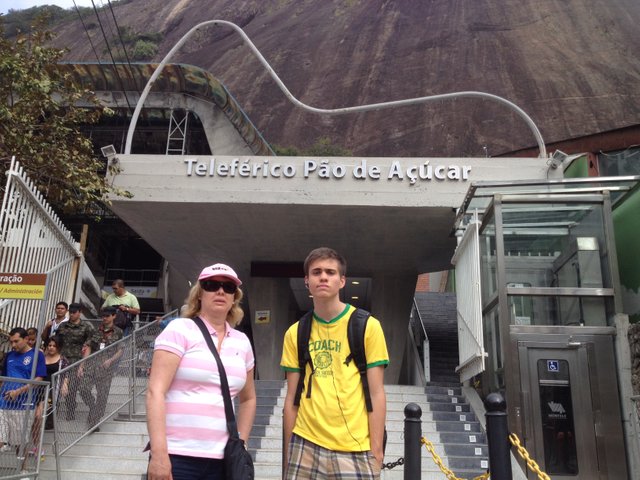 Dentro de sus instalaciones hay locales de comida, bares y tiendas. Vista de la ciudad de Río de Janeiro. Recomiendo venir en días despejados para poder disfrutar del mirador en su máxima plenitud.
Within its facilities there are food stores, bars and stores. View of the city of Rio de Janeiro. I recommend coming on clear days to enjoy the viewpoint at its best.
Bahía de Guanabara, es una bahía que forma parte del Océano Atlántico. En su interior se encuentran un total de 130 islas e islotes, asimismo el aeropuerto principal de la ciudad se ubica en la isla más grande denominada Isla del Gobernador. El Cristo Redentor se puede observar desde el mirador, en lo más alto del pico. De igual forma las playas de Copacabana, Ipanema y Flamengo son visibles.
Guanabara Bay is a bay that is part of the Atlantic Ocean. In its interior are a total of 130 islands and islets, also the main airport of the city is located on the largest island called Governor's Island. Christ the Redeemer can be seen from the viewpoint, at the top of the peak. The beaches of Copacabana, Ipanema and Flamengo are also visible.
Su visita podría considerarse obligatoria para el turista, debido a que el Pan de Azúcar se observa desde casi cualquier punto de la ciudad, en teoría nunca se pierde de vista.
Its visit could be considered obligatory for the tourist, since the Sugar Loaf can be seen from almost any point of the city, in theory it is never lost from sight.
Espero les haya gustado.
Saludos.
I hope you liked it.
Greetings.