Avoid Plagiarism And How To Check Plagiarism In Your Posts?
Plagiarism is strictly prohibited in the steemit.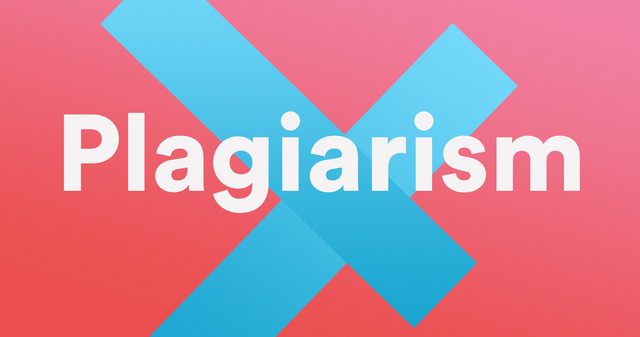 Image-Credit Goes To Grammarly
Today I will tell you some tips and tricks to avoid plagiarism. I will tell you that how you can write your post 100% original and check plagiarism in your post. Sometimes it happens that we write our post but it becomes plagiarism because of some same topics. But you can check plagiarism in your post and make it unique.
What Is Plagiarism?
Plagiarism is a very bad habit and it is worse than stealing anyone's article. It is a crime under specific rules and regulations. Plagiarism means that you have used paragraphs, articles, pictures of anyone without permission.
How To Check Plagiarism In Your Post?
Sometimes it happens that you write your own article but someone claims that your article is plagiarized. You have stolen his article.
It is true it may happen sometimes because of the same topics. But you can avoid this thing by checking plagiarism in your post or article before posting it anywhere especially in the steemit.
There are many online websites through which you can check your post or article whether it is unique or not. But I will tell you about some most popular websites which give you accurate analysis. I also use these websites to check my content. The two most popular websites are given below to check plagiarism in your posts:
I also use these two websites but mostly I used Small Seo Tools to check plagiarism in publications. It really helps me a lot and it may be proved very helpful to you dear steemians to write #plagiarism-free posts.
How To Use These Websites
These are very simple to use with a simple interface and these are user-friendly but you have to face some ads there because they get earning from these ads to run these websites. I will teach you here about Small Seo Tools
Firstly you have to go to https://smallseotools.com/plagiarism-checker/

There you will see a section to paste your article. You have to paste your article simply by copying it.

Now you have to Check Captcha .

After checking captcha you have to click on the button Check Plagiarism

Now this website will check your text and will collect results for your text.
And after the complete process, it will show you results and tell you if your article is unique or not. If your article is plagiarized it will also give the source from where you have a copy of that article or to whom your article is matched. Sometimes due to plenty of articles ranked in Google, your own original article is matched to others' article and it shows your article is plagiarized.
But you can make your articles unique than others by changing your statement wordings. In this way, you can check your articles and make your articles more unique so that no one can claim that you have stolen his article, paragraph, or text.
---
In this way you can write #plagiarism-free articles or posts.
---
Some Tips To Use Other's Content If Necessary
You can use other's content as references and quotations but with their permission. If you use another's paragraph then you have to give source and credit to the real content creator.
Similarly, if you use any image of others then you have to give the source of that again. And you have to use only Copyright Free Images
---
Steemit Plagiarism Checking Team
Steemit team is strictly coming forward to do a crackdown against plagiarists. @steemcurator01 himself also checking plagiarism posts and giving them Downvotes to show them plagiarism is not acceptable in steemit. And he has hired Indian user @sapwood for this purpose to provide a list of plagiarists. Steemit team has also hired @the-gorrilla to check plagiarism and shout when he finds anyone who is abusing the reward pool.
Good move, although I would suggest using a new name rather than Steem Cleaners - to save confusion with the old operation.
The previous Steem Cleaners might also claim their name has been plagiarised!
Maybe it would be worth keeping a regularly updated list of plagiarists (alphabetically sorted for easy finding) pinned at the top of the community for quick reference.
Also if a separate community account is established for publishing updated lists etc, it can be voted for and delegated to build up some voting (downvoting) power.
Steemit has said the-gorilla to make a specific account to warn the plagiarists and to downvote them. And he has suggested that we should use @endingplagiarism for this purpose and endingplagiarism has started working on this project as he is very experienced and professional in this work. He has made different 4 stages to warn the plagiarists and finally, he will kick them from the steemit by giving the downvotes just like the Mosquitoes.
---
endingplagiarism has made his announcement to kill the plagiarists he considers plagiarists Mosquitoes Of Steemit and he is working just like the Mosquito Squisher in the Steemit.
---
So be careful and do not do plagiarism posts and if you have any more questions then feel free to ask in the comments section as I read all the comments and respond to them.
---
Plagiarism Related Posts by the Plagiarism Checking Team
Steemit team is working actively to kill these plagiarists as different posts have been made by the different workers. And @kiwi-crypto is also working hard to catch the Link Spammers on daily basis. You can know more about this plagiarism crackdown by following posts:
Consolidated List of Spammers/Plagiarists(Repeat Offenders)-- Date- 03/04/2021 By @bestofindia
The End Of My Fight || Steemit Plagiarism Premier League By @the-gorilla
Consolidated List of Plagiarists By @endingplagiarism