STOP! Before Mentioning Steemit Team Read This Announcement
As we know that everyone is mentioning Steemit Team especially steemcurator01, steemcurator02 and booming. I also mentioned them before this but now I am taking care of this thing.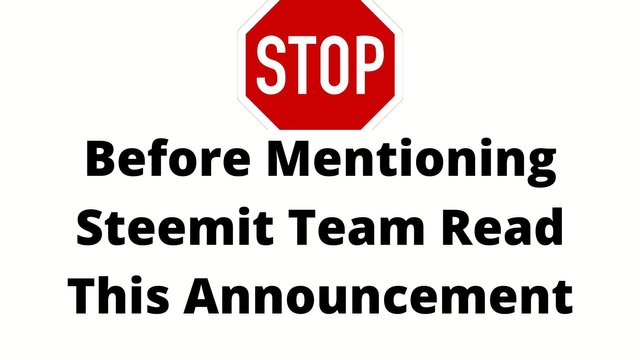 As the Community Admin It is my responsibility to tell you about this situation so that you cannot do such things again.
As haidermehdi, Country Representative Pakistan has already made this announcement as you can see here.
A Very Important Announcement! Reduce the mentions! They don't earn you anything Extra.
And please it is really a humble request to all the community members to not mention the steemit team such as: steemcurator01, steemcurator02, and booming01, booming02, booming03, booming04.
The reason I that there are many important announcements regarding the steemit community and the country representatives mention the team and due to the mentions of us steemit team also get these and for them, it becomes difficult to find the important announcements.
In this way, the chances to miss the mentions of the Country Representatives are missed even the steemit team always try its best to check all the mentions of the Country Representatives and other important announcements and news related to the steemit.

Comment Source
From this comment of steemcurator01, you can imagine this thing. I hope now you will not mention all of the steemit team but if you have any announcement then you can mention. But before mentioning them you have to contact/mention your country representatives.
In my case, I will mention my country representatives @rashid001, @hassanabid, and @haidermehdi. In this way, you can convey your message and avoid mentioning the steemit team so that they can easily manage each and everything.
And by mentioning them you cannot get anything extra if you are thinking that by mentioning them you will get anything extra then you are wrong and it is no more than hurting the steemit team as they have to visit a lot of content on daily basis.
---
I hope everyone will follow this thing in the whole community and resteem it so that everyone knows this. And spread this message to all your steemian friends and keep following @steemitblog for the new updates and contests.
---
If You are not familiar with plagiarism the read this publication: Avoid Plagiarism And How To Check Plagiarism In Your Posts?

---
Best Of Luck!
---