Contest : What does steem mean to you?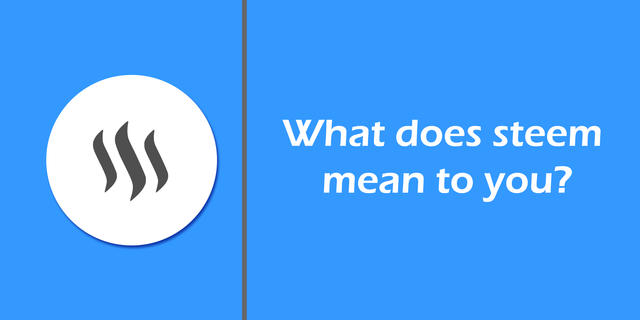 It's another contest on the go. We are all aware of the fact that the diary game would end soon, so we need to keep engaging ourselves with contests to improve our skills. This contest is very simple and straight. Only your opinion in 300 words is needed.
What does Steem/steemit mean to you

?
We all have our opinion about things. As a steemian, you should have something to say about how you feel about the platform you are using and how dare is it to you.
When we were told in a training to talk about the importance of a palm tree, some said it gives shade. Another set of people talked about the usedulness of the fruit it produces, but when the right explanation was made, we all discovered that there is nothing that Isn't important and useful in a palm tree🌴.
Your explanation and what you think of steem might boost another persons morale, so What does steem/steemit means to you? How dare is it to you?How much do you love it? How much do you cherish it? What can you do for things you love and cherish? Think of what you can do for steem if you think it's dare to you.
The bouty for the contest
1st position - 15 Steem
2nd position - 10 steem
3rd position - 7 steem
4th position - 4 steem
From 5th to 8th - 1 steem each
The rule of the game
Every participants must not write less than 300 words.

Partakers should have a reputation of 50 and above or should have passed achievement 1 in the newcomer community. If you've not done your achievement posts, you can do it and enter the contest.

No plagiarism ( copying another person's work is not allowed, and it's highly frowned upon)

Every post must meet the deadline period

Drop your entry below this post .

Anyone can post using an community, using the tag #ilovesteem.
Thanks for participating in this contest. We would continue bringing contest as far as we can go. This contest will last for 7 days, so be prepared. @steemcurator01 might support the best posts though not guaranteed. Thanks for the constant support.