THE DIARY GAME: 10/8/2020: FOUND A WAY TO MAKE MYSELF HAPPY
Monday was a very boring day for me but I still found a way to make myself happy. I practically spent the whole of the day at home after observing my morning jog which I started after leaving home at around 7 am in the morning. The distance covered was really a short one as the jogging activities started a bit late. I forgot to activate my alarm on Smartphone and I overslept. Due to the fact that the day was quite bright, I jogged within a primary school environment which was just close by my place. The school environment was located at Adeyemi Street, oshodi, Lagos state, Nigeria and the name of the school was New state primary school.
I got home before 8 am and went straight to take my bath and brushed my teeth and stayed indoors. I only went out at around 2 pm to get food at the food canteen at Olatunji Street which was close to where I stayed. I bought just jollof rice, spaghetti and egg. I went back home and was just online on WhatsApp chatting with friends and my steem #9jafive diary team and I was shocked when some said they were not motivated due to them haven't gotten any upvote on any of their diary posts. I told them to relax that @steemcurator01 will visit their post and implore them to keep posting and they will be rewarded for their patience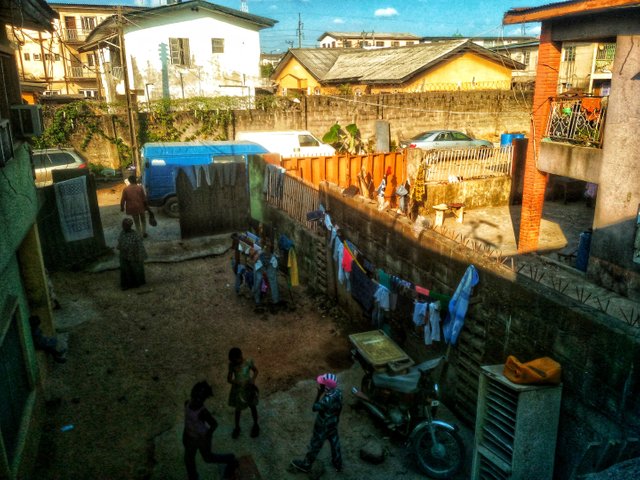 shot of children playing at my compound at Babatunde banjo street, oshodi, Lagos state, Nigeria
As minutes turn into hours, I stopped just outside the room to observe what was happening at my immediate surroundings at around 5 pm and I saw some kids playing but they were loud about it. I just watched on from the stairs as the kid's smiles and laugh like its no man business.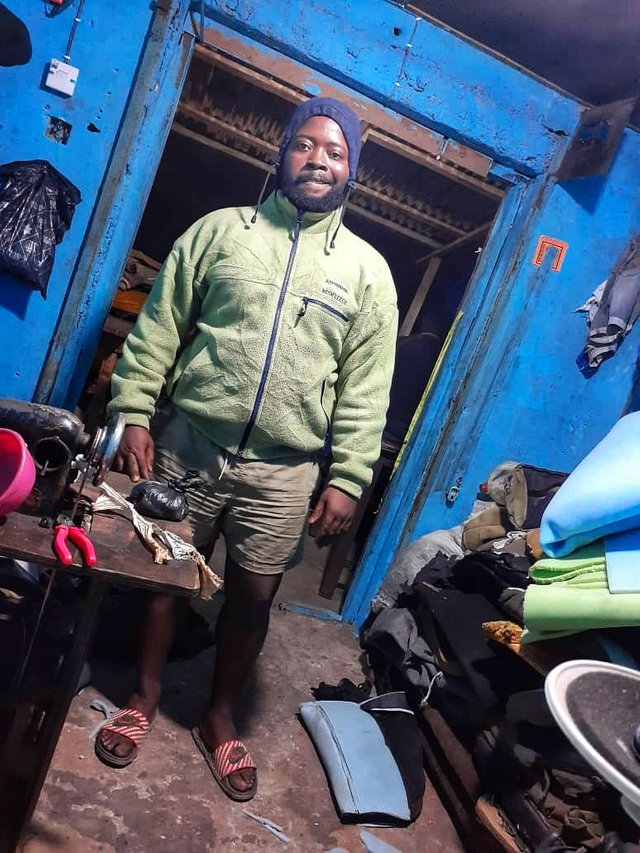 me in sweater at my friend's Wale worksho at oyejunwa street, oshodi, Lagos state, Nigeria
At a point, I was feeling cold so I had to step inside to get a sweater. After getting the sweater, I watched a little more before getting bored and I decided to visit my friend wale at his workshop at Oyegunwa, oshodi, Lagos state, Nigeria. It was just a few minutes work and when I got there he said I looked like a gangster in the sweater I wore. I decided to take pictures of it.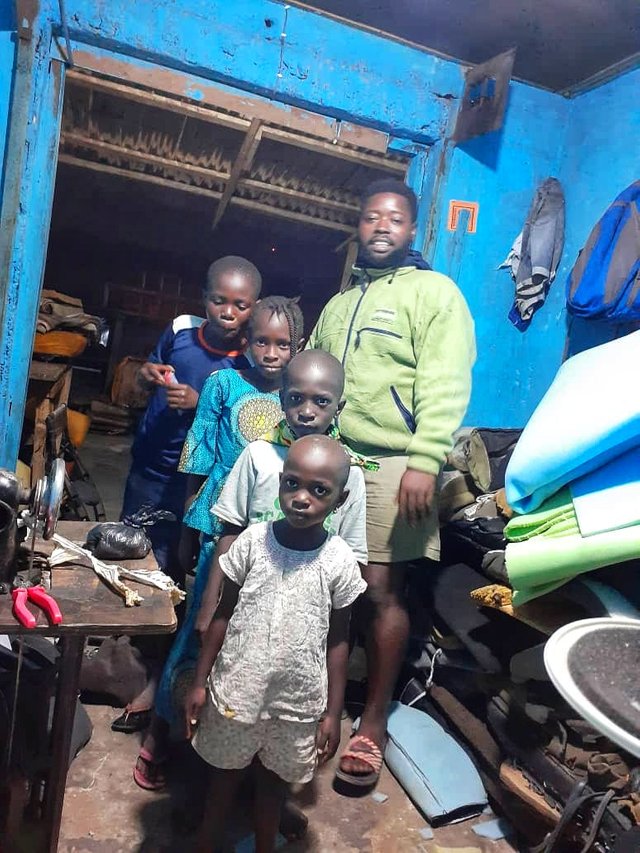 Me with some kids at my friend`s workshop at Oyegunwa, oshodi, Lagos state, Nigeria
Some kids saw that I was taking pictures and they decided to join in. Kids with cameras and pictures are inseparable. They just love being in front of it. I took some pictures with the kids and they were happy. I even told them that they are going global because I will be sharing the picture online and they were excited about this. I left around 8 pm as it was getting late and went home, ate my night meal which was noodles and eggs purchased from my noodles vendor. Watch a little TV show before creating my diary post and then I slept at around to 12 am.
That was how my day was spent on the 10th of August, 2020. I hope you enjoy reading it.
---
Also throughout the duration of the 50 days #thedairygame, I have set my post payout to 100% steem-power payout
I am part of team #9jafive. A group which consist of Five Nigerians.
---
Thank you @steemitblog, @steemcurator01 and @steemcurator for this diary game challenge
The images were captured by me using my Tecno camon 11 and it was edited with the Snapseed mobile editing application