THE DIARY GAME : 19TH SEPTEMBER, 2020 : 44th Entry : NEW RECRUIT, ANOTHER BATTERY PROBLEM
---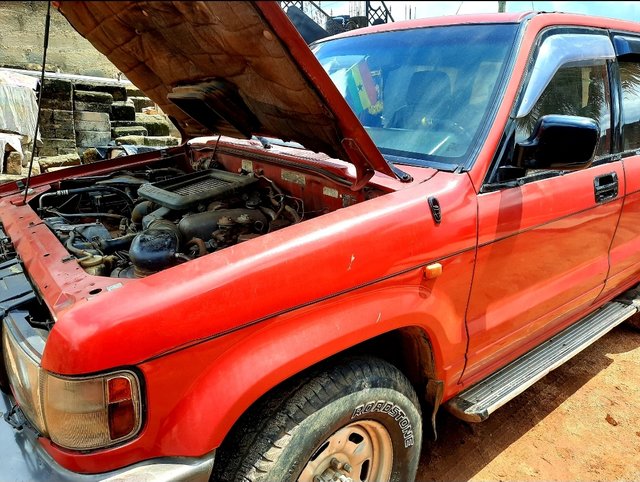 Having troubles trying to start our car
---
For a while now we have been battling with my dad's pick up truck battery. It has just been giving us tough times lately. This forced his hand and made him resort to his 16 year old pick up truck 2 days ago. Like that wasn't bad enough already, we were yet to see another disappointment.
---
I woke up to a cool weather today too. It was just the right temperature. I said my dawn prayers and freshened up. I did a couple sets of triceps, biceps as well as some inclined pushups. It was worth my time as I felt some muscles stretching and contracting; a clear indication that I was doing something right. I spent about an hour working out and felt "solid" afterwards.
---
I hadn't even take my breakfast when my dad called me to come help him with something. I hadn't yet seen what it was but I had a bad feeling about it judging by the tone of his voice. Lo and behold, it was car troubles all over again. This seems like a bad dream we can't wake up from. He said it failed to start and from the look of things, it was a battery problem.
---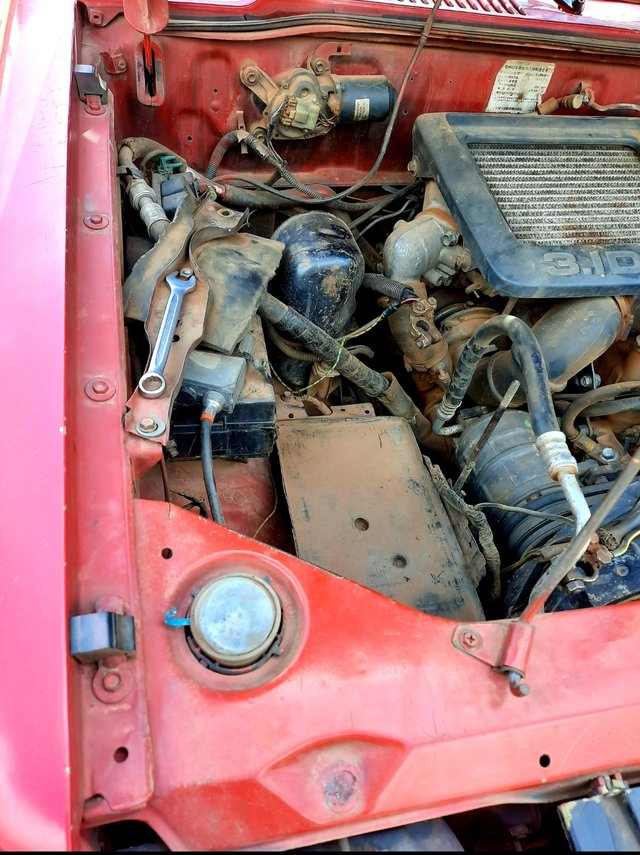 I removed the battery from the engine with the 14 spanner
---
So he popped the bonnet for me and I removed the battery. The battery removal is a process. I losened the grip of the terminals with a 14 spanner which made extraction very easy. This was done for easy charging with the generator.
---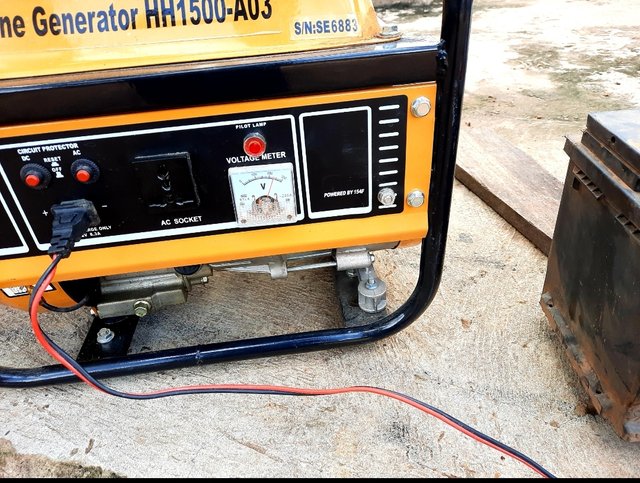 Brought out the generator to charge the battery
---
Once the generator was brought out. I checked the fuel guage and the oil level. Once I was satisfied, I opened the fuel valve and started it. I then returned the chock lever back to keep it from turning off. The wires were connected to the batteries such that the red was attached to the positive and the black went to the negative. It was then that I pluged it to the generator.
---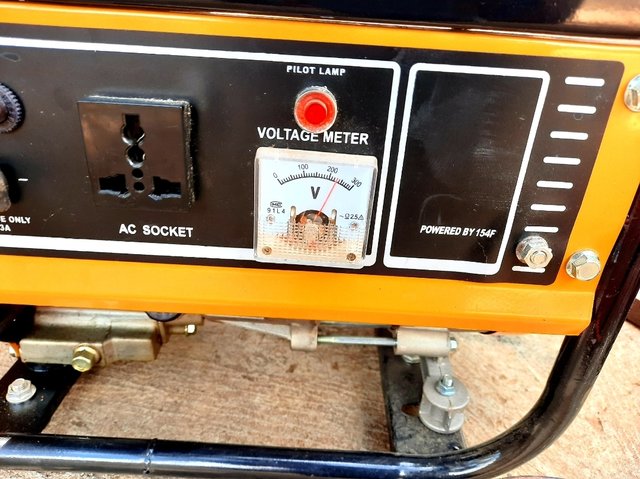 Voltage spike over 200 volts upon connecting to the battery
---
As soon as I plugged it, there was an immediate voltage spike and a massive change in sound coming from the generator. I wasn't surprised at all since a car battery's capacity us huge. Ideally, I'm supposed to leave it for about 30 minutes but I left it for about an hour in order not to give anything to chance. Once I hooked it back to the car, it started like a miracle.
---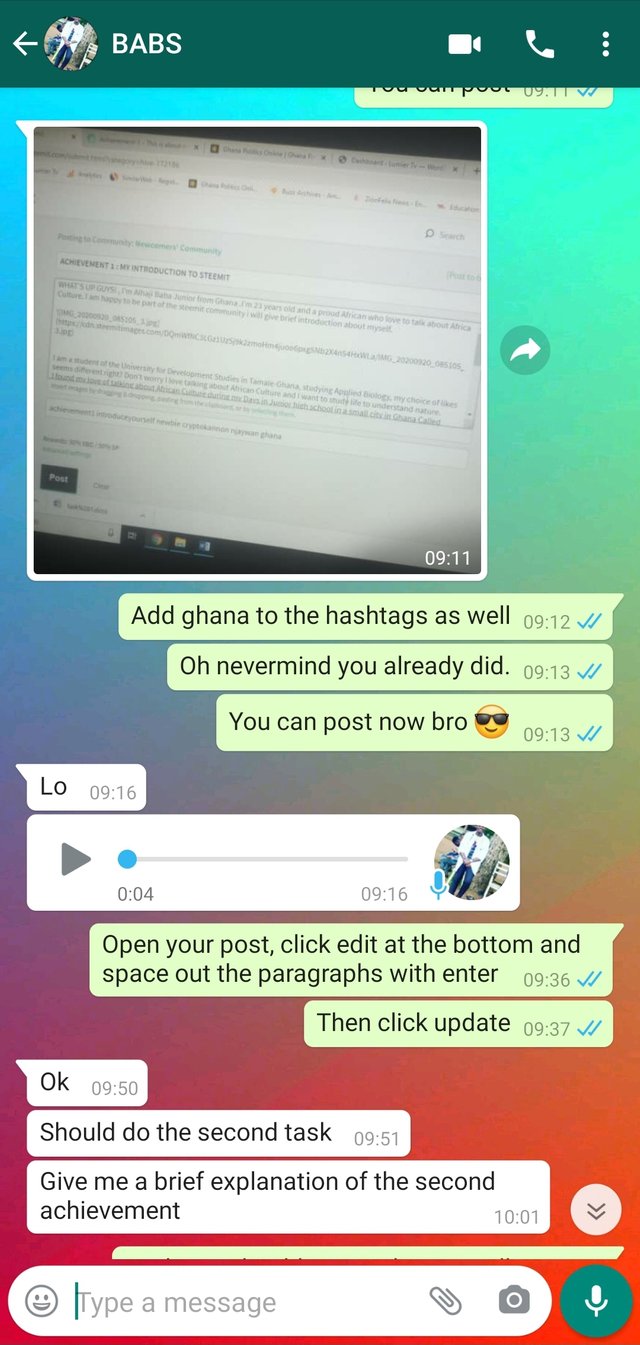 Recruiting through WhatsApp
---
I then went and took some tea for breakfast. I started chatting with a friend of mine on WhatsApp about steemit. I knew he was a good writer and would add value to this ecosystem so I thought why not invite him? He was interested so I guided him on signing up, finding the Newcomer's community, as well as introducing himself. He posted it later on. This is @alhajibabajnr's introductory post.
---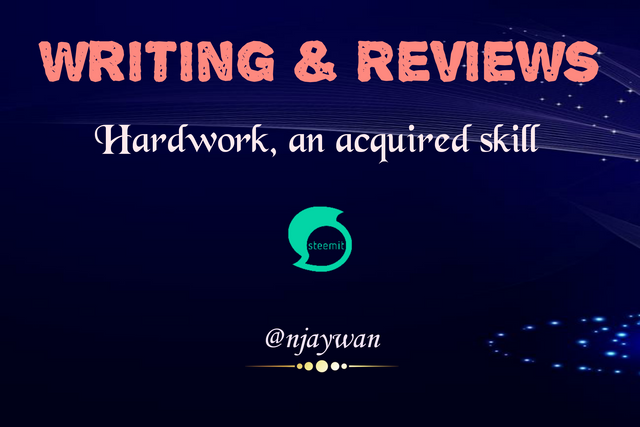 Wrote a piece talking about how hardwork is an aquired skill as opposed to a natural gift
---
I then started to draft a post on "Hardwork, an aquired skill". I felt like many people needed encouragement in life as they may belittle themselves and need to put a stop to that. Hardwork is built by ourselves and forms part of an individual who is willing to go the extra mile.
It got some positive feedbacks and that was the ultimate goal for me.
---
I am a firm believer in "you get what you give". As such I hope everyone gives their all in the performance of their tasks so as to reap better benefits in the near future.
This concludes my diary for today. Thank you for your attention.
---
Team: @steemghana-team
This is me