Contest!, Contest!!, Contest!!! World Of Culture Style - Opened To All Steemians Around The Globe. #150 Steem Prize Giveaway! It's Hurray!!! 📢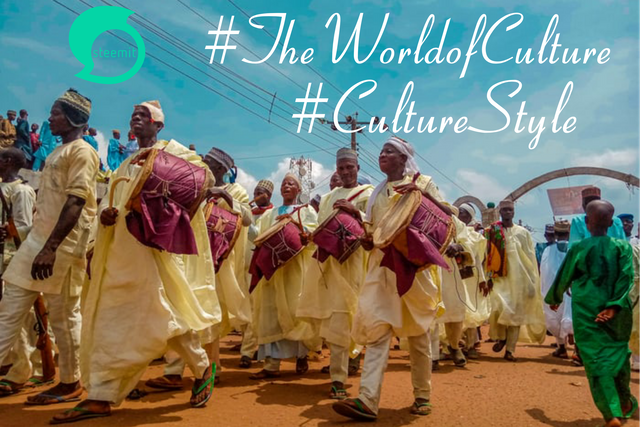 What has Culture done to you? Has it enticed you, molded you, affected the way of your living, taught you some good lesson, changed the way you dress, developed you and your area of living? What have you learnt so far about your culture and due to that do you love it of disgust it?
In deed, when you dive into every area, society, community, country or continent, there is at least one unit culture of influence that identifies them. In this case, culture plays a major role in our lives. Culture can be learn and unlearn, depending on the environment one finds his or her self, he or she can be influenced by culture.
Culture cut across so many things, and many things that we do can be related to culture. Our way of dancing, singing, our colour, our posture, our structure, the food that we eat, our marriage system, our rule of law, our work, language, our thoughts, our environment, our dressing style, our landscape, our geographical location, our time zone, our religion, our education, our character and many other things we do are just because of culture influence.
What culture one society is handling and think is good might be felt bad to the other society. But we can't outrightly condemn someone's culture unless we learn how it was rooted and what they mean. Well, many culture have been regarded as outmoded cultural practices which need to be disregarded. For instance "the female genital mutilations in some part of Ghana" is being considered outrageous and unhealthy for the those who practise them. For some reasons which these tribes see to be relevant, they still hold onto that culture. Some religious bodies also practise uncircumcised of penis due to their religious belief which they think is right for them to do that. But, in some other places or societies who don't agree to this fact may think is unhygienic, since leaving the penis uncircumcised may harbour some germs. Again, the practice of non blood transfusion by some societies and other religious bodies have some peculiar reasons to that, yet many different believes kick against this belief.
There are varieties of culture that bring positive and negative changes when we move from one society to the other. Come to Ghana where our prestigious "Kente cloth" is weaved, I don't think we have much negativity of Ghanaian inventing "Kente clothes." At least it has brought a lot of income generation and creation of jobs to many populace here in Ghana. "Kente" clothes are very expensive since they are built from quality fabrics and yarns. The clothes ranging from $100, $200, $300 and even more expensive than these prices. Go to Northern part of the World where Smock is also weaved. It is one of the smartest cloth I love to wear since we don't need iron it before wearing. During occasions like naming ceremony and weddings both "Kente and smock" clothes are major trending clothes you would see.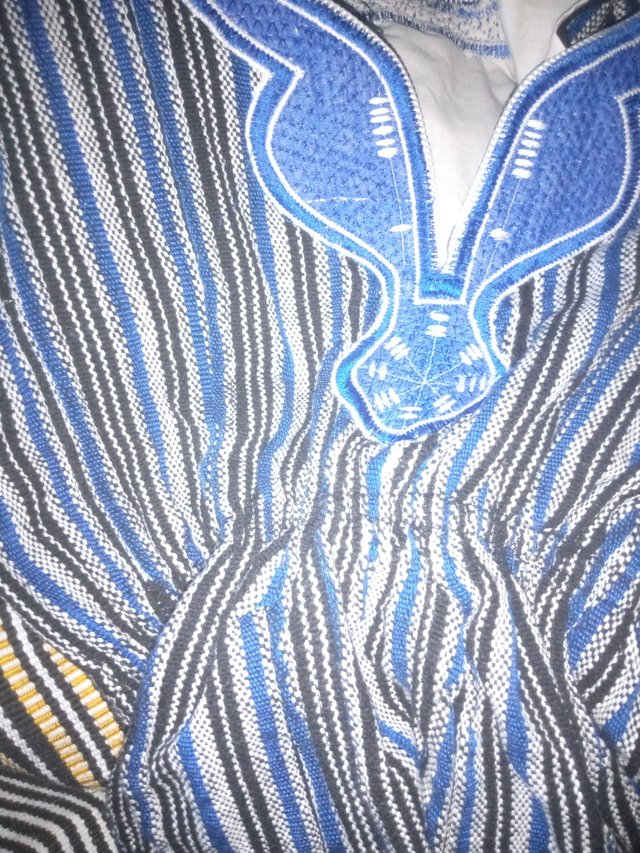 image of my daughter's smock
Now, fashion designers have become common in Africa Continent. At first in Ghana, we lack commitment in patronizing in our own made in Ghana goods, but that trend is gradually changing. This was because most things that people here produce were inferior, but recently they have improved and upgraded themselves to attract more Ghanaians to buy their own goods. We have many good fashion designers that sew and make designs of brands to suit their customers. What design do you want and what function do you want to use it for, is it funeral or wedding or for decoration of wedding or party? These fashion designers are around in African continents; Nigeria, Ghana, Uganda, South Africa, Zimbabwe and many countries around.
The use of raffia for craft work or artisan work have now gained ground in Ghana, and there is no denying that fact that this isn't emerge from culture. Since not all countries or societies are engaged in this job. Most of beautiful things such as bed, baskets, mat, sandals, bags, chairs and tables are made from this natural product. The raffia is from the geographical area of forest where this vegetation is grown. Consider where we get all our furniture, plywood, and a lot of designs from our timber products. We have vast culture of thick forest of these giant and expensive trees like "odum, sapele, oaks, mahogany, Wawa, framo, amere and many different varieties of trees are found." I wonder why there have been a lot of timber logging of trees indiscriminately due to love for money, yet there has been a continual growth of trees for furniture and other wood work. Most Ghanaians have developed a culture of destructions but not a culture of maintenance. But God being so good, we have fertile lands that support quick growth of trees other than that we might have lost these prestigious gift from God.
For most Steemians who have ever been to Ghana, we have most of ethnic groups in various regions; at fiest 10, but now 16 due to decentralized system of Governance. Among these ethnic groups there are cultural differences in terms of languages spoken, tonasion, food that they eat, the dress that they wear, their housing structure and many others. Go to the Akans tribes; the Asante's, Fante's and Akuapem's they love some food like "fufu, ampesi, cgcc, akapimkyin, aprapransa, 3tc, abunabun, wer3wer3, nkyakyera, mpctcnpcto" and so many varieties of local food you can mention. Go to Ga, the love "kenkey, kpoikpoi." Go to the Ewe, they also love "akple, gari futc," Go to Northern Ghana, the like "akple, tuozafi." In descending down to any tribe, they have a peculiar food type they love eating. Generally you can also find one particular food that is eaten by the country, you would get larger percentage of people eating that food. Most people in Ghana eat "rice, banku and fufu," they are common staple food prefer by many people. That's is why maize, rice and cassava are growing in Ghana.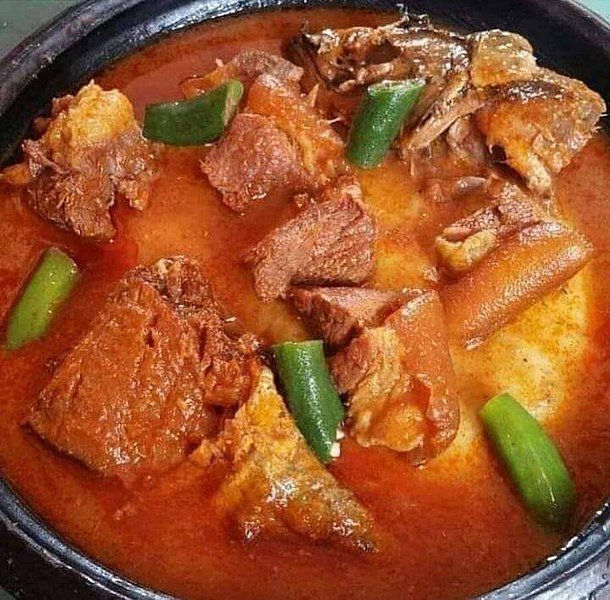 source
One can say that our geographical location, climate and weather conditions determine our food the we grow and eat. Many food are difficult to survive here in the tropics whereas they yield well in the temperate zones of cool weathers. Ever since I have grown up, I hadn't seen apple yielding here in the tropics. This must tell our eating habits that our environment has brought to stick to one culture style. So would we say that culture can voluntarily or involuntarily happen? Yes!, I think so based on this happenings. Culture has a lot to speak in our lives and living style in this World, whether good or bad. Our dressing code, I know during hot weathers it is more appropriate and condusive to wear white cotton cloth, but since culture can be learnt and adopted, I have seen most Ghanaians wearing dark coats even while still the weather is very scorching. At first it was very difficult to find ladies wearing mini skirt and browse exposing their private parts, but due to migration through adoption of other culture from somewhere, we have now accustomed to the wearing of these dresses. Hardly would you see women wearing pair of trousers, but today Ghanaians are the most people using these kind of clothes.
Bamaaya dance by Dagbon in the Northern Ghana
"Culture covers a very large area, it is very broad topic to say all in the blog. In all the World, every place is full of culture display."
There are very large range of culture around the World. In the World of steem too, we are millions according to Steem statistics of which we can say that everyone is built on culture. So we love culture, we cherish our culture whatever it is. We can't outrightly condemn someone's culture since we can't tell how it was rooted, what it's aspire to be. Whether good or bad, tell us about your culture style in details.
THE RULES FOR THIS CONTEST
The contest is opened to everybody in the World

Tell us the details about your culture, #theculturestyle of your country or society. Culture covers many areas: dancing, music, food, dressing and whole lot of life. So, there there is no limit of what you share.

Share what you think those/that culture you share is good that other societies can learn or bad and should be discarded. In any way you can also add some relevant information here, whether it's outmoded or still in use.

Share with us when does/do this/these culture(s) take place; daily, weekly, monthly or yearly. This would be for those who would want to share a peculiar pure culture of certain societies.

You can share with us how best some of your culture you share with us can be used to promote Steem and the entire world. Especially with the current promotion of Steem entrepreneurs?

Please be specific, which country celebrate this culture?

You can share videos or pictures in your #culturestyle or #worldofculture but make sure to leave the sources of where you picked them from if they are not your original videos or pictures.

use the #tags : #culturestyle, #worldofculture, and the name of of your country among the first five tags.

Share the link of your post through the comment session of this post and Twitter . Remember to resteem this post for more users to be aware.

This contest expires on 30th September 2020. After which the winners would be announced.
Prize Distribution among the first(5) best content of #worldofculture/ #culturestyle
1st place - 70 steem
2nd place - 40 steem
3rd place - 25 steem
4th place - 10 steem
5th place - 5 steem
More sponsors are invited if you really love the idea of #worldofculture or #culturestyle. Many thanks to @steemitnlog, @steemcurator01 for their immense supports of all contests in steemit community. We also thank all the curation team and every individuals for your upvotes, comments and engagement. My pleasure having you around😀🙏.
cc:
@steemitblog
@steemcurator01
@steemcurator02
@steemcurator03
@steemcurator04
@steemcurator05
@steemcurator06
@steemcurator07
@steemingcurators
@worldofxpilar
@knitrias
@stephenkendal
#culturestyle, #worldofculture, #contest, #steemexclusive, #the1000daysofsteem, #competition, #ghana