Country Representative's Report @SteemGhana-Team, 6Th September 2020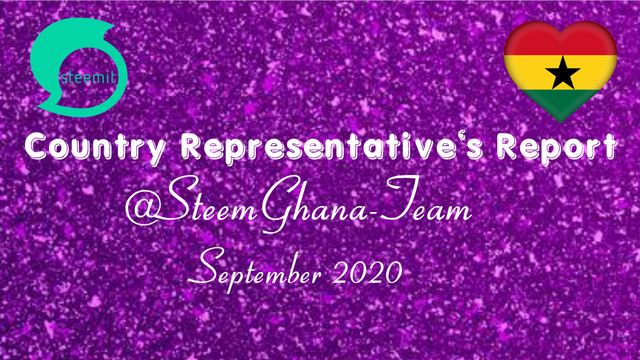 Dear Steemit Team, kudos for the great charge you taken to support our beloved Steemit Community to grow. As the Bible in Colossians 3:23 put it "Whatever you do, work at it with all your heart, as working for the Lord, not for human masters." Yes at times when you look on the side of human you may quit, some might infringe upon your right, will step on your toes, may say abusive works, may insult, may paint you black for fame and all that. But once that we have been called by our Almighty God to support the vulnerable and the sufferer, rescue them from their pain and anguish we must be focussed and accomplish the task. We are ambassadors and advocates for building ones lives irrespective of the social, culture or political background.
Sorry for the late submission of report, but as Team, we were also working hard on the other side to be able to grow well. It hasn't been easy mobilizing a team of this kind, especially when handling Newcomers who are new to the Steem Block chain. For old players we have mastered how the system of Steem works, the ups and downs of the Crypto currency, but what about the Newcomers who enter the Steem with the mindset of getting. everything in the growth proportions? Any little changes become odd for him or her. By the grace of God we have been handling all situations amicably.
Thanks to @steemitblog, @steemcurator01 and all the Curating Team and Individual Steemians for your immense support of rewards and comments that even motivate our Team members to continue sharing with us always. The $5,000 Steem power Delegation from @steemitblog has been working effectively for my Country and the entire @steemghana-team. I must say that combining that SP delegation with the @steemcurator04 account has really motivated the Authors in Ghana especially. An Author's good content which was getting as low as $1.00 steem before the delegation and handling of curator04, today, when we received the delegation and Curator04 account, the same Author is getting $3.00 Steem. I think this is a clear improvement of Steemians life in my Country. I believe if all things being equal with the growth of these Delegation and Steem Curator04 account, many Steemians life in Steem would changed, of course that is the vision we have as @steemghana-team and the entire Ghanaian Steemians.
So far so good, we are very keen improving base on the policy of the "3Rs" initiated by the Steemitblog. If we fail, it means that we have failed our mission and vision as a Team. What is all the "3Rs" about? For the sake of the Newcomers, the first "R" refers to "Recruitment," the second is *"Retention" and the third is "Reward." We want to keep Steemit community growing. The more Stern users, the more Steem tokens generated for us. Because highly populated Steemians would upvote, comments and do more stuff for Steen to be active. When Newcomers come, or even for most people who haven't understood how Steem works might quit on the way. As we recruit them, we must be able to retain them through our support and encouragement. Rewards are upvotes we give to support our Steemians base on their efforts of creating contents. This is the more reason why Steemians feel motivated and always create content, follow others and comment. How effectively @steemghana-team helped in building these "3Rs"?
Our Recruitment Effect:
During our last reports we gave an account of our recruitment so far. More and more Newcomers are coming. Six has been recruited in addition to the the members reported. Some haven't yet started blogging. The few who have started their achievement post in the Newcomers community are @danielo109, @janetf, @henryman10 and @ergenberg. Many thanks to @nattybongo, @njaywan and @nas-gh who have been working very hard to recruit some of these Newcomers. They have even mentioned their names in their previous posts. We have been very serious daily talking to large number of people in our Country to join us here in Steem and we hope that our effort would be fruitful.
Retention Effect:
Here very important to Team, because it even better to have few and retain them than to have many and leave them to go, in that case our efforts become irrelevant. The team have been working hard engaging the Newcomers we recruited through calling them from time to time to know what's up. The WhatsApp channel has been helpful once that we aren't living in the same community. For those that we are closed we are able to visit ourselves sharing ideas of how we can improve in Steem. Though sometimes it takes time for Newcomers to become conversant with how Steemit work, upon all that you explain to them. But those who have seen the truth are working very hard. Not all of the members we have recruited write daily, while it takes time for them to become used to the system of creating and writing. For some knew it's like writing few sentences and hitting huge rewards, so when the diary game commenced some of these New users were abusing the 300 words that @steemitblog set for the Diary game season 2. However, from time to time members are guided on our WhatsApp platforms and for those who are serious and really want to invest their time here have taking it and working very hard.
Rewarding Effect:
I am very happy been a Country Rep for Ghana and at the same time partly handling the @steemcurator04 account. These 2 positions is helping our Team and Steemians around Ghana in general. Team members and Steemians around Ghana get support of curation reward from these 2 reward pool. Now the $5,000 Delegation plus my own power have reached $10,160 which gives voting weight of $0.15. A Steemian with very good content gets some little push of upvotes from other generous Steemit friends around addition to this reward. I believe with time when curation rewards are increased many Steemians would benefit a lot.
My Curation Activities
The following are my curation journey for the past 2 weeks represented by pie chart and table from
https://steemworld.org/@oppongk
. The voting weight at 100% gives $0.15 but as I have now used it has dropped down to 86.65% with respect to $0.12 reward for the Author. To effort Authors post with some appreciable rewards I set my curation reward from 100% to at least 85% for it to recover quickly. For the last 7 days, 86 upvote cast on 36 accounts. I think this normal since the team is now growing. Only few votes was cast outside the geographical location of Ghana since the idea was to use this delegation to reward members around Ghana. You can fetch the other information use the graph and tables below: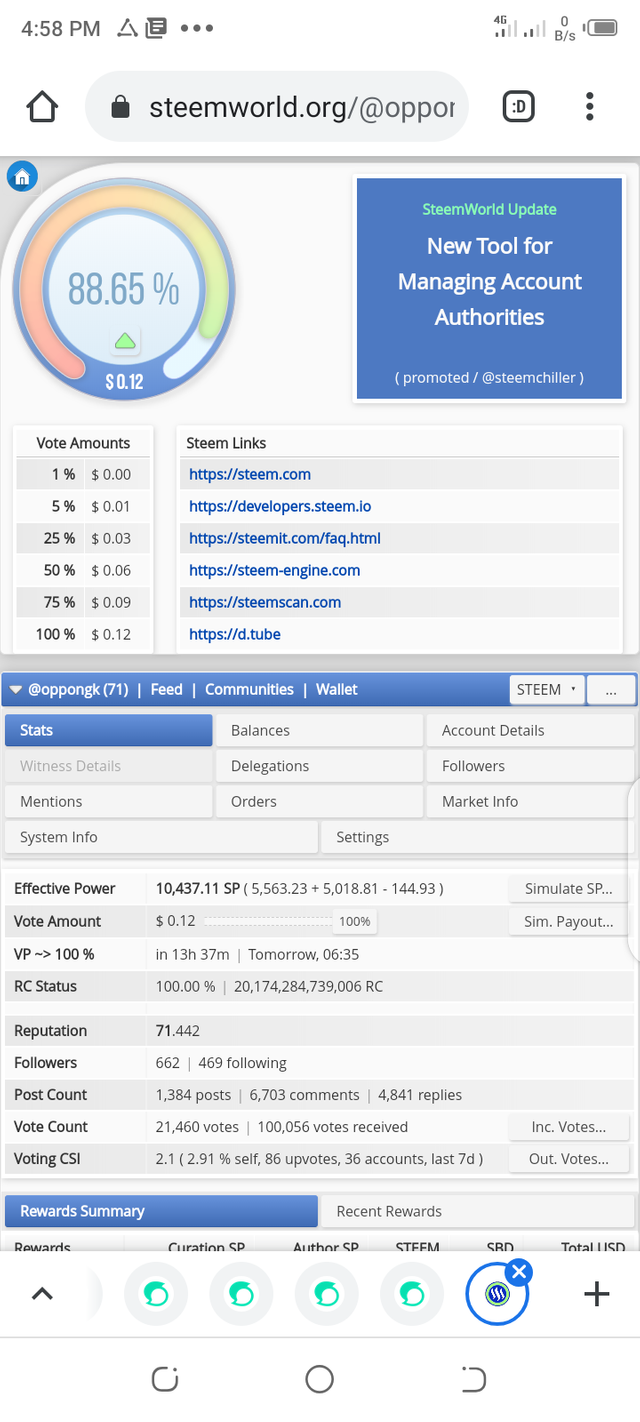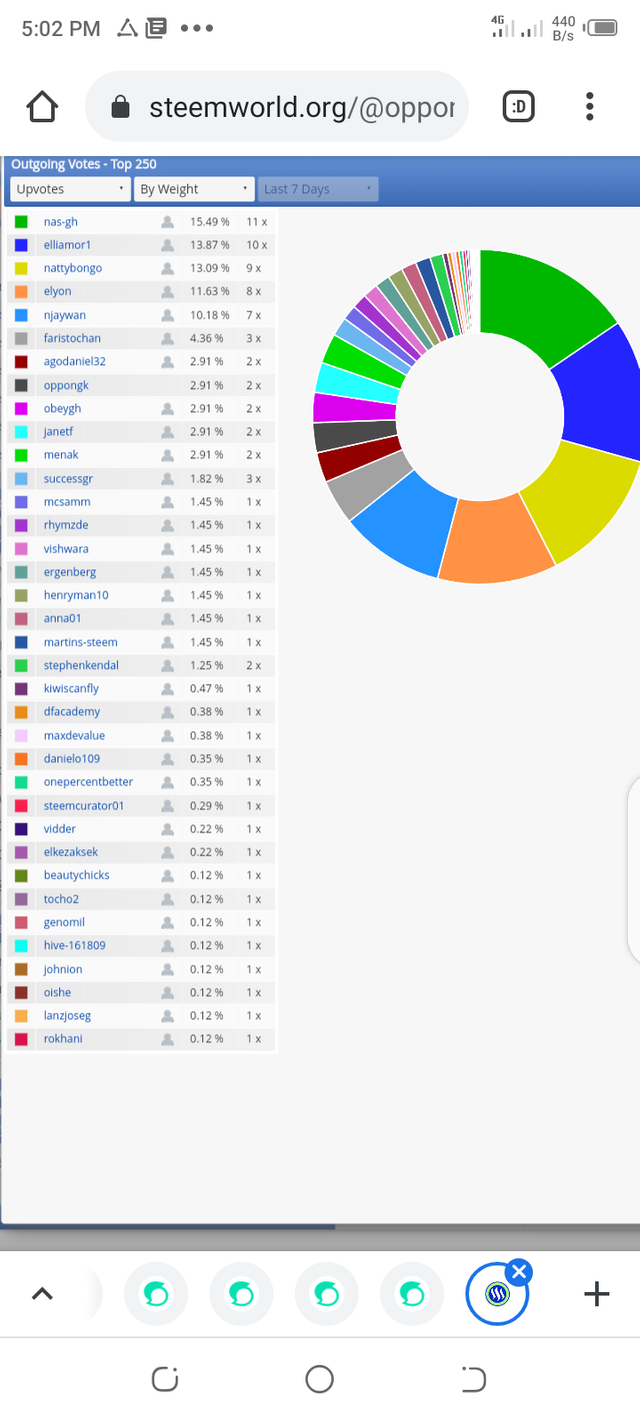 https://steemworld.org/@oppongk
Our Growth as The & Steemians in Ghana
Not all members where potted and captured here but with those that I have captured are 26 steemians. Most these Steemians are posting daily with few them not posting daily. Most of them are doing well playing the daily game with passion. Except that most Steemians are still missing the rules of the Diary game Season 2. But with time I know they would become accustomed to all that are expected from them.
@nattybongo, @menak, @njaywan, @elyon, @mcsamm, @elliamor1, @godfred111, @obeygh, @caro1, , @andrewkwarteng, @kofigeorge, @hamidata85, , @obeygh, @tinoone, @snappynie, @nas-gh, @henryman10, @anna01, @agodaniel32, @donray, @martins-steem, @faristochan, @danielo109, @janetf, @ergenberg
Thanks to all the Team Members and every Ghanaian Steemian for your support to grow Steem together. Thanks to the entire Steemit Team and every individual for your daily support for all the Team members, especially with the Newcomers, your motivations have really kept them in Steemit Community.
My best wishes to All the Steem Promoters and Ambassadors; @stephenkendal, @shortsegments, kiwiscanfly, @steemingcurators, @steemaafrica, @worldofxpilar, @roadofrich and everybody.