Weekly Report : @steemcurator04 - October 2020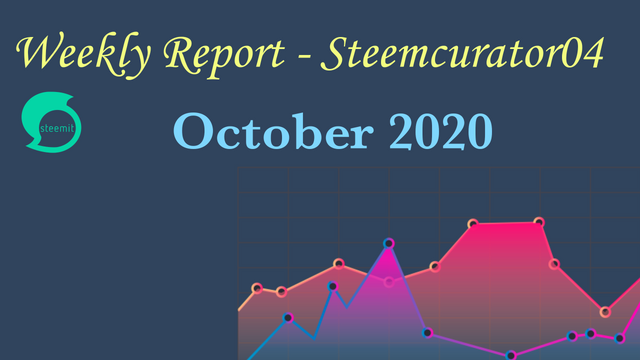 ---
Dear @steemitblog, @steemcurator01, the entire Steem POD Team!, for some time past now we missed out our weekly report updates to Steemit Community. This was due to some busy schedules among some team Curators of @steemcurator04 accounts. But we promise to be back in full force and hoping to keep the Community updated weekly reports.
---
Not withstanding this, curation has been in touch always with the accounts as and when needed. The Curators handling the accounts have been making conscious effort to distribute the upvotes from the reward pool of the accounts so that it does remain redundant. We make judicious use of the accounts curating Steemit users across the geographical location of Africa as the main focus and reason why this accounts was given to us.
So far all the six member Team Curators have been very active on work as Curators handling the accounts. We are: @yohan2on, @focusnow, @njiantanga, @beautychicks, @njaywan and I. Despite the ill health of @yohan2on which led him stayed away for about a week, he is now in good condition and helping to promote Steem in Africa.
For the beginning of curation and for the past weeks, curation has been very effective and simple for us when @steemitblog suggested to make use of our Country name for easily identification. This has helped us a lot to be able to curate the numerous quality posts Steem Users have been sharing here. Most of the Steemians here have also been enrolled on the Diary game #3 or Better life with Steven, that we also fish out many African Steemians around. Again, @steemafrica and @steemalive have been two vibrant Communities in Africa that most Steem Users are found of sharing their contents. So we also use these Communities to curate our members.
Considering the promotion of the 3Rs, we can strongly say that there have been great improvement in Africa. Frankly speaking modalities and other initiatives have been effected fostering recruitment of new users in Steem. quite recently we could see the emergence of @steemalive organising meet ups which is one of the helpful way many people in Nigeria joining Steem. Few New comers have also joined in from Ghana through the help of Country Reps and other Team members. The major focus is on the work of Retention of these New members we are recruiting. That is what we are working on so that they keep their consistency posting daily without becoming dormant. I believe all the CRs are taken keen action to heal that wounds to cease out the rampant dormancy here in Africa.
The following is the curation activities fetched from @steemchiller : https://steemworld.org/@steemcurator04
Vote by weight simplified in the chart below: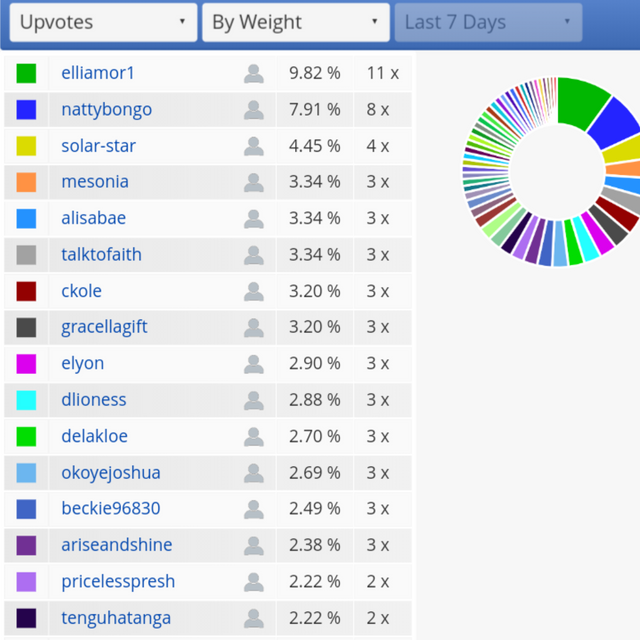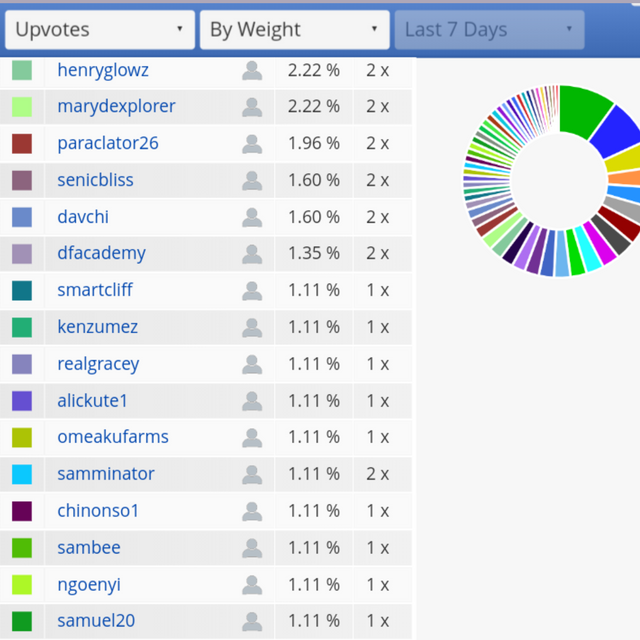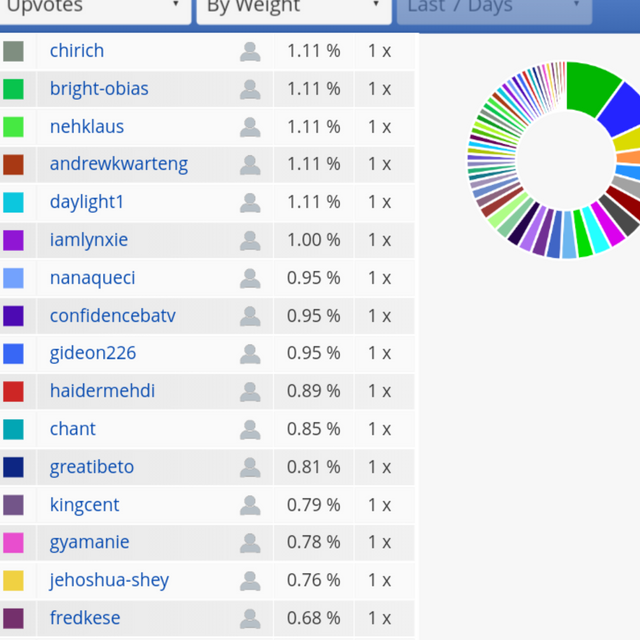 ---
Summary of Outgoing Upvotes
The voting power remains 250k with full 100% charged gives rewards of plus 3.00 Steem. At first this worth some big upvotes, but now Stern is down. But we have been striving hard to keep the account not below 75% weight as agreed on. The vote counts remain 3196 votes. The Voting CSI is 12.5, 0.00 self voting, 106 upvotes cast on 55 accounts for the last 7 days.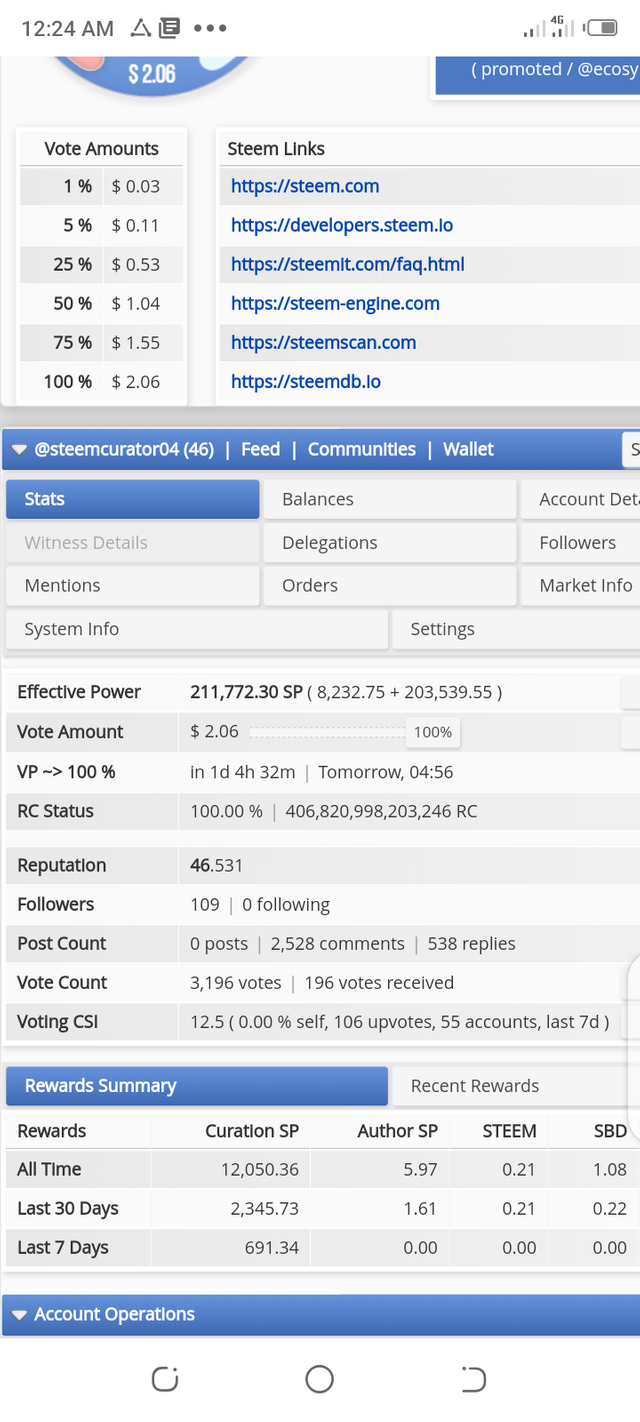 We thank all the CRs handling @steemcurator04 accounts for their good work. We also that all the POD Members for their immense contribution. Our appreciation to @steemitblog and @steemcurator01 for their support and guidelines up to date. Thanks to all Steemians and Diary Game players.
Cc: