Meeting up, recruiting and mentoring new steemians in Uganda – Updates
Today, I had a small meet up with these newbies in Uganda @jacquelinena @semakulajr and @hymee. I helped them out in designing their first introductory posts. One new recruit in this meet up was @hymee. He has also created his introduction post. After the mentorship @jacquelinena promised to post her introductory post tomorrow.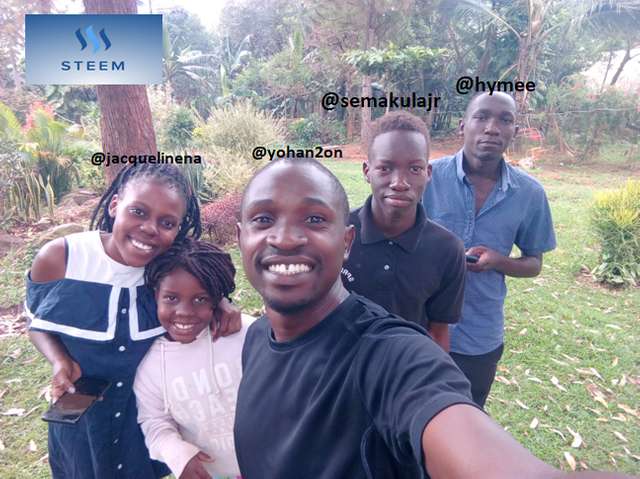 Newbies tend to find it so hard to get started on steemit. They often ask themselves questions like how can I make a post on steemit? How do you withdraw? I am laboring to answer their questions as I continue guiding them on the steemit platform.
Here is an updated list of all the new steemians in Uganda
@semakulajr - His introduction post
@marjor - Her introduction post
@ariseandshine - Her introduction post
@hymee - His introduction post
@julienbrenda - Her introduction post
@davidshiner1 - His introduction post
@faithmuwonge -Her introduction post
@jacquelinena
@rammyjays
@amastella
I have created a whatsapp group to keep track of all these new steemians in Uganda as I continue mentoring and guiding them on whatever they should know and keep doing on steemit. Its one thing to recruit new steemians and it's the other thing to keep them motivated and retain them on the platform. There is a task at hand of ensuring that all these remain active on steemit.
I will be sharing with them the links to every update from @steemitblog in the Uganda steem whatsapp group that I have created and encourage each one of them to keep following and endeavor to participate in the various contests such as #thedairygame. #theshoppinggame.
The whatsapp group has so far 6 members. It is still growing as I am going to be adding many others that manage to successfully create their accounts.
I am soon going to be organizing a steem meet up where I will be educating them about the basic knowledge they need to know about steemit. For example how to post, applying tags, joining communities on steemit and how to create a community for themselves if they need to.
I am also going to encourage all these guys to create twitter accounts where we can promote steemit in Uganda by attracting more traffic on the various steemit content tweets. There are lots of Ugandans on Twitter and I would love to see them joining steemit. I believe by tweeting about steemit in Uganda will fish many users on to this platform.
These guys are also going to help their friends to join steemit by spreading the word to them.
@steemcurator01 I will be so glad to be granted more delegation support in order to help out in the growth of the Uganda Steem Community. I am focusing on the new people as you advised me recently on my steem greet report 1.