Fiery Sunset
2-9-2020
Ending the weekend
Lets start at the end, picture first then meaningless words: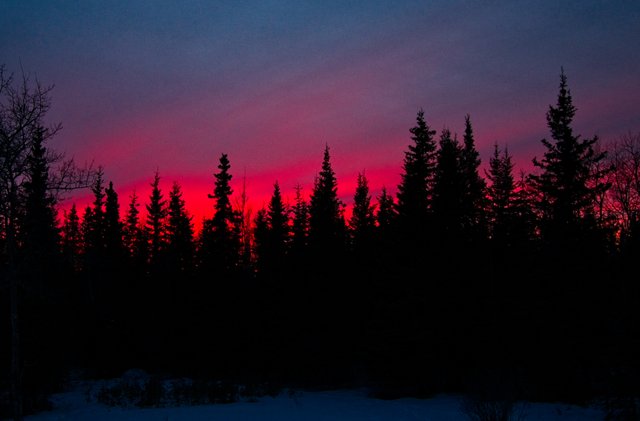 f5.6, ISO 400, hand held 1/60 sec. This image was cropped out of a larger image.
All of January this year our temperatures were mostly in the single digits to the minus teens. We did have two days that saw us at 23F, all the weekends were down in the minus teens with the coldest being minus 18F. We had some very clear skies, but trying to get pictures of the stars when it was real cold was just not a good idea for me. Last time I took some picture in the real cold weather was not something I wanted to do again.
With the sky being either completely clear and free of clouds or completely overcast at sunset, this is the first sunset sunset we have had where I live so far this year. This time of year the sunset can end pretty quick, so if you miss it you miss it. I love the spring and autumn because sunsets take longer to pass you have lots of time to get to the sunset, and get to enjoy them, not so much in the middle of winter or the middle of summer.
This was our first warm weekend of the year, 34-40 degrees Fahrenheit. Of course that means at night the melted snow pools and then freezes, so we are back to Ice Spike wearing to walk out side, and they are expecting our temperatures to be back to the single digits above to single digits below zero come mid week,
So it was a good weekend. Along with the nicer temperatures however we did have some pretty good wind events. It was windy as all get-up here last night and into this evening. It did clear all the snow from my car, and from the roof of the house, and we were fortunate enough not to have any rain which was rather surprising considering the warm up.
Well I guess I should end my typing here, I do like to take pictures, and talk about them or make stories from them, or just have something to look nice while I type a lot for people to either read or not, because I also like to type. I hope everyone has a nice upcoming week, and it was nice to see the price of Steem warming a little bit this weekend also. It was hard only having the one picture to share, but I just have not been out much to get new pictures.