THE DIARY GAME 3: 11/12/2020
Hello steem family all over the world 🌎🌍, it's another lovely opportunity to steem today. There is never a dull moment whenever it comes with steemit. Today is going to be a work at home day for me. Got to cook and equally do some house chores, and office work. I got up early from bed, my usual time 6:00 am to prepare breakfast for the family. I wanted to make pancakes but realized eggs were finished in the house.
Most often I usually buy a tray for about 1,800frs CFA normal price. Of recent, there has been increase in the prices for basic commodities, eggs inclusive. I didn't have money to buy a tray. So needed to go get it from the store. I realized that the store keeper has skyrocketed his prices as it is festive season. I later changed my mind, and bought bread to drink .
After taking breakfast together with my daughter, I had to cook some vegetables with fufu. A staple food in Cameroon eaten by many in Cameroon. It will take me maximum 2 hours to complete the cooking. I will start first by washing the already fixed vegetable. I will used fresh tomatoes and onions to prepare the vegetable.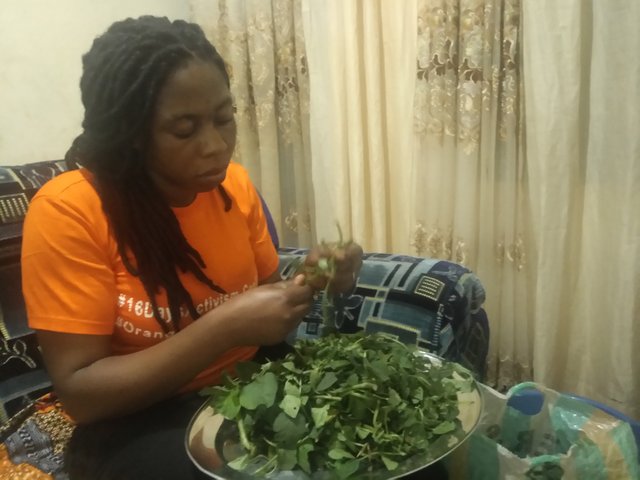 Me Fixing Vegetable
I had to washed the vegetable with clean water before boiling it. I took about 5minutes to wash it and placed on the fire. While it was boiling, I had to washed the tomatoes and onions. I equally washed dirty dishes that we used last night and placed them in the sink. Then, had to slize the tomatoes and onions.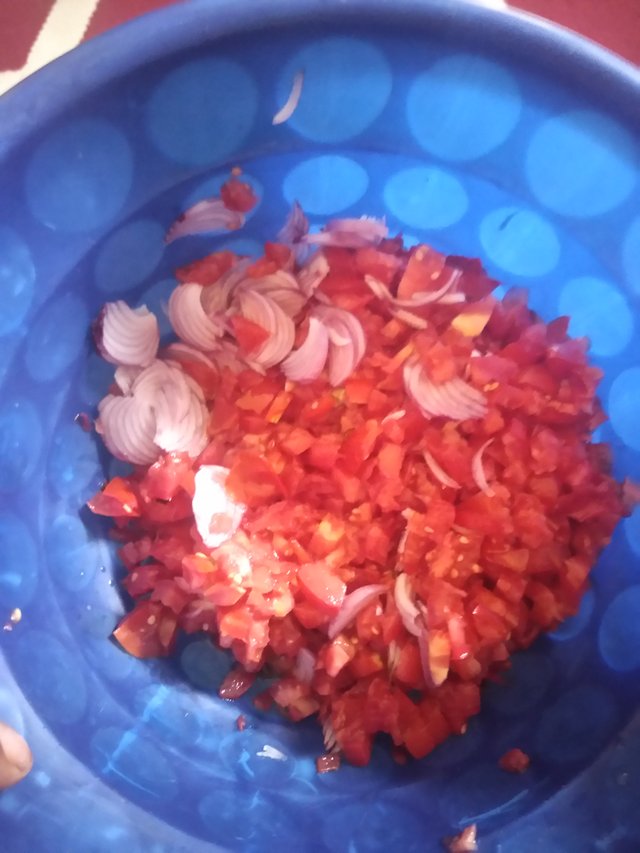 Slized tomatoes and onions
By the time I was done with that, the vegetable was ready. I had to remove it from the pot and put in a drainer. Clean the pot and used it to prepare the vegetable with palm oil. It took me almost an hour to get the vegetable ready for consumption. I had to equally cook fufu which is made up of maize. I had already grinded the maize in to flour. It will take me less than an hour to get it ready. All this while my son was busy sleeping. Immidiately, I was done cooking and served myself some good quantity, he got up. It was around 1:00pm. I had to warm water to bath him. While the water was heating, I had to eat in order to replenish my energy.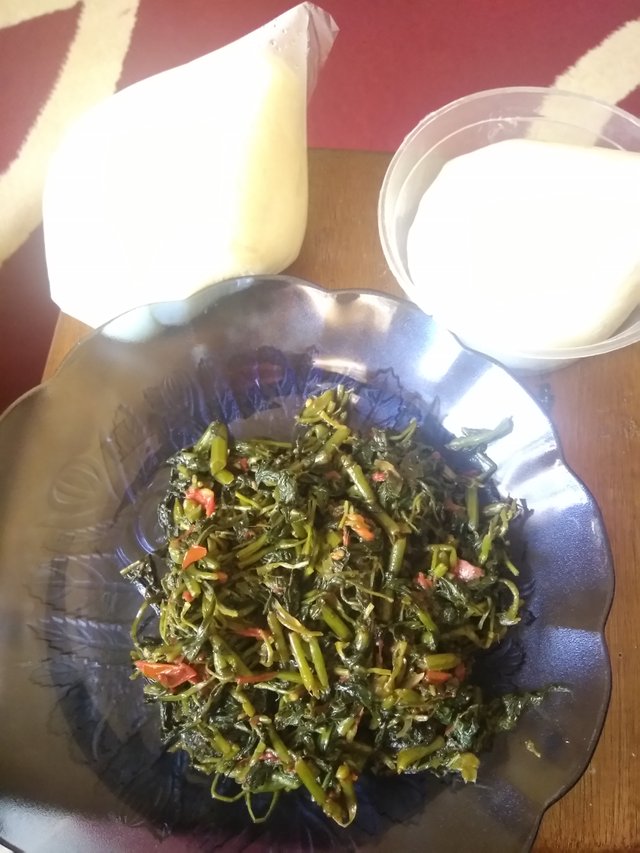 Served Fufu and Vegetable.
After eating, I took my shower first before bathing my son. Immidiately I finished bathing him, he breastfeed and slept off. He is still on full breast milk and will start eating as from 02/01/2021 when he will be 6months old. While he was sleeping, I tried to round up with my task for the day. I laid down on the couch to rest and before I could realized, it was 2:45pm when my husband came in to drop our daughter from school. I served them lunch and napped Abit.
By 6:00pm I had to warm up the vegetable and served dinner. We are together and watched a debate program on TV. By 9:00pm, I was off to bed and call it a day. Thanks for reading my diary post.
#cameroon #steemafrica #steemexclusive #betterlife #thediarygame #steemcurators