THE DIARY GAME: 14/03/2021
Hello Steem World... Sunday was such a great day that I just had to put together my first diary game post.
What a day it was... 😊😊😊
Remember the last time I wrote about the Entrepreneur FC team I created sometime back in 2018?. Well, yesterday, we had another game, this time around against @thegreens' neighbourhood team Camsci Freestyle FC and what an amazing day it turned out to be.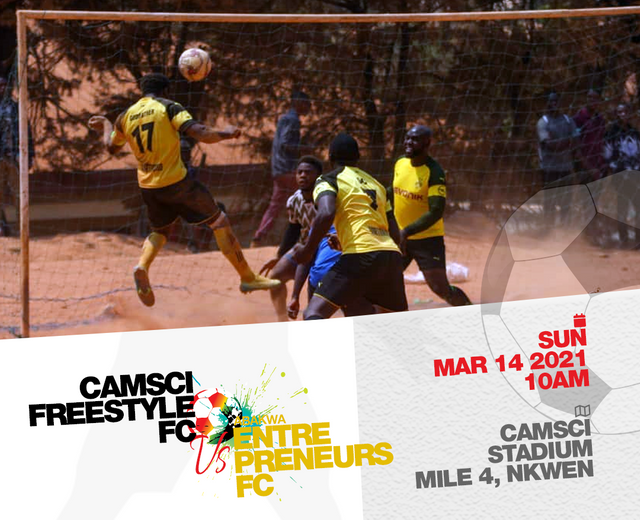 flyer for the game designed by me
So I woke up as usual by 4 AM... and since I was going to be out all day, I spent the next 2 hours brushing up a few tasks related to the current ongoing website projects we have at @yems.group. Specifically, we are currently setting up a WordPress e-commerce website for a client of ours who produces and sells beauty and cosmetics products made in Cameroon - very inspiring work they're doing.
When 6 AM came and it was getting bright outside... I had to get started on putting in place everything we needed for a successful game. But first, I brushed my teeth, packed my sports bag and then grabbed a quick cup of locally made (Kwajika) Fever grass tea. Kwajika tea is made by a friend of mine called Kwajika and it is probably one of the best locally made products that I love to endorse...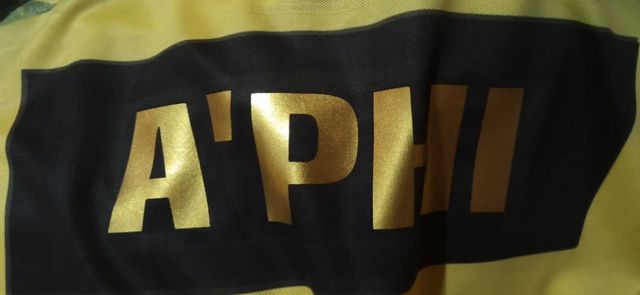 image of @fitzalphonse's jersey
By 8 AM, I rushed to collect some of my players' jerseys which I'd given to the printers for their names and numbers to be printed on. After collecting these jerseys, I picked up a couple of my players including @fombae who was playing alongside me and then we headed over to @thegreens' house where we had been scheduled to meet to have pre-match enjoyments before strolling up to the field of play.
This was already a few minutes past 10 AM and we were received in grand style. @thegreens and his team had planned a quick breakfast for us which included a couple of meat pies and boiled eggs. In the spirit of their team's motto - Enjoyment, Enjoyment, Enjoyment they also had a bottle of beer each for us to drink before moving up to the field of play... believe it or not, we drank before going to play (bad decision)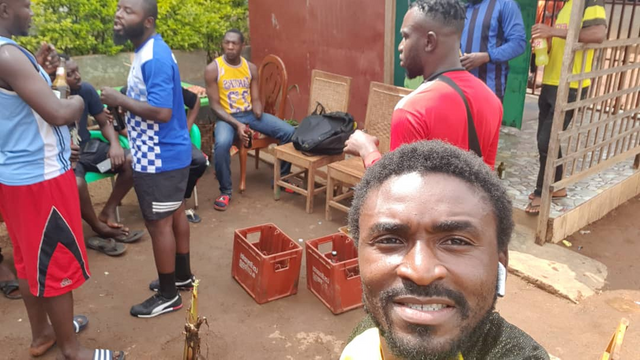 by 10.30 AM, we moved on to the field where we kicked off the game. As captain of my team, I had a few agreements with the captain of the opposing team and the referee where we agreed on a couple of things including a 2 hour duration for the match and an agreement to all very strictly respect fair play.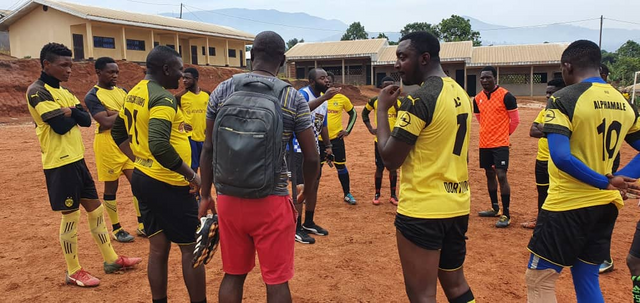 my team (including @fombae, @terrynfor584 and @fitzalphonse warming up and getting instructions from our coach
After a very duelling 2 hours of play, we finally emerged victoriously in a 1 goal lead... lone goal scored by me.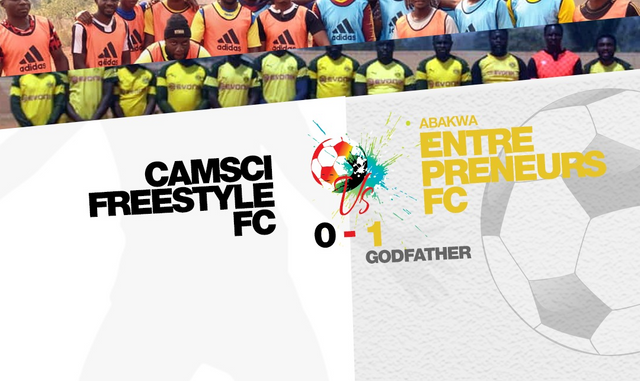 match scoreboard designed by me
Immediately after the match... we then moved on to what our opponents do best - enjoyment, enjoyment, enjoyment.
We got together at CFFC's clubhouse and had a lot of merrymaking, including eating pepper soup and lots of drinking. We had such an amazing time that some of us had to escape from the celebrations so we don't get drunk.
On my way back home, I realized I didn't have my phone with me because I had given to one of my players to hold as I was busy with ensuring everyone had a great time during the enjoyments. We struggled to find him until we finally met him at Dreamland Snackbar where he held us and guilted us into sitting down with him again (still in our sports wear) for another drink there.
I got back home around 9pm very tipsy, took a bath, made a cup of tea, sat down on my couch and began watching a movie to help drive me to sleep.
And That's hw my amazing Sunday ended.