Introducing the press release to TRON management.
This is the content reported by South Korea's @radiokorea and @luciferjin being promoted to the leading daily economic newspaper. Thank you to the top management of Tron.
http://www.fntoday.co.kr/news/articleView.html?idxno=242457
위 사이트를 클릭하면 기사를 볼 수 있습니다.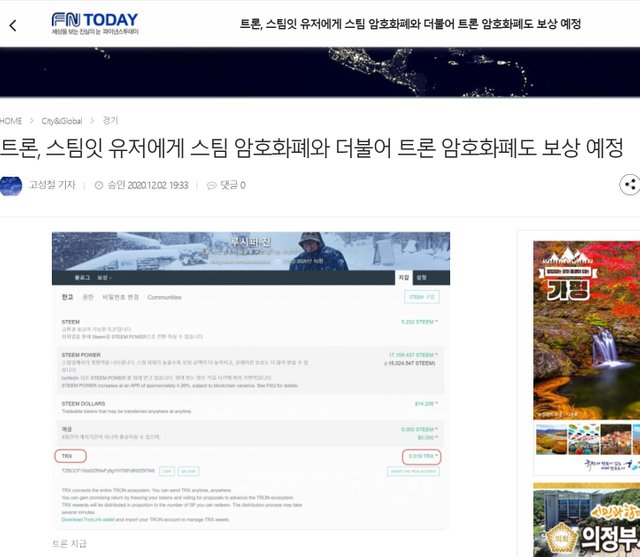 Tron Foundation (CEO Justin Sun), which has entered into a strategic partnership with Steemit, announced on December 2 that it will also pay the existing STEEM and TRON cryptocurrency TRX to members of the social media Steemit.com at a certain rate.
Steemit is a social media combined with cryptocurrency, showing signs of stagnation due to business difficulties since the end of 2018, but since Tron Foundation acquired it in February, the enthusiasm for participation has spread as more people spend time at home due to the recent coronavirus. It was a trend.
Steemit, known as SNS for writing and making money, was a leader in the monetization of social media content unlike existing Facebook and Twitter. Steemit has been paying a cryptocurrency proportional to the number of voting as a reward for articles that received voting similar to the existing SNS 'Like'.
In addition, because the amount of compensation varies depending on the power of Steam, there are people who want to increase their power by purchasing Steam from the cryptocurrency exchange. This system has also been a factor in causing the cryptocurrency, Steem, to be actively traded like stocks on cryptocurrency exchanges.
In this process, Tron Foundation, China's leading blockchain company, announced that it would take advantage of the Chinese government's cryptocurrency distribution policy and pay Tron's cryptocurrency TRX to users of Steemit at a certain rate.
The Tron Foundation plans to double the utilization rate by opening the distribution channel so that Steemit or Tron users can participate in each other's SNS. In other words, it is a strategy to solidify the position of cryptocurrency in China.
In any case, with the announcement of Tron, Steemit users are expected to enjoy higher profits in the future, and new Steemit subscribers are expected to increase.
In addition, in line with this, the Bank of Korea has also begun to review plans to introduce cryptocurrency, so it is highly likely that cryptocurrency transactions will become more active in the future.
Steemit's @radiokorea CEO Seong-geun Kwak said, "Steamit is a compromised SNS that combines social media and cryptocurrency, so you can get more rewards when you increase your power through initial investment." "Also If Tron give TRX as a reward at the same rate as steempower, it will become a breakthrough nobless cryptocurrency SNS."
On the other hand, travel writer Jin Jong-gu, who publishes travel-related content on Steemit with the username @luciferjin, said, "It is desirable for users that Tron will provide high-quality SNS content with Steem and TRX as compensation." And "The weakness is that there is no clear regulation on what kind of funding to pay Troncoin."
Source: Finance Today (http://www.fntoday.co.kr)
http://www.fntoday.co.kr/news/articleView.html?idxno=242457