How to convert garbage into bio futilizer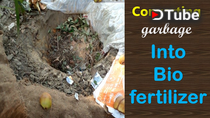 ---
Vlog Name: Eco
Title of The Video: How to convert garbage into bio fertilizer
---
Hi, Dear friends. I hope you are well and enjoying your time

Garbage management is a problem for most of the Nation's. Special in Bangladesh we face lot of problem related to garbage. That we can see a lot of places for garbage is being thrown away. Specially beside the roads it's found more. So, the management of garbage is really important and if we can have fertilizer from it that it will be more beneficial added.
Today in this video I am sharing such kind of idea of managing garbage and collecting some fertilizer which is based on bio fertilizer from that. I have got this concept from my father in laws house full stop there I have seen he is just cultivating some vegetables in his Garden but using the fertilizer from the garbage in the way that I am showing here in this blog.
But following his guideline and according to his garbage management I have initiated this garbage hole in my house so that we can also do so as we have some vegetable Garden in the rooftop as well. What is the video and you have complete Idea on it and hopefully you will enjoy it because it's an eco-friendly idea which is very much possible especially in the rural area of Bangladesh where there are Yard at home which can be used for this purpose
I hope you have got a good idea on this topic. Feel free to ask about this topic in the comment box and give me your valuable suggestion about which area I can improve.
---
Subscribe to this channel to get more videos on

Textiles
Online Money Making
Life talks
Agriculture
Technology
and random topics

Thank you.

---

This is Saiful's Classroom from @engrsayful

Find me on

---

▶️ DTube
▶️ IPFS