@nicolcron presents - 'Locked Out' Death Skateboards - Pioneer, St Albans (2020)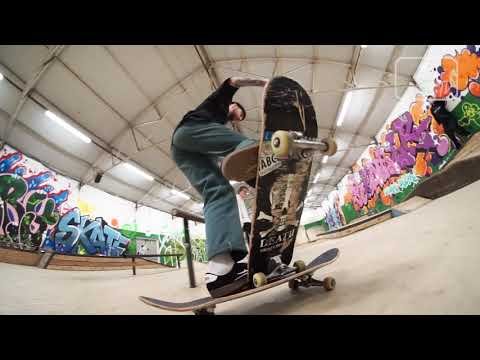 ---
Dtubers...skatehive crew... Apologies for my eratic posting..
This is why I have been so busy!!
I hope you are all good my friends! After all this time I have the Death Skateboards edit that came out last week to share it with you!!
I had mad difficulty salvaging the footage from a broken computer and amongst other things, one way or another ended up struggling for a WHOLE YEAR on this one!
I will save you the sob story and just say that I came up with a cool concept and we got it done!! :)
I am EXTREMELY proud to present 'Locked Out' featuring a bunch of our team, at the Pioneer Skatepark in St. Albans, England.
Edited by your boy, nicolcron
NOTE- I have been a part of Death skateboards for 22+ years (since the start), so I am posting this edit with FULL permission of Death Skateboards and our friends (who skate too) who made the music.
100 percent legit my friends!! :)
Love is all!
@nicolcron
Featuring in order of appearance...
Richie Jackson
Mike Simons
Mark Radman
Charlie Spelzini
Kieran Waterton
Dan Cates
Horsey
Rob Smith
Adam Moss
Mark Nicolson
..and our friends..
Twiggy
Brandy Row
Alex Barton
Felix Parker
Joe Looney
Will
Meerkat
Sam
Ginge
Thank you so much to the Pioneer Skatepark family and staff for their consistant love and support for UK skateboarding!
Filmed 1 year ago (pre-lockdown), rescued and restored from a broken computer for Death Skateboards TV.
Filming
Zak Watson
Mark Nicolson,
Mark Radden,
Nick Zorlac and a few clips from our friends.
Music
Intro
'Lost' by nicolcron
Main part
'Delete this' by MANUFACTURED!
Friends/Outro
'Premeditated Retrospect' by Hydraulic Blue
Huge THANK YOU and MAD LOVE to...
-Everyone at the Pioneer, past and present.
-Brandy Row for hooking up the music
'Locked out' Death Skateboards, Pioneer, St Albans Death Skateboards TV 2020
---
▶️ DTube