My TOP 5 TIPS for DTube Vloggers / Video Creators 2021 and beyond! @nicolcron dtube vlog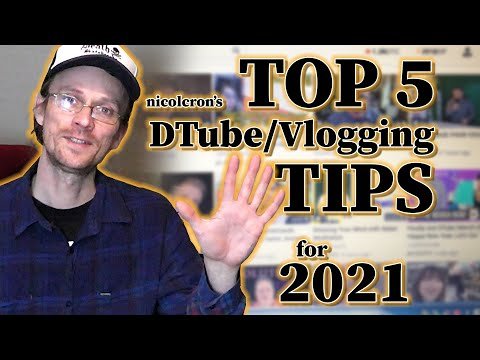 ---
Hi there fellow video creators!! Today I have my TOP 5 tips for vloggers and video content creators.
This is pretty basic stuff to be honest! But I feel that some of these points are EASILY overlooked and even ya boi @nicolcron manages to make these mistakes from time to time! Nobody is perfect! :)
Here is a brief text version to anybody unable to watch the video!!....
Look into the camera LENS
It is hard to not look at the flip out screen when vlogging. Eye contact is powerful and will keep your viewers engaged. It is very subtle, but once you notice the difference it makes, I think you will agree. Lens not screen!!
Composition / Background
The only real use for your flip out screen... Check your shot to make sure you are where you want to be and be aware of your BACKGROUND, as random items/rubbish can be distracting to your viewers.
Audio
If you have a fancy microphone or not, make sure to turn off anything else in your area that makes a hum, or a buzz... Minimizing these things can achieve VASTLY improved audio even from a low quality on board camera mic.
Test run
Once you are all set up, record a few moments to review BEFORE getting stuck into a long video, as one of the most dissapointing things in the vlogging world is a great take, with the lese cap on!... Or your mic unplugged...
Take a few moments to have a TEST RUN and save yourself all that effort of having to re-record an entire video (happened to me on this very video!!)
Make a Good Thumbnail
Sometimes people will vote based upon the thumbnail alone, without watching the video. It is a shame, but it does happen! Your viewer might not always have the time to watch your video as soon as it is posted, so try not to let them down by making an accurate, honest thumbnail to explain what your video is about, so your fans can support and upvote you with confidence that your content is consistantly good.
...and that is it!
Thank you for watching!!
I wish you all a Happy New Year! :)
LOVE is all
@nicolcron
intro/ outro music by me :)
---
▶️ DTube