🌎 CLEAN PLANET 🌍 - ACTION AND VLOG ●● MONDAY NOVEMBER 9th ●● PROTECT YOUR ENVIRONMENT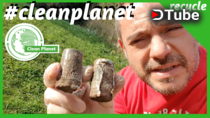 ---
Welcome to my Channel !!!!
👉 Today a cleanplanet walk during my authorized one hour outdoor
Yes ... It's long and hard to stay at home all the day.
Government let us gobout one hour during the days to make sport, walk with animals.... but not in group.
Then i decided today tobgo out with my glove and a paper bag... and try to be great cleaning up my environment.
Poeple let many things on the ground which polluate around.
Wind is not our friend because it brings everywhere trash...
Then I have courage... and I want to lake an Eco-citizen action.
I am sure that this trash won't be anymore in Nature.
🌱 my seeds account : clean1planet 🌱
Join SEEDS : https://.joinseeds.com
SEEDS is a new financial system helping bring about the Regenerative Renaissance and transforming this breakdown into a breakthrough to offer a more exciting, healthier and hopeful story for humanity. One where those who are doing the most good in the world make the most money — not the other way around.
.
If you want to join in this aventure
Join us to get an invitation
---
▶️ DTube
▶️ IPFS