Best of India- Vision, Proof-of-dedication & its Economy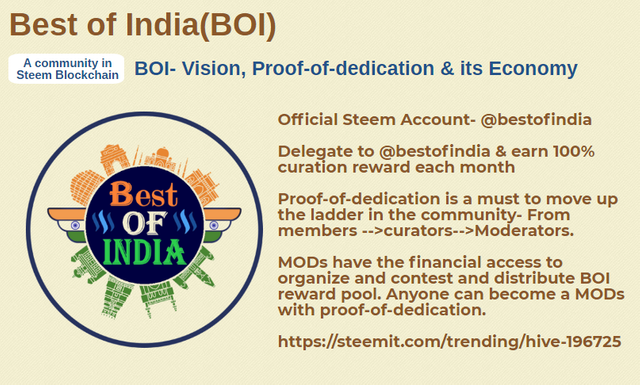 1. What is the vision of BOI and expectations from its members?
The idea of BOI is to make it a self-reliant community in the long run where the community members through the proof-of-dedication move up the ladder and help each other. Proof-of-dedication can be anything related to adding value to the community.
It can be anything-- by posting quality content, by engaging with others. We are more focused on creating that social intersection which happens not just by quality blogging but also by value engagement, to foster the sense of a community. Therefore from day 1, the consensus of the community is to visit each other's page and start commenting on others. We are looking for at least 5 comments from each community member in BOI posts each day.
Initially, you may find it skew & very limited, as we are in the process of building a community but we are very sure that down the line we will get this field more diverse where people will find themselves to engage with the one that interests them the most.
We have set a target of 1000 STEEM liquid pool to reward the members of this community. The contests are also included in that pool. But more or less all of them are central to consistency in engagement, activity on a daily basis. We want our members including the MODs to remain active and engage daily, which is the cornerstone of the community.

2. Proof-of-dedication to become part of the BOI MOD team?
Value addition to this community is not limited to posting content only, you may have some other skills to contribute and we would welcome anything that will benefit this community and align with the largest objective of Steem Blockchain. For example, you might have good marketing skills, good promotional skills, on Twitter, or similar things or to reach out to the people individually. We will welcome that, as that will potentially add value to BOI.
We also have a framework in which the BOI members can become curators and earn a weekly salary of 20 STEEM initially which is likely to increase depending upon the number of members. However each week the curator will be different to create an opportunity for every pone. However for that also we need to build that sense of dedication in our everyday's activity and continuous improvement is a must. The curators must also help others to ensure visible improvement.
2.1 Being active on Steem
We want to add people to the BOI MOD team to manage the community, guide users, review and curate their posts, and to organize contests in this community as well, but for that, we need to ensure proof-of-dedication, that is true for all regardless of the rank or position. We are keen on consistency, not 'on/off' kind of things(unless some medical emergency or similar situations).
We can not expect our members to engage or post daily by making ourselves sitting idle(or not active). So if we believe in certain principle we need to involve ourselves first before expecting the same from others. That makes it critical to be active on Steem as a MOD.
2.2 SP Delegation - What should be the goal for an individual or as a part of the BOI MOD team?
BOI community wants its members to delegate their SP to a single account @bestofindia so that through the BOI account everyone will be curated. It may not worth much at this moment, but we have certain plans on which we are working. So if someone is expecting those privileges he/she must delegate to BOI in the long run, curation reward will separately be paid each month.
At this moment, the three CRs are giving 10% of the author reward to the BOI pool. That fund is being utilized to reward members and to organize various other events in the community from time to time.
We are not forcing our members to set 10% as benefactor reward, that responsibility has been taken up by @rishabh99946 @neerajkr03 and @sapwood. And we will try our best to increase it, should the number of active users, quality bloggers grow in time. We would appreciate it if our members or MODs can contribute using the SP delegation or setting BOI as a beneficiary with 10%.
2.3 Help guide community users
The idea is to help the members reach 500 SP first(those who have not yet reached 500 SP), the other thing is to encourage quality blogging, as we are committed to making improvements in the quality of the post, not just for one member rather for all. That is why we are trying our best to make it a learning ground. We will provide all the materials for such a cause.

3. Promote BOI on Steem and offline, must conform to 3Rs.
We are also working off-chain to bring some donations from other institutions that will be straightaway powered up in the BOI account. Many other things are going on as the objective is long term. Also, Mods are expected to take recruitment responsibilities and mentorship to make BOI as a professional blogging community. And for this, we all need to spend time helping our Indian Steemians and we are looking add MODs who have the same vision.
That said, we are not trying to dictate the terms and conditions, we are open to new ideas and if it can add value to this community, then definitely will be implemented and resources will be utilized accordingly. We can reach a consensus on all those ideas and opinions.
Thank you.
BOI Channels:-
---
For any questions, clarifications, etc, please join the comment section.

Cc:-
@steemitblog
@steemcurator01
@steemcurator02

Unless otherwise stated, all the images, infographics, charts, tables, etc(if any) are the original works of @bestofindia.
---
The post payout is set to "Power Up 100%".