Consolidated List of Spammers/Plagiarists(Repeat Offenders)-- Date- 03/04/2021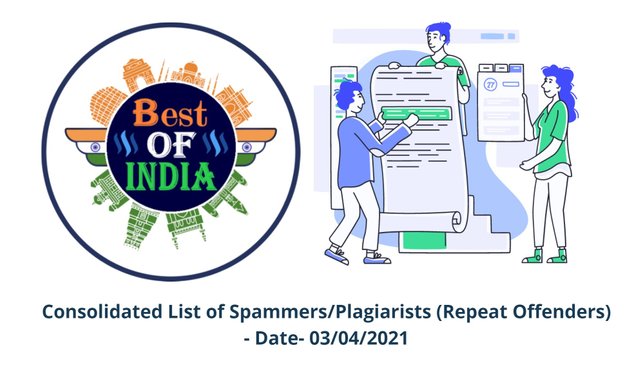 Here is a fresh update on the recent spam/plagiarism cases.
The following users are deliberately trying to spam/plagiarize in Steemit Crypto Academy.
In the previous correspondence, we requested all of these users not to spam/plagiarize again, also requested them to correct the course. But they don't care what we request/suggest. They are incessantly spamming/plagiarizing in the crypto academy.
We found that these spammers/plagiarists are stealing the original content(in English) of other participants and translating them into HINDI/SPANISH//KOREAN, and trying it represent it as their own content.
Plagiarism is an act of stealing the content of others and representing it as their own content and/or passing off content without acknowledgment of the real authorship.
Therefore we hereby drop the usernames(caught in repeated spam/plagiarism cases) permanently from the List of Active Authors. They will never be curated with community curator account(s). We also request the Admin/MOD of BOI to mute them forever with immediate effect.

Consolidated List of Spammer/Plagiarists
The following users are running alternate accounts to abuse the reward pool, they are also relentlessly spamming/plagiarizing in Steem Blockchain in various initiatives like #betterlife #cryptoacademy.
We also found that three/four different users are using the same memo to send their STEEM to Exchange account.
We request @neerajkr03 to drop their names from SUT.
We also request the CRs of other communities to keep a close eye on these users to make sure that these spammers don't participate in any contest run by them.
Thank you.

Cc:-
@steemcurator01
@steemcurator02
Cc:-
@rishabh99946
@neerajkr03
@sapwood
@starlord28
Cc:-
Cameroon (@njiatanga, @saxopedia), Ghana (@njaywan, @oppongk), Nigeria (@focusnow, @bright-obias, @whitestallion), Uganda (@yohan2on), Mexico (@leveuf), Argentina (@belenguerra, @fendit), Venezuela (@adeljose, @anasuleidy, @edlili24, @mariita52, @tocho2, @albenis, @inspiracion, @wilmer1988), Bangladesh (@rex-sumon, @tarpan, @toufiq777), India (@neerajkr03, @rishabh99946, @sapwood), Indonesia (@anroja, @ernaerningsih, @nazarul, @radjasalman), Japan (@cryptokannon), Pakistan (@rashid001), Sri Lanka (@besticofinder, @randulakoralage), Italy (@girolamomarotta), Russia (@filinpaul, @knopka145), Turkey (@alikoc07), Ukraine (@antorv, @olesia) and New Zealand (@kiwiscanfly).