The Diary Game , Season 3 : 22 October 2020 : Meeting for course department ..
Hello Steemians , How was it going friends ? I hope all of you are doing great and are all safe during the pandemic .
So let's get started and talk about my today's activity .
---
22/10/2020
Thursday
---
Today my day started at 5 o'clock. As usual the alarm rang at 5 o'clock and I woke up. After waking up , I first put my phone on charging and then went to kitchen . I drank two glasses of lukewarm water. And after sometime I went to bathroom , brushed my teeth and washed my face .
After that I got a call from my friend at 5:30 AM. Then I , my friend and his brother went to morning walk . I called @mohitsingh and Prateek as usual . Then we reached the highway while walking. Today only my friend's brother ran. I just warmed up. Because I was not well since yesterday.
Around 7 o'clock I came back home and my friend went towards his house. On coming home, I asked Mom to make tea. I started using the phone. Then Mom asked me to bring the Basil leaves. Because many diseases are cured by eating basil leaves. It is very good for health.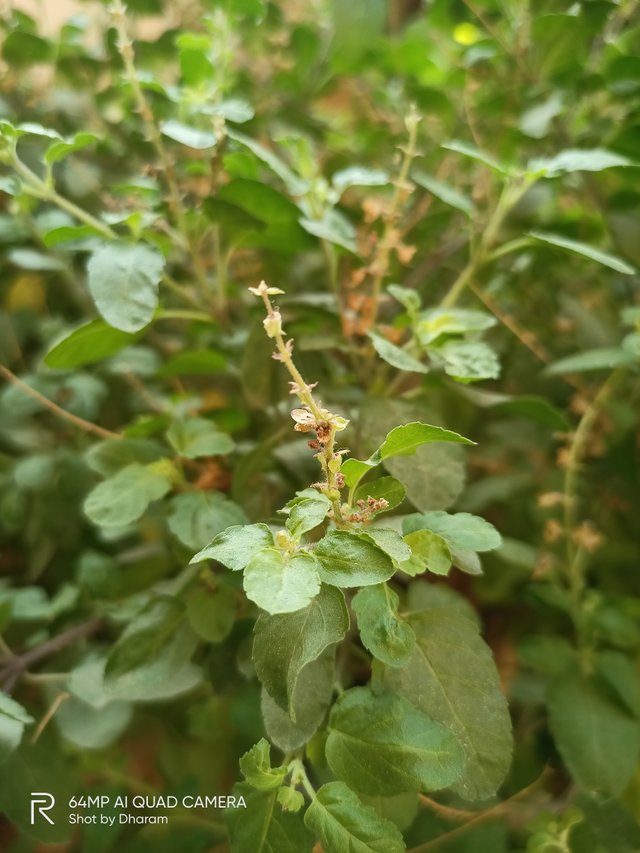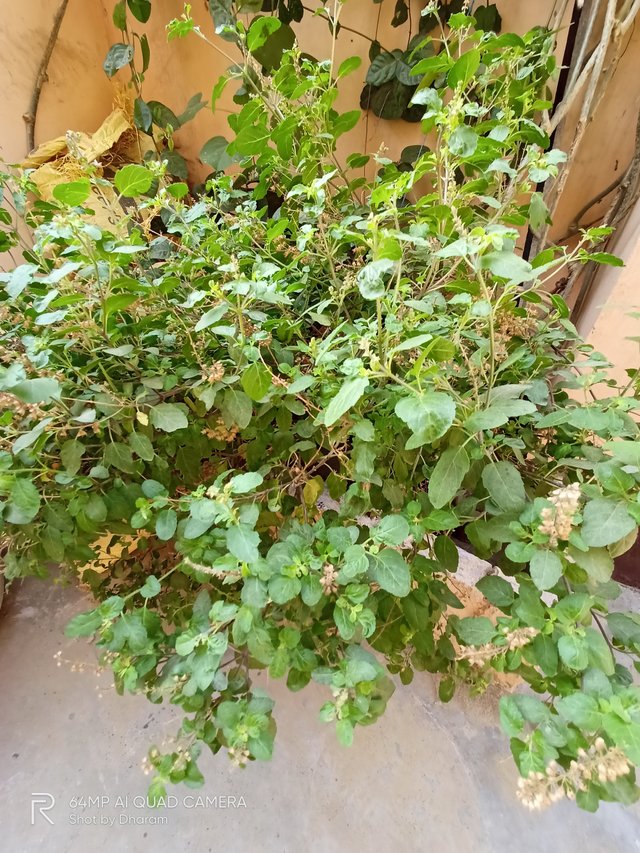 Basil Plant . There are many basil planters in my house. Plus Code - 3M6M+HG Sirsaganj, Uttar Pradesh
Basil leaves helps to control stress. It improves blood flow by relaxing the nervous system. Basil leaves also provide relief in headache.
At the same time, the benefits of Tulsi can be used to get relief from problems like cold, cough, fever. Therefore, if any immunity is low, then the benefits of eating Tulsi leaves can be effective for them.
Mom gave me tea. After drinking tea, I went upstairs for exercise. After exercising for about an hour, I relaxed .
It was 9 o'clock. Mom asked me to take a bath. so I went to bathroom and took a shower and started getting ready for worship .
We started the puja at around 9:30 . After worshiping, I drank tea again and ate biscuits . After that I took my phone and opened steemit . I first checked @steemitblog and then I started reading the posts of other communities .
The Best of India community organized a contest few days ago named Contest |Gadget Reviews | contest on Steem. So today I participated in that contest.
Then I took some photos of my phone, took some screenshots and started writing my post .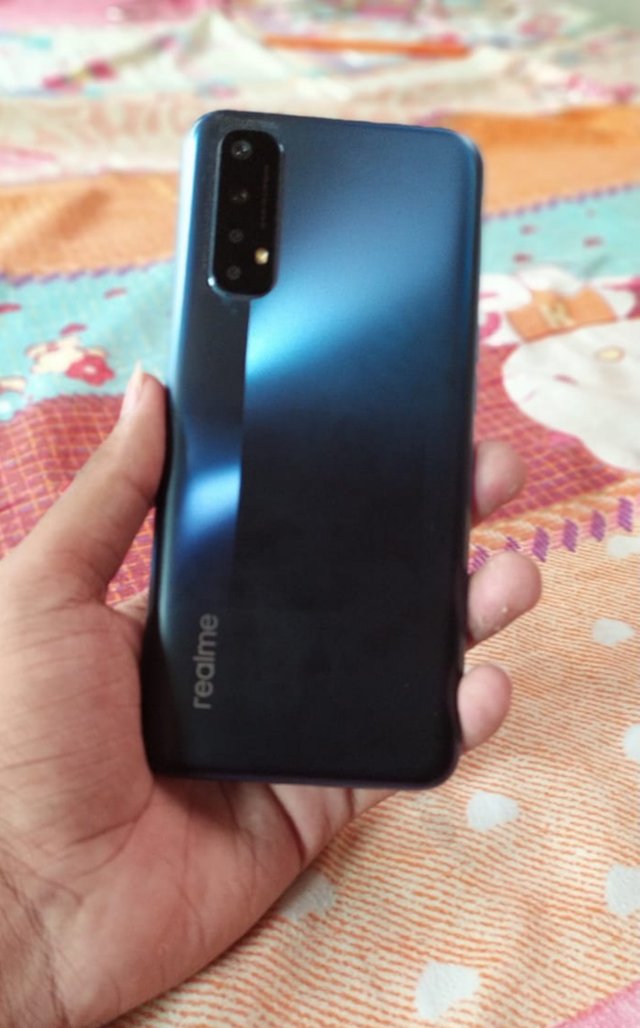 My Phone Realme 7
I just wrote this post a little bit. Then I got a message from my college friend. I started talking to him. Then I checked about my online classes. Today was class from 12 o'clock. After that, there was a lab for the same subject from 2 o'clock.
Then I became active on social media for a while. then opened The third part of the new video of BB Ki Vines was uploaded. So I started looking. It was very fun. By then , Mom gave me a voice for lunch . I put my phone on the side. Then I had lunch.
---
It was almost 12 o'clock. I took my Phone and opened Microsoft Teams app and joined my online class .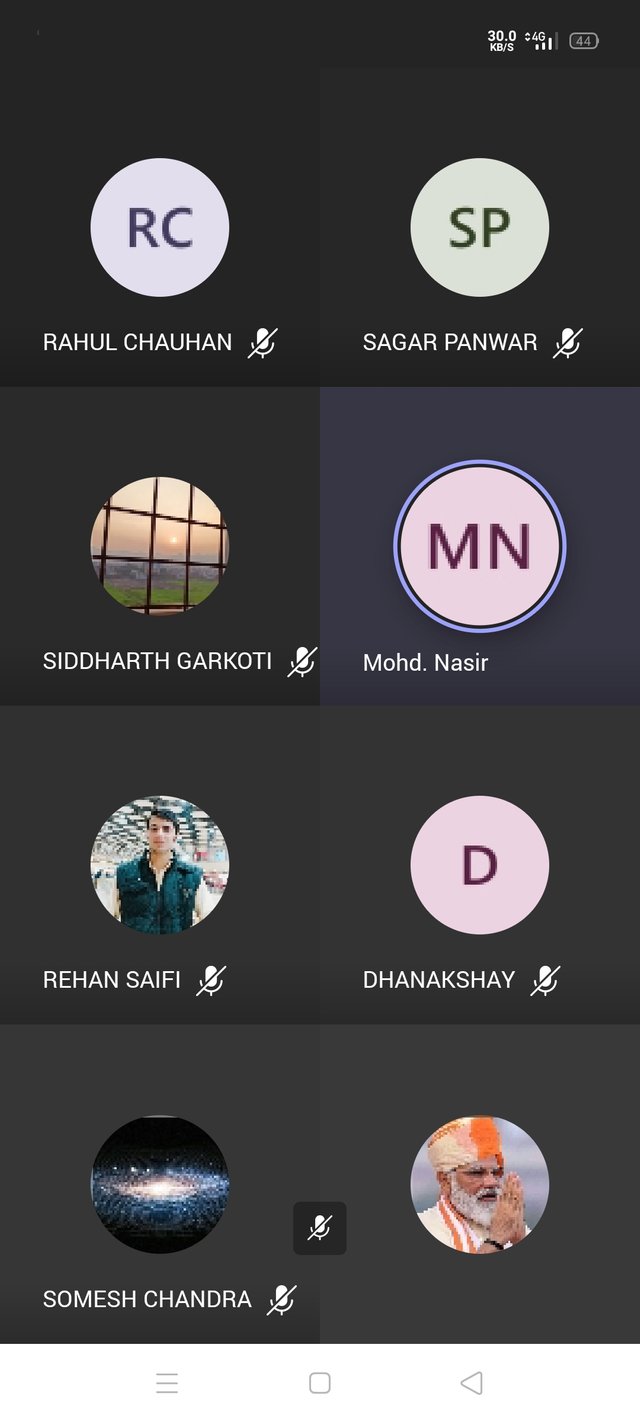 This class was of Intru Theory . Today's topic was a voltmeter.
It was almost past one. Then a student sent a message to the college group that HOD has agreed to the meeting. And there will be a meeting from 1:30 PM . So sir finished the class and cancelled the lab.
So I and my college friends started waiting at 1:30 . Finally , It was 1:30 . We joined the meeting . HOD joined the meeting after about 5 minutes. Then there were 7 students in the meeting only, but later more students joined the meeting.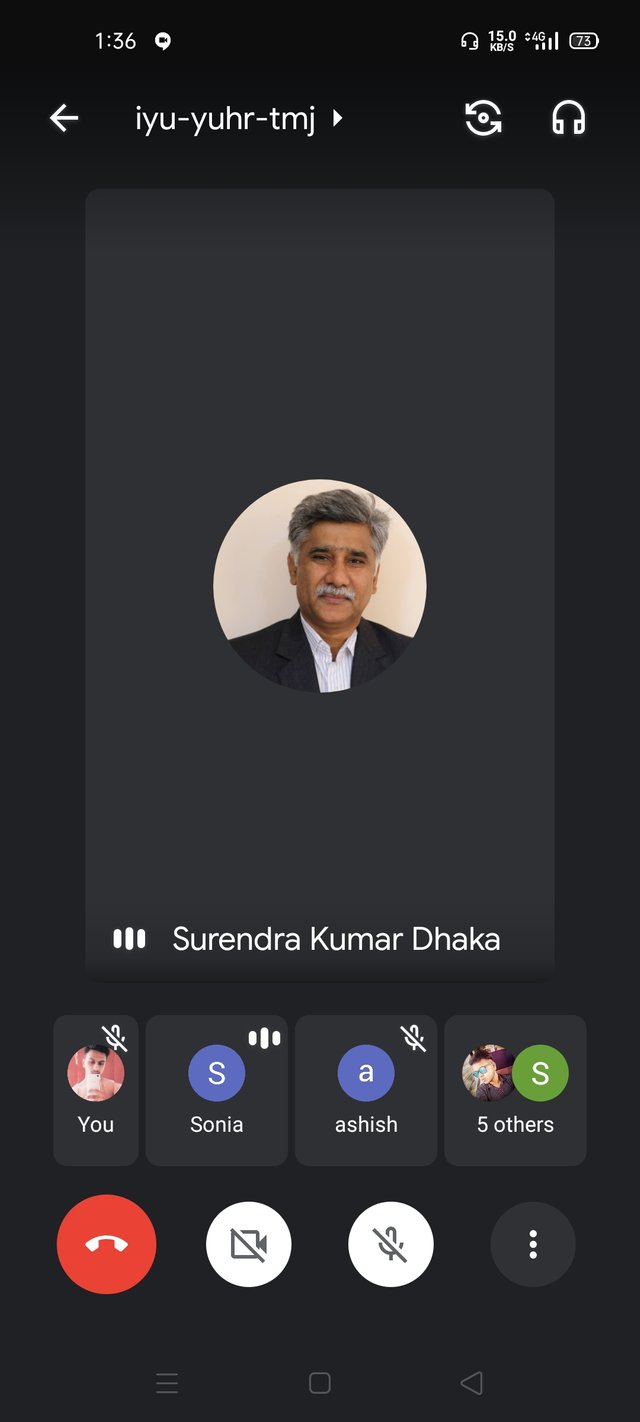 This meeting was to create a separate department of our course. Because we did not have a department yet. This meeting continued for about 2 hours. We gave some points and some HOD gave. And finally HOD agreed to create a separate department.
After this we talked. And then left the meeting. It was about 4 o'clock. I went to bathroom and washed my eyes . Then I lay down and took a nap.
---
It was 5:30 when I woke up. I took my phone and opened steemit. And I started writing my post for the contest .
I wrote it and posted it.
Gadget Review : Realme 7
After that , I called my friend . He came in 10 minutes. Then we went to his shop.
We just kept talking and kept gossiping.
It was seven in the evening. My friend was playing the game on mobile. I told him that I do this till then you make a team on Dream11.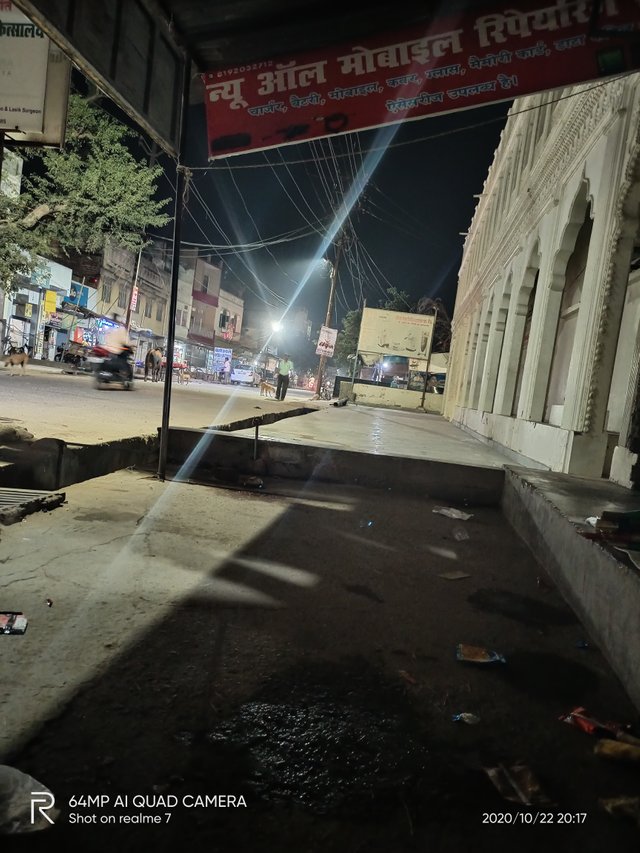 At my friend's shop Near Geeta Eye hospital . Plus Code - 3M5P+X7 Sirsaganj, Uttar Pradesh
Around 8:20 my friend closed the shop and we came back home. After coming home , I had dinner and then I went to my room .
It was 9:00 in the night. I took my Phone and started using it . There were a lot of notifications. I was checking them one by one. Then I saw that Mirzapur Season 2 has been released. Unfortunately, my Amazon Prime subscription was also over. So I was waiting for Mirzapur Season 2 to be uploaded on Telegram.
After sometime , my friend sent me a message that Mirzapur season 2 is uploaded on telegram . So I opened telegram and put the episodes of Mirzapur Season 2 for downloading .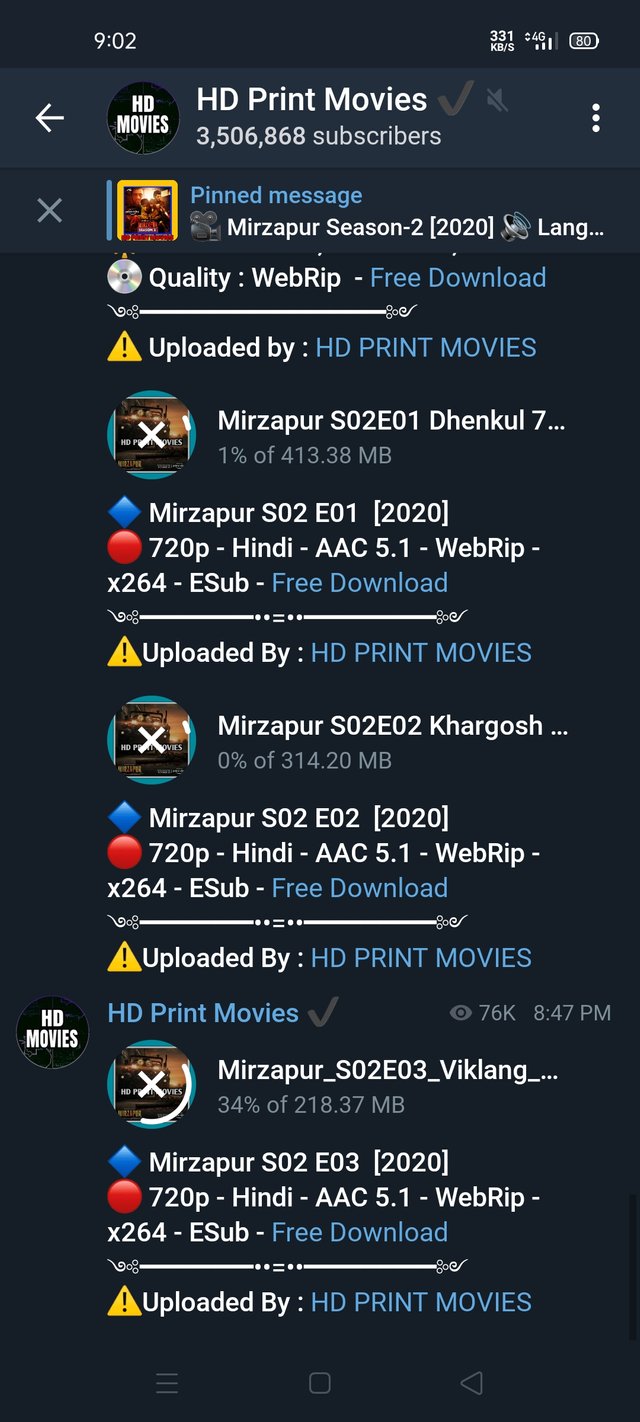 I took this screenshot . Its 10 episodes were uploaded. But I did not have enough data to download all the episodes. So I downloaded only 4 episodes.
My internet was not working properly. So it was 10:30 when the episodes were downloaded. I started listening to songs by then.
After that , I played 2 games of PUBGM with my friend then I left . It was 11:30 in the night. It was time for me to sleep. I was also feeling sleepy. So I turned off the room light and I slept . 💤
Good Night Steemians , Steem On
---
Post reward are set to "Power Up 100%"