The Diary Game , Season 3 : 24 October 2020 : A day full of happiness ..
Hello Steemians , How was it going friends ? I hope all of you are doing great and are all safe during the pandemic .
So let's get started and talk about my today's activity .
---
24/10/2020
Saturday
---
Today I woke up early in the morning. I got up before the alarm sounded. It was very cold this morning. I took the blanket and covered my body. And tried to sleep again. But I could not sleep. It was almost 4 o'clock in the morning. So I sat for a while. By then uncle too had woken up. Then I went to the kitchen and made the water lukewarm to drink for myself and uncle.
After drinking water, I sat down and started using the phone. Then the phone battery was at 12%. I turned on the internet. There were a lot of notifications. I checked them one by one. I also had a message from my friend on WhatsApp last night. I replied him . Then I opened instagram and scrolled it for a while .
It was 5 in the morning. The alarm started ringing. I set off the alarm. Then I went to bathroom make myself fresh and brushed my teeth. I forgot to put my phone on charging . I got a call from my friend . I put my phone on charging . And then I went to the morning walk with my friend .
It was very cold today. Clouds were also happening. We reached the highway. I warmed up and ran. We sat on the fields for a while. Today the sun was rising slowly slowly . Light sunshine was visible from among the clouds. We returned home around 7 AM.
5 minutes later my friend came by bike. I went with him. I had to take photos for my post of the contest organized by @steemitblog. We were riding three people on the bike. I took photographs of schools, hotels etc. And after about an hour I came back.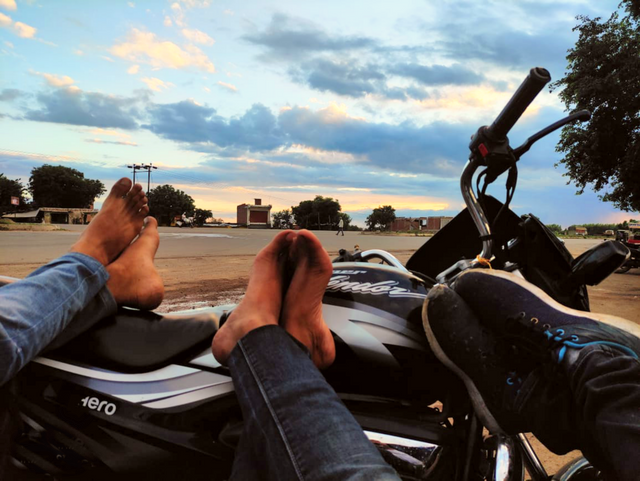 I had taken this photo around seven and a half. The sun was not visible yet. And the clouds looked very good. Plus Code - 3M89+R9 Umari, Uttar Pradesh
what3words
My friend dropped me at about 8 o'clock. After coming home, I went upstairs for some exercise. The sun had risen. I also took some rest. And after half an hour I came downstairs . then I went to bathroom and took a shower and getting ready for worship .
Uncle and sister started preparing for worship. And I started reading the newspaper. I first opened sports page and checked about today's match . Today was Super Saturday . Today there were two matches. The first match was between KKR and DC and the second match was between KXIP and SRH. And I also read other news .
After that , I took my phone and opened steemit . And I wrote my post for the contest and uploaded photos.
I'm learning a lot from SteemIt. I didn't know what3words before. I have learned from this now. And my friend @rishabh99946 also explained me in detail.
So I posted it after writing.
My town in 10 Pics : Sirsaganj : 24/10/2020
After this we worshiped. Today the sister worshiped Goddess Durga.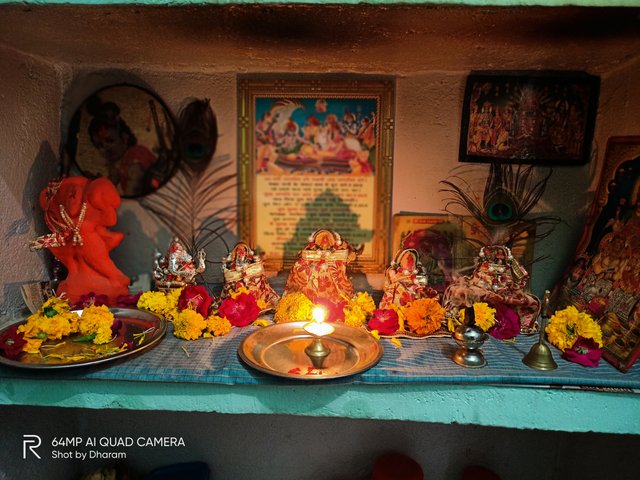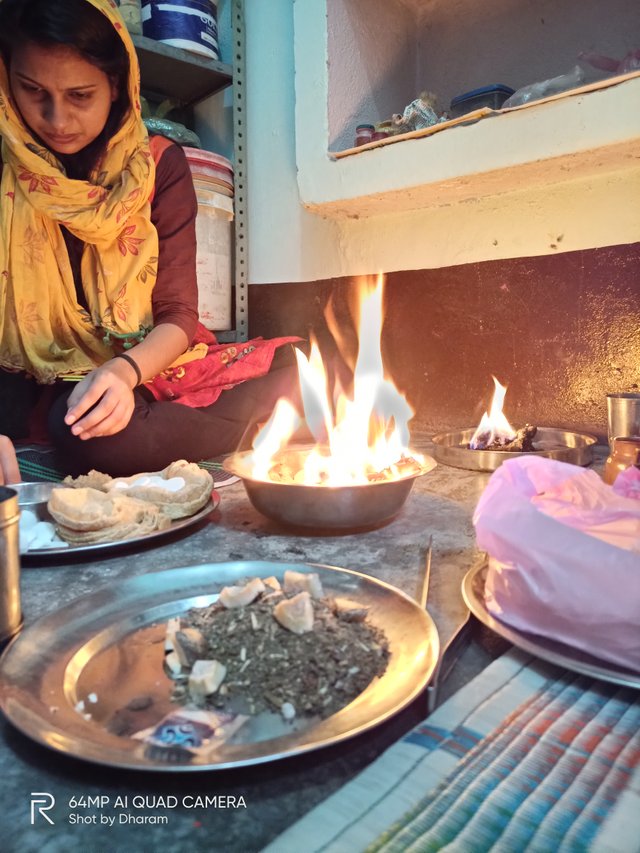 Today was Durga Ashtami. We worshiped at home. After that We distributed Prashad. Plus Code - (3M6M+HG Sirsaganj, Uttar Pradesh )
what3words
After this, the sister went to the temple. Now , I took my phone and checked about my online classes . There was no class today. But I had to make notes. I put laptop on charging . Then I opened steemit again and started reading blogs.
Then I started writing my diary for #thediarygame . I wrote a little . By then the sister came back. I started helping her in her project. It was almost 1 pm in the afternoon . I was also hungry. I asked Mom to cook. Mom started preparing lunch.
In about 15 minutes aunt and mom made lunch. And we all had lunch together.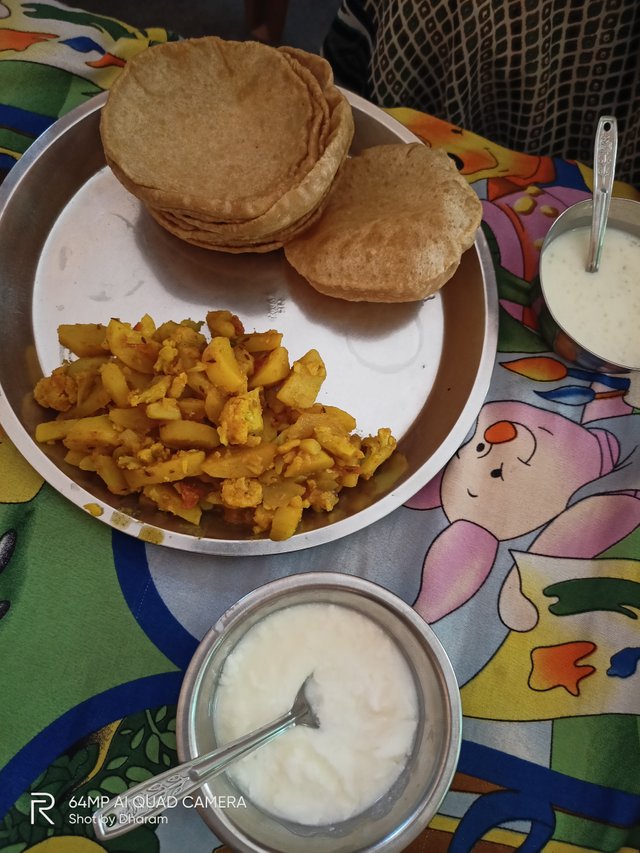 Puri, Gobi vegetable and curd in lunch
After lunch , I took some rest. Then I took my phone and started using it . I opened MX player and started watching fourth episode of Mirzapur Season 2.
After this, I also watched the fifth episode. And I'll see the rest of the episodes tomorrow.
It was almost 3 o'clock. The uncle had come from the village. Aunty made tea. After drinking tea, I went to the market with my uncle. We had to buy white cement. We went to the cement shop. Bought cement from there and loaded it on the cart. And then we came back home. It took us an hour.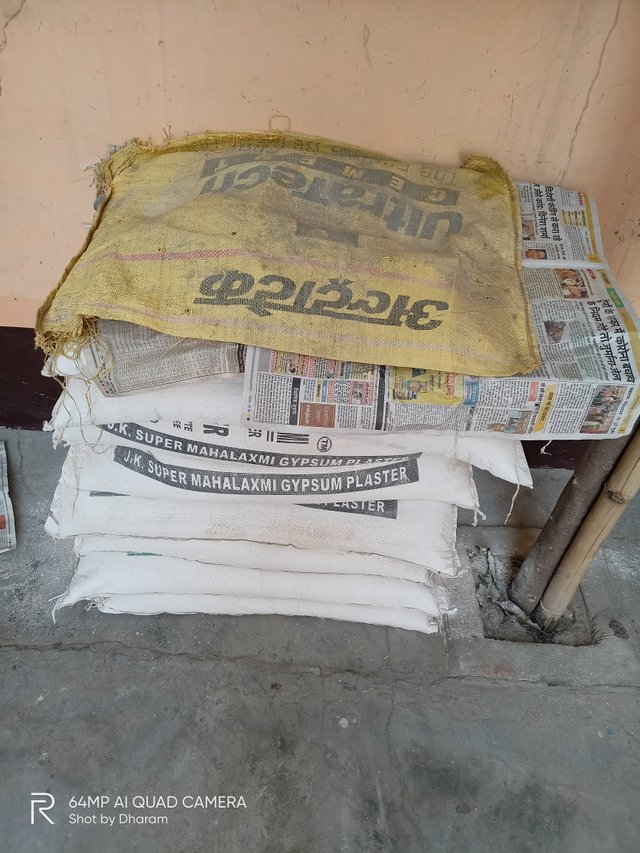 We bought 6 bags. Anand iron & cement store Plus Code - 3M4Q+WM Sirsaganj, Uttar Pradesh

what3words
When I came back home, I washed my face. And used the phone for a while. I opened YouTube . And I started looking for videos to watch. A new episode of Hamari Kahani was uploaded. So I started watching that episode.
It is a Turkish Drama . It is available in Hindi language.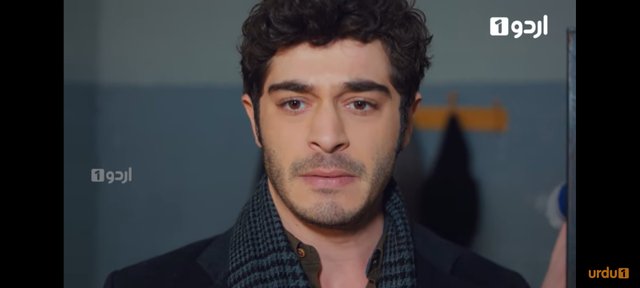 Episode - 202
After watching it , I took a nap.
---
It was 6:30 in the evening. I got up when my friend called me. I slept for about 2 hours. After getting up, I washed my face. And then waited for the friend to come.
He did not come and did not even take my call. He had called me but he did not come by himself. So I went to his house. He was doing household chores. So I stayed there. After about half an hour we went to the market. After that we went to his shop.
His brother was already at the shop. I went with him to the medical store. He had a cold. Then we came back and started watching the match on the phone. Sun Risers Haidrabad won the toss and chose bowling.
Kings XI Punjab was playing the first innings. The team lost a wicket early.
Then we started talking about seeing the score. His brother asked me to take a picture of him. I did not take a good photo of him in a joke.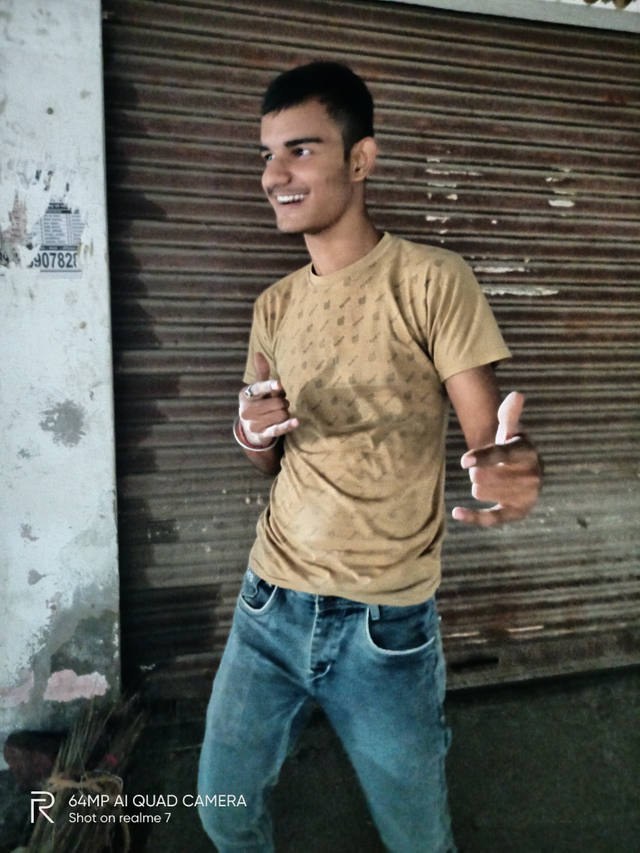 He is very funny . At his Shop , Plus Code - 3M5P+V7 Sirsaganj, Uttar Pradesh
what3words
After this, my friend closed shop at around 8:30 pm and we came back home. On coming home, I first put my phone on charging . And then had dinner. Then I started watching news on TV.
Around 10 o'clock I turned off the TV and went to my room. Then I decided to watchNaruto Shippuden series . I watched 3 episodes of it.
Then I started feeling sleepy so I turned off the room light and slept . 💤
Good Night Steemians , Steem On
Thank You
@steemitblog
@steemcurator01
@steemcurator02
Post reward are set to "Power Up 100%"