Betterlife with steem : 10/04/2021; Learn with Steem [ Educating students & teachers about COVID-19]
Covid-19 ( co stands for corona : vi stands for virus and d for disease and 19 depicts year of origin) is an infectious disease caused by virus (SARS - COV2) . To begin with, in 2019, virus was named as nCov ( n for novel and co for corona and v for virus) because at that time it was a new (novel) virus. Later when thorough study on the virus was carried, it was found genetically very similar to an earlier existing virus named SARS COV ( severe acute respiratory syndrome causing Coronavirus), so it was named as SARS Cov 2 as one was already there to which its structural resembalance was established. I hope by now terminology is clear. To sum up, COVId-19 is a disease caused by SAES Cov -2.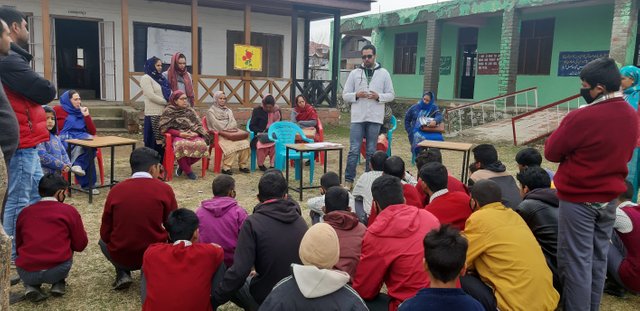 At school, educating kids and teachers about covid
i after oompleting my night duty till 10:30 am in the morning, was relieved by my fellow doctor. I left tired and exerted with the hope of reaching home after an hour and than taking a nap for hours together. Soon after leaving, i received call from my block head to visit some said schools and educate students and teacher about covid19, its prevention and also about benefits of ongoing vaccination. I was initially reluctant keeping my exertion level in view. And the good thing is that, he agreed and he told me that he will arrange an alternative . I happily dropped call and proceeded towards home. After about 5 minutes, he again called me and told me that alternative couldn't be arranged because of ongoing vaccination. So I'll have to do it myself but this time he was very kind. So i agreed and instead of heading towards home, I headed towards the designated destinations.
After reaching, i came to know that only class 11 and 12rh students are there because as per govt orders rest of the classes have been closed. So my job got a bit easier because making class 11 and 12 , understand things is easier than younger kids.
After talking to school administration regarding the plan, they were very cooperative and they directed their students to gather in the school premises and they themselves also participated as you can see in the image above. I then educated kids about do's and don'ts of covid and also demonstrated certain practical aspects like mask wearing technique, hand hygiene, respiratory hygiene and also spread awareness about ongoing vaccination and wanted them to take home message related to the vaccination benefits and encourage their parents at their homes to undergo vaccination.
i was back home by 4:00 pm after 30 hours of continuous duty. It is at times so frustrating that, i want to resign from job but than a passion to help poor people won't be served outside government hospitals. After reaching i was feeling like drunk. So i immediately changed clothes and took a cup of tea and than slept for 4 hours . I woke up at 8:30 am, had dinner and now i am writing this diary. I am yet to feel normal.
Thanks