Betterlife with steem: 11/04/2021: Acts of Kindness [Pledge to help neighbour build a house for their family ]
After getting up at 8:30 am in the morning, i immediately rushed towards washroom to freshen up and get ready for duty. As i came back and headed towards my room, my mom called me and told me that one of our old neighbours has come for consultation. As i entered and after greeting each other, i asked for his medical history and wrote a prescription for him like i do as usual for all the patients in a hospital. As i handed it over to him and started moving towards my room, he called me again and told me that, if he can get medicine from my home. When i looked at his face, i saw his eyes filled with tears and lower lip protruded, about to cry aloud.
As i enquired further, he was like, no money to purchase medicine. On hearing this, chill ran down my spine. Unfortunately medicine was not available at home. So i called one of chemist and told him that I'll send a patient, give him meeicine and send bill on my whatsapp number and I'll transfer payment online. So this was a sign of relief for my old neioughbour.
Soon i went to my room and shortly thereafter he too left. As i came back to took tea after dressing up, my mom told me that, they are building house but due to financial crippling, they have only laid 2 walls of above ground stone work. On hearing it, i was jolted inside. But i somehow pretended to not have been affected much . I took tea and than left for duty.
Throughout day, it kept disturbing me and finally after completing my duty, i came back home, took a cup of tea and went to my old neioughbours home. I initially told him that i came to check his medicine . So i checked his medicine and than pretended to leave. As i came out of his old home, i tried heading towards my car and deliberately i looked towards their house under construction. Than i told my neioughbour, oh! What are you constructing, as if i knew nothing. So he told me that, he is trying to build a new home. I was like , why don't you do it speedy. To this he replied, what speedy can a man do, who doesn't have money to buy medicines.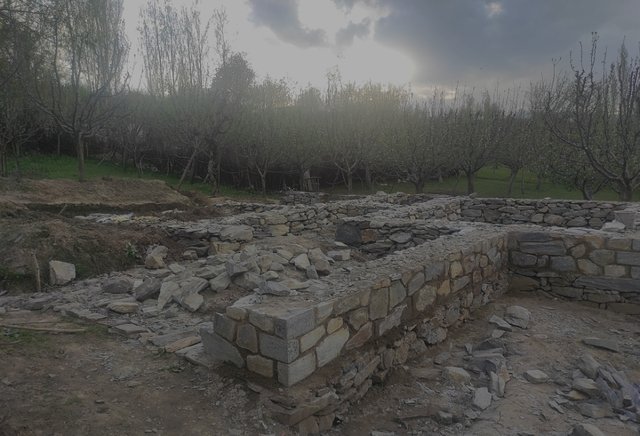 House under construction
As i had already planned to help him in constructing a house for him and his family. I was just trying to find a way to tell him so that he won't feel to have bern favoured. So i told him, why are you worrying about it. I am your son and I'll help you. I just made a call there to one of my friend, they have their own stone mine and told him to bring Stones as stone work for 2 walls is pending. He assured me to bring it by tomorrow. And i gave him address .
So i have pledged it to myself, that I'll help him as much as i can. So he has to build it partly himself and partly I'll help. Than i came back home and got busy with my official work. The mental disturbance that was going on during day had vanished and i found myself in peace again.i continued till dinner, than i went to see my grandmother and soon came back to sleep because i am exhausted.
Thank you.