Betterlife| The Diary Game : 09/04/2021 | Corona positive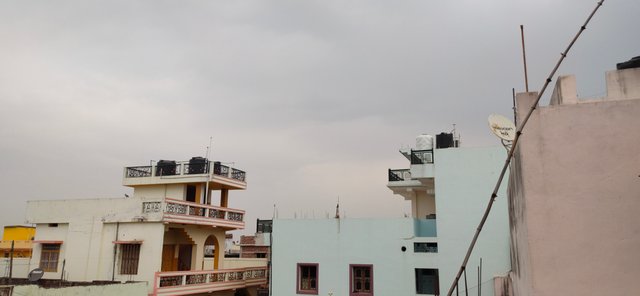 Morning pic
As I told you friends that my husband's health is not good for a few days. When he woke up this morning, he did not have fever but still he was having body pain, then he went to the adjacent Sadar Hospital where Corona is being investigated. Shortly thereafter, he comes to know that he has mild infection and is corona positive.
Here I was engaged in my work. I got up in the morning and did all my morning work. When my husband came home from the hospital, he told me the whole thing from a distance. Our house is 2 floors, ground floor and first floor, He isolated himself on the ground floor and we gave him everything he needed.
The doctor has said that there is a very mild infection, but still we have taken all precautions. Jessu is quite sensible according to his age. I explained to him once and he understood that he did not have to go to Papa. Because my mother-in-law is also in our house, who is old, my husband has said that only one person brought anything to him, such as food items. So only I am going to give him any thing.
Right now his health is fine, he do not have any problem, we have taken special care of their diet. The doctor gave him three days of medicine for fever.
He is taking the ( काढ़ा)decoction twice a day, morning and night, steaming twice. And drinking turmeric milk twice. And having Coconut Water and Lemon Juice and orange Juice.
I have been spending the whole day doing up and down the stairs.😓😓 So,For dinner I made simple green moong dal and roti.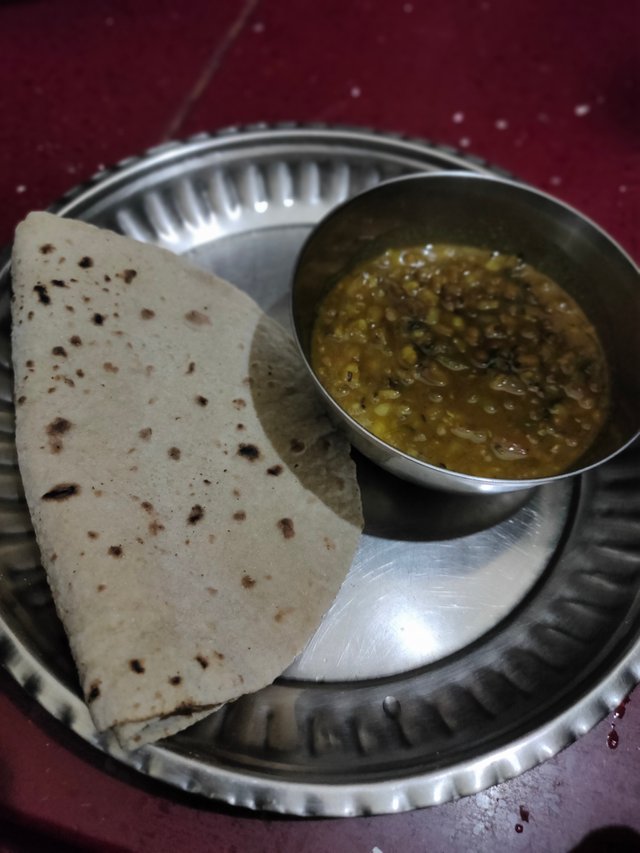 Jessu sat reading for a while with me, I checked the notification on my mobile, where I came to know that some students are protesting at our university, about waiving fees. They say that for what we are being charged such a large amount of fees, when we are not being taught anything, the class is not working. It has also been published in our local newspaper.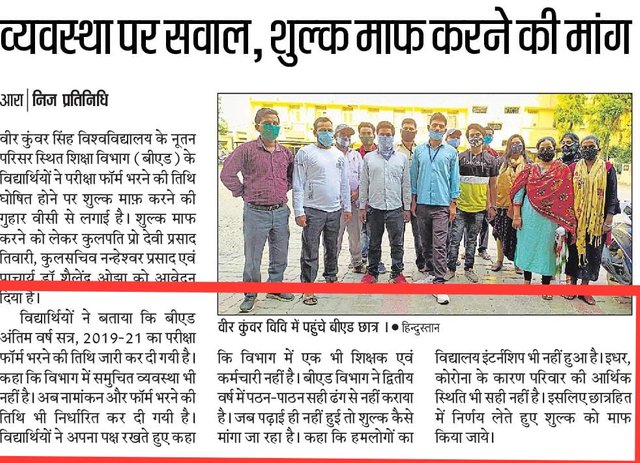 News about our fees
I spent my time on steemit after jessu's sleep at night. These days I am not able to sleep at night. Feeling very tense. That is all for today's post. I feel a little lighter after sharing my routine with you guys diary game is really great.☺️
Thankyou,bye bye take care....
With regards,
@jyotisingh