Bitcoin is Booming - My favorite cryptocurrency: EOS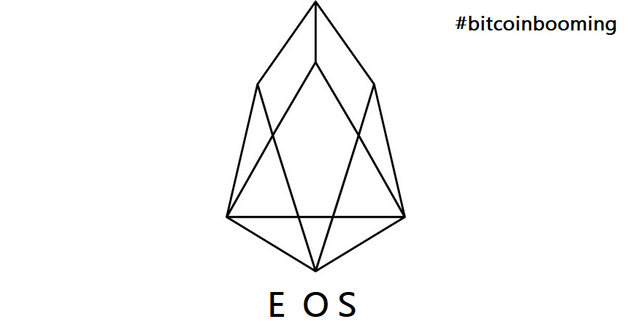 EOS official site | https://eos.io
My cryptocurrency holding
I am holding a very small quantity of EOS for the past 1 month and my plan to hold this for the long term around 5+ years or maybe more. I first heard about EOS around 4 months before when I started researching and learning about blockchain platforms or blockchain as a service. During this discovery, I got to know about EOS and Steem blockchain platforms.
What is EOS
Let's start with understanding EOS, It's core features and its offerings. EOSIO is a next generation blockchain platform, also provides blockchain as a service that's designed to allow developers to build decentralized apps, also knows as DApps. EOS is the cryptocurrency that drives this network. Using the EOSIO platform, businesses could save their time and effort in setting up infrastructure and maintenance costs as well while using their blockchain platform services. It supports easy customization so it can easily fit in a different type of business/industry requirements.


EOS Testnet account
Developers can easily create a testnet sandbox account by signup here.
EOS platform is very simple and straightforward, programmers can easily use this blockchain technology without worrying about many technical dependencies and that makes this platform unique compare to its rivals. It provides,
SDK for Swift: It helps in developing IOS mobile application.
SDK for Java: It allows developers to build Android native mobile applications on EOSIO.
EOS JS: Using this Javascript library, the interaction between end-user web applications and EOSIO blockchains can be done. A feature like web authentication could be achieved easily.
RPC API: It provides RPC API for integration with EOSIO-based blockchains. We can query all needed information about the blocks, transactions, etc.
Latest released version of EOSIO is 2.0.5
Key properties are,
It is Open Source
Distributed Ledger
Decentralized Governance
Trustless Public Network
It supports the community of Apps, 2nd Layers and Sister Chains
Emerging Store of Value Asset
Some technical features are,
The modern applications require to consider below important points while developing and hosting. EOS supports these features which fulfill the current need.
Distributed Computing: This feature helps to keep the application/website up and running in case of a technical failure of one of the servers. In the case of a single server, if the application is down then the whole business is down. So distributed computing offers resilience to our application/website. So technical failure of an individual component doesn't necessarily compromise the entire system. It also resists disaster because of the wide geographical distribution of network members.

Event Sourcing/ CQRS: It supports the event souring and the current state of the system could be reconstructed using the event log. It is a really important feature for a blockchain.

Virtual State Machines: The EOSIO application is stateful. We can query the current state or process. It is not run on one server, the entire network runs on a virtual machine and all the changes in the state are validated. So it's a validated state machine.

Smart Contract Platform: There are many smart contract platforms like Ethereum, Tron, Solana. EOSIO is familiar with developers, it can be written in familiar programmable language like C++. It generates byte code that can be executed in many different environments so It helps simulate, replicate, debug, and test their code easily. EOS tech team keeps on improving to make it easy for developers.
So in short, a product or service, or platform couldn't become useful or popular until it has easy to adopt features, great useful properties, and use cases. EOSIO is making things simple for developers as explained above which is helping it to become popular in the developer community.
Why did I chose EOS
Below are the key points that have helped me choosing EOS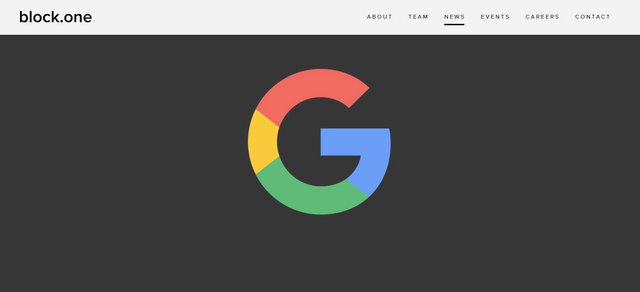 Google Cloud Joins EOS
Google Cloud Joins EOS: Google Cloud is a block producer on the EOS Public Blockchain which gives great confidence to businesses to chose the EOS platform. We all know Google is a big player in cloud services and one of the world's leaders in technological innovation. It will provide its highly provisioned, low-latency infrastructure. So Google's technological support on the EOS platform gives huge confidence to investors.

It provides Blockchain-as-a-Service(BaaS): It is a fully managed EOSIO blockchain infrastructure for applications, operated and administered by Block.one. BaaS is one of the best use cases of EOS as just like other popular SaaS products offered by Amazon AWS, Microsoft Azure. This service would help EOS platform to become popular within the developer's community and would help in developing next-generation decentralized enterprise applications in finance, healthcare, logistics, and supply chain, e-commerce etc. It is a new suite of enterprise services designed to help organizations integrate blockchain-based solutions into their operations.

Supported by Block.one: Block.one is the company behind the EOS platform.

Built and Run by the Community: The EOS Public Blockchain was created by thousands of developers around the world. It is an open and decentralized public network.
EOS Portfolio, Investments, and Grants
EOSIO ecosystem is backed by 70+ investments and 30+ grants through EOS VC, Block.one and its partner funds. You could see the entire list here.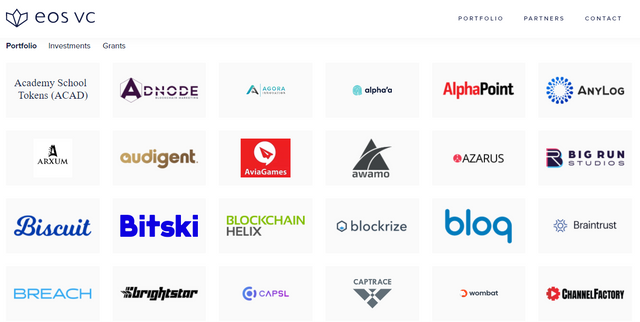 Portfolio, Investments and Grants
EOS team of experts also provide,
EOSIO Consulting - They help in accelerating the projects of different industries.
Training & Certification: Anyone can get training and certification to become a EOS blockchain professional.
EOS current performance and it's future


Source: https://coinmarketcap.com/currencies/eos

Its current market cap is 2.7B and its rank is 14th.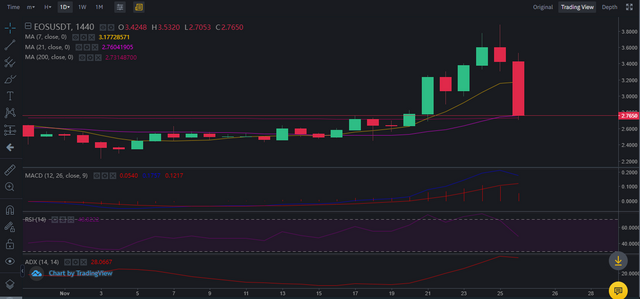 EOS/USDT 1 day chart

It has recently made a high of around USD 3.8 and now it is around 2.7 near 200 days MA. So all recent gains are lost but it doesn't matter to a long-term investor who believes in the underlying value of the EOS platform.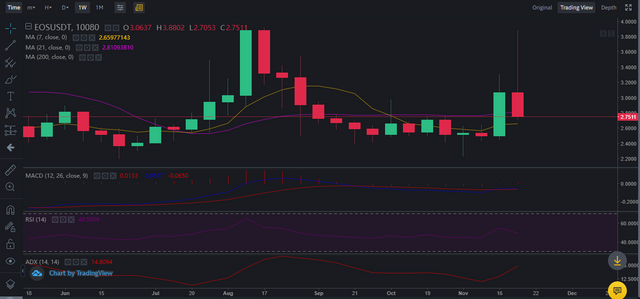 EOS/USDT 1 week chart
Plan to hold, buy more, or sell?
I am following a systematic investment plan so I would keep buying at regular intervals that is every month or 3 months. As I am a long-term investor so my plan is to buy and hold for 3-5 years but at the same time I need to keep an eye on developments in this space and how EOS would keep itself unique compare to other blockchains and services provided by them. Now, Amazon AWS has also launched its Blockchain services and I am sure competition would grow in this space. I hope EOS would get the early mover advantage in this space.

Important note: Anybody can register here for free training on EOSIO technology stack, app development till January 31st, 2020.

Thank you!
---
References:

Cc:-
@steemitblog
@steemcurator01
@steemcurator02

Screenshots are taken from the https://eos.io and https://block.one websites.
---
DISCLAIMER
It is not financial advice. Please consult your financial advisor before making any financial decision.
---
The post payout is set to "Power Up 100%".