Brownie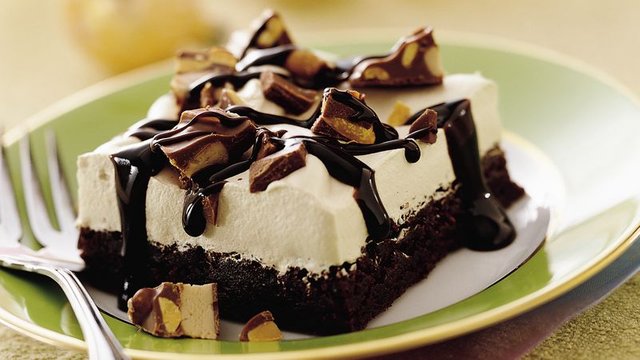 Hello readers,
     Today I will share with you a famous dessert recipe of America"Brownie". Before that want to share the story behind the dessert. "Bertha Palmer", the wife of Palmer hotel owner "Potter Palmer, was president of the ladies board for managers for exposition. When organizers of the event asked her to create a dessert especially for the boxed lunches at the women's pavilion, palmer went her hotels pastry chefs and gave them the task of creating a dessert that was easier to eat than a piece of pie and smaller than a layer cake that could easily be served in boxed lunches. The result was brownie.
Ingredients:-
1. White sugar- 1cup.
2. Large eggs- 2.
3. Espresso powder- 1/2 tbsp.
4. Unsalted butter- 1/2 cup.
5. Vanilla extract- 1tsp.
6. All purpose flour- 1/2 cup.
7. Kosher salt- 1/4tsp.
8. Baking powder- 1/4tsp.
9. Walnuts- 1cup(coarsely chopped).
10. Unsweetened cocoa powder- 1/3cup.
For Frosting:-
1. Butter- 3tbsp(soften).
2. Unsweetened cocoa powder- 3tbsp.
3. Vanilla extract- 1tsp.
4. Confectioners sugar- 1cup.
5. Honey- 1tbsp.
Preparation Method:-
Step 1-  Preheat oven to 350degree F(175degree C).
Step 2- Lightly grease and flour an 8×12 inch square baking pan.
Step 3- In a large saucepan, melt 1/2 cup butter, remove from heat and stir in sugar ,eggs, vanilla (1tsp),beat in espresso powder (1/2),cocoa powder ( 1/3cup), all purpose flour (1/2cup), kosher salt, baking powder, coarsely chopped walnuts (1cup). Spread batter into prepared pan.
Step 4- Bake in preheated oven for 30 minutes. (Don't over cook).
For Frosting preparation:-
Step 1- In a bowl combine  softened butter, cocoa(3tbsp), honey (1tsp), Vanilla extract, confectioners sugar. Stir until smooth.
Assembly:-
Step 1- After 30 minutes, take out brownies. Once they will became warm, frost brownies.
Step 2- now cut the into square pieces and serve.
image credit: source
N.B. This article was also published on my personal blog :
https://sduttaskitchen.blogspot.com/