Better Life | The Diary Game | 10-04-2021 | Stress Free Weekend
So, after what feels like an eternity now, I finally got to enjoy a weekend without having to log into work.
Yesterday was the last day of my sprint. Fortunately, I was able to complete as well as demo all the tasks that were assigned to me. Normally we get about 8 story points worth of development time every sprint. This week, I was given tasks worth 24 story points which I had immediately voiced my concerns about. However, due to the time crunch that we are facing with our release, I had to pick up all the tasks that were assigned to me.
Since I had finished all my tasks, I had the weekend all for myself. So, I decided to meet up with my college friends after nearly a complete year. During college days we had a squad of 15 people. However, half of them have moved to other countries to pursue their higher studies.
When I called the ones still here in Bangalore to meet up, some of them told me that they were busy. In the end, 5 of my friends agreed to meet up for a Saturday brunch.
Morning: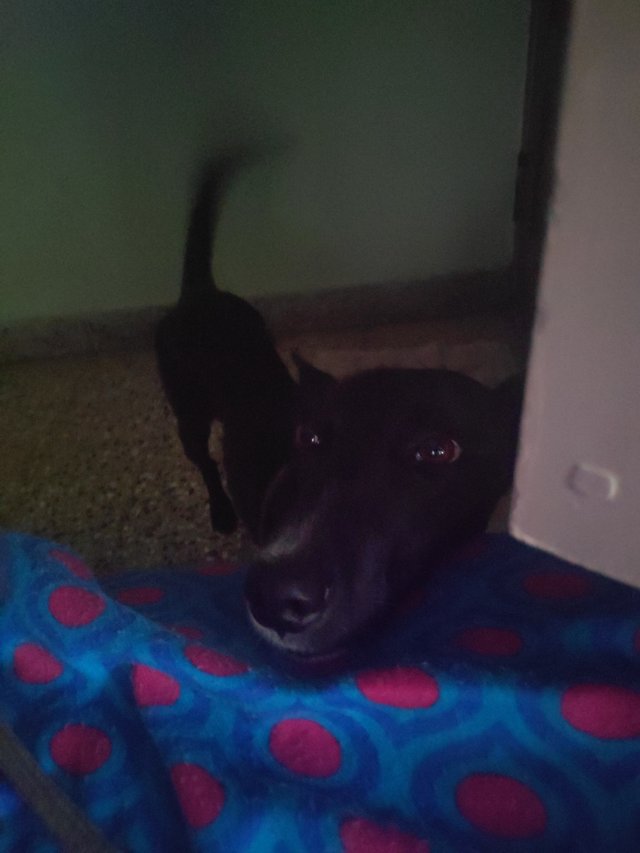 Cooper acting all cute
Early in the morning, I was woken by Cooper's innocent face pestering me to take him out on his morning walk. I simply cannot say no to him when he acts so cute. So, between 6:30 to 7:30 AM, I was on my morning walk with Cooper.
After coming back home, my mom wanted me to clean the attic as the leaves from the nearby tree had fallen and were blocking the rainwater drain on the roof. Since this was a lot of work for me to do by noon, I told her that I would do this some other day.
After completing my morning chores and having a cup of milk, I went to sleep for some time. I then woke up at 9 AM to have my breakfast. Since I had told my mom that I would be going out to meet my friends today, she had cooked my most hated dish. The upma. Most of us south Indians hate this dish. It is also famously called "the concrete" by many. this is because it is soft and semy fluid when hot and comes together when it cools down.
After my breakfast, I decided to log onto steem and check out a few new posts in the BOI community. I also curated a few of them using the community account. By the time I finished this, it was already 12 Pm in noon. So, I decided to have my shower. We had decided that we would meet up near Kormangala Socials at 2 PM. So, I was already running late right now.
Noon and Evening:
By the time I got out of the shower, it was already 1 PM. Before I left, I took Cooper out for a short walk and made sure he finished all his chores. On getting back home, I had a couple of bananas as I was very hungry and I booked a cab on Uber.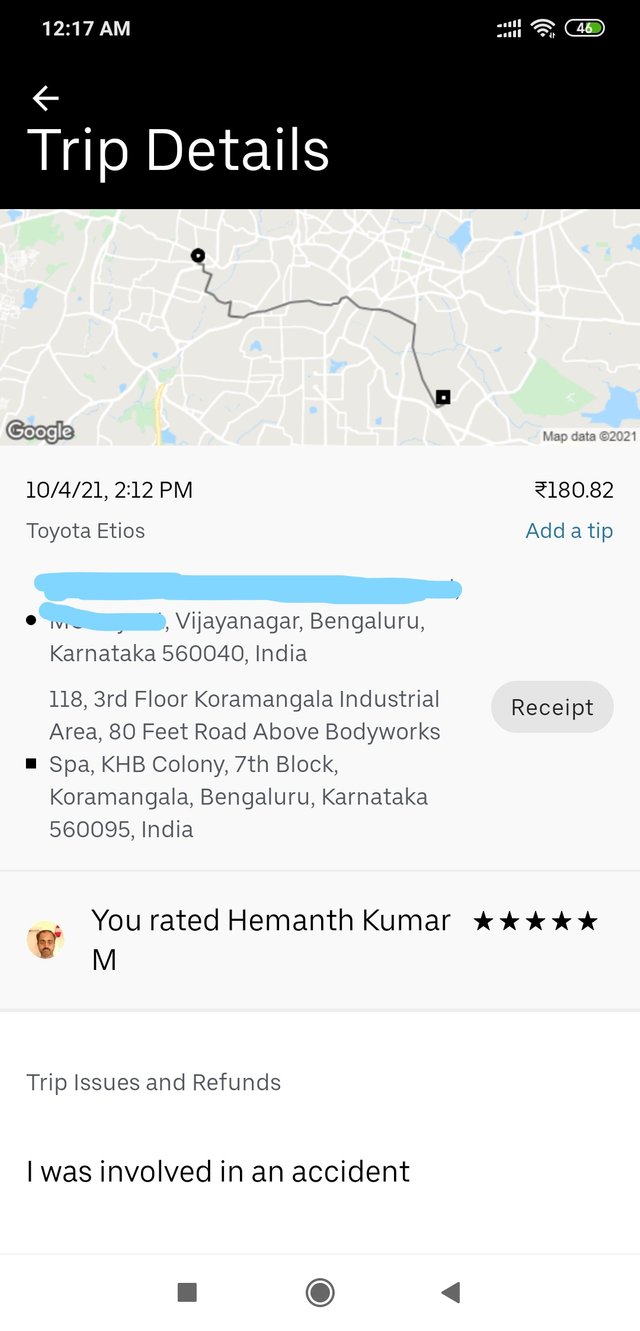 My Cab Ride today
Uber today was much cheaper for me and Ola was expensive by about INR 100. By the time I reached the location, it was already 2:15 Pm. I was sure that my friends would have already been waiting for me. However, to my surprise, I was the first one there. On calling them, I realized that I was early by at least 30 minutes.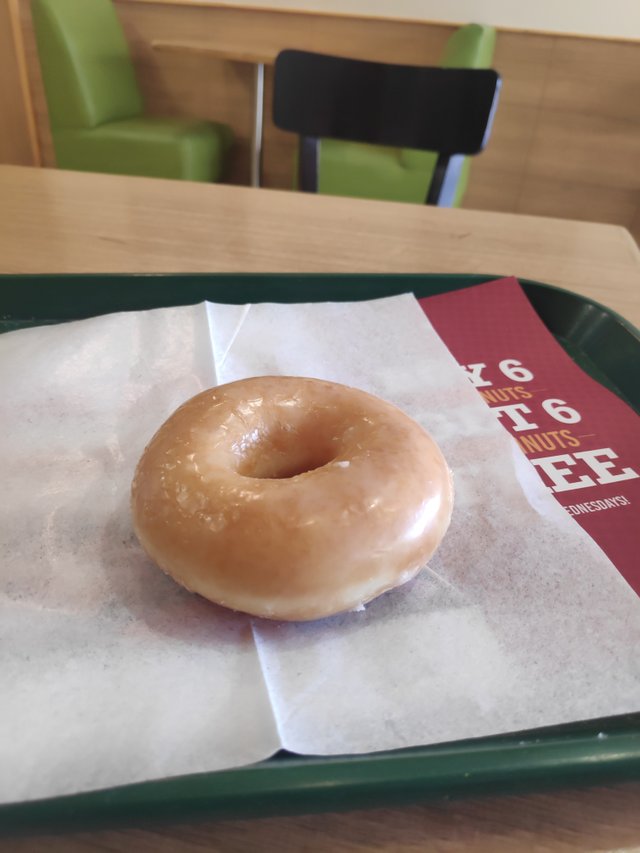 Krispy Kreme Donuts are the best
Going into a huge restaurant alone would be extremely awkward. Staying out in the scorching hot sun was also not an option. So, I decided to go to Krispy Kreme which is located just a couple of buildings away. Over there I had my all-time favorite, the Original Glazed Donut. This is the only donut that is not too sweet nor too bland. It's simply perfect.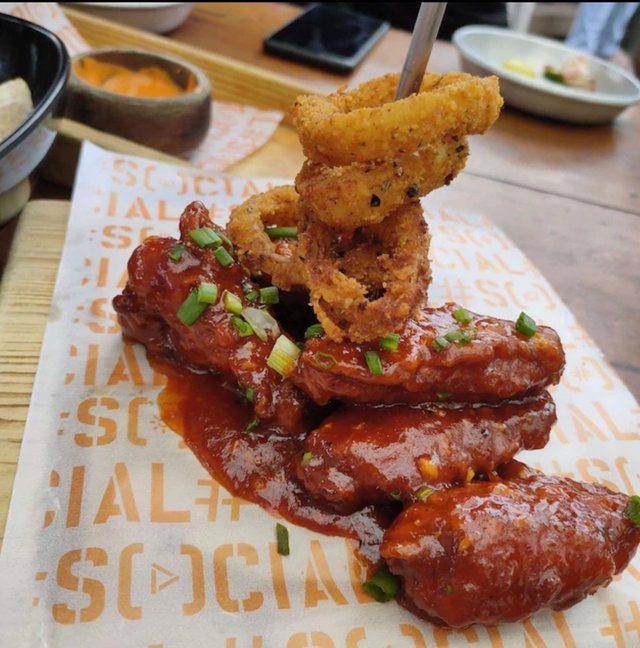 Yummy Chicken Wings that we had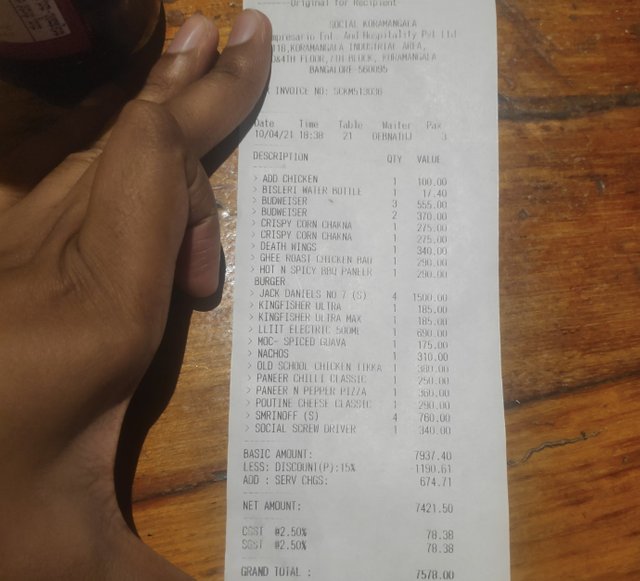 Our Bill for the noon
After spending 30 minutes at Krispy Kreme, my friends finally arrived. We entered Social and hogged a lot of food. The final bill came up to INR 8600. However, thanks to Dineout, I got an offer of 15% off. So, in the end, the bill was INR 7578 which is about $100.
Since I recently got a decent raise and a promotion, I was made to pay this bill as a treat to my friends.
Night:
We left Kormangala at 7 PM in the evening. I took a cab back home. Due to Bangalore's famous traffic jams, the journey of 13kms turned out to take one complete hour. When I got back home, Cooper had just got up from his beauty nap and was demanding his dinner. So, I gave him his dinner, went on our night walk, and just hit the bed.
Since I had a lot of food in the evening, I couldn't eat dinner. I just had a couple of small bananas for dinner. Since I was out for most of the day, I was extremely tired when I got back and slept immediately. Well, that's it for my diary update. See you guys tomorrow.