Betterlife | The Diary Game | 08/06/2021
Hey guys. Just wanted to add a side note over here. If you have unused steem power that is not being utilized completely, consider delegating to the BOI community account. We ensure that the SP there does not remain idle. Additionally, we distribute curation rewards to our delegators on a monthly basis.
On that note, let me go through my daily activities.
Morning:
Today morning, I woke up a bit early, like around 5:40 AM I was awake. This was not due to an alarm or a call. It was the heat at night that made me get up this early. After I got up, I decided to get some office work done so that I could relax for the rest of the day.
Finally, at 6:30 AM, Cooper came and sat next to me. This is his way of asking me to take him on a walk. This happens in a few stages. First, he comes and sits next to me. Then he starts to demand some pets. If this doesn't work, he starts his low-intensity barks. That's usually when I decide to take him out for his walk.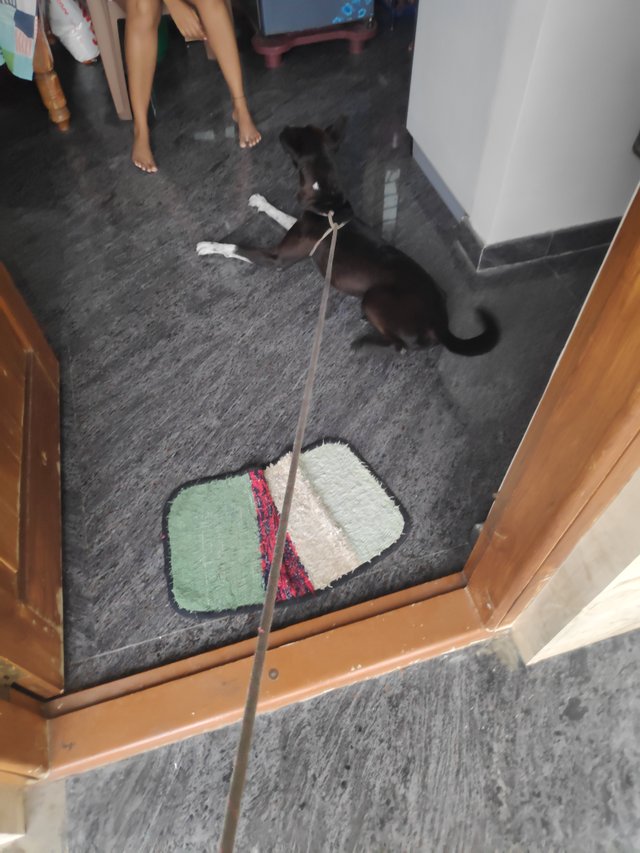 This is Cooper refusing to come on our morning walk
I tried to do the same today as well. However, my mom thought Cooper was hungry and started to give him some treats. Well, obviously Cooper enjoyed his early morning snacks. The part that gets funny is that he refused to go for a walk and wanted more treats. It was extremely funny as I had to literally pull him by the leash to get him to come on a walk with me.
Today, we went on our walk at around 7 AM. Since I got a bit of work done very early in the morning, I decided to spend some extra time on our walk. So, we took a longer route in our walk today. After coming back, I felt refreshed. I then gave Cooper his breakfast and went on to complete my morning chores as well.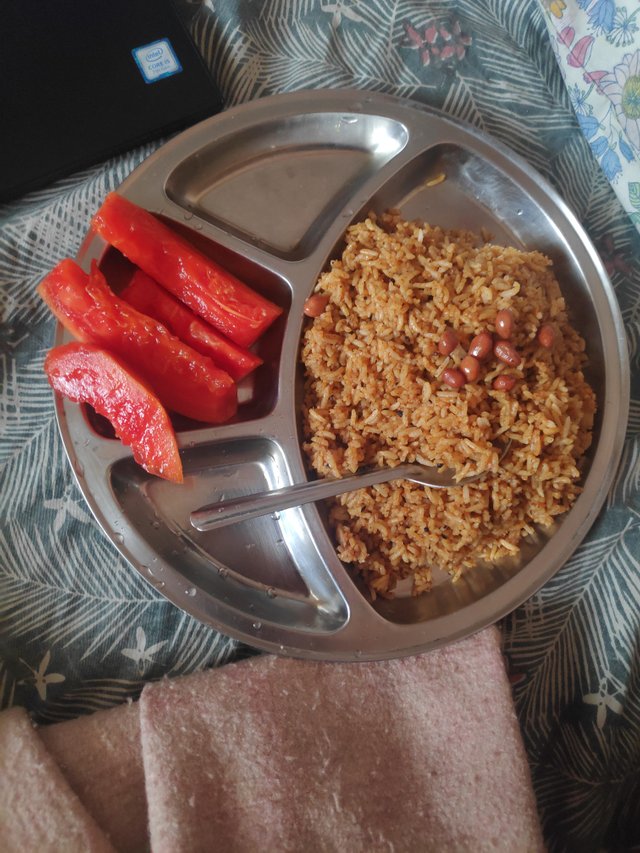 Tamarind rice and Papaya
At around 8:30 AM, my mom got me some fresh fruit and breakfast. Today I had tamarind rice and papaya for breakfast. This was extremely delicious and I could definitely have this all year round without getting bored of it.
At 11:45 AM, I attended my morning standup and then got on with the tasks that were assigned to me.
Noon:
In the noon, I decided to have a smaller meal. This is because I wasn't feeling that hungry today. My afternoon lunch usually involves ragi ball and rice. Today was no different. Only the quantity of rice was lower.
After my lunch, I have involved in a few meetings the rest of the noon.
Evening and Night:
IIn the evening, I had a bread omelet for snacks. This is one of my fan\vorite snacks to have as it is inexpensive, simple, yet extremely delicious. Whenever I have an egg or an omelet, I give the eggshell to Cooper. They contain calcium which is extremely useful for dogs.
After my snacks, I spent some time fixing the customer bugs and then logged out of work at around 7 PM.
After my work, I spent some time here on Steemit trying to catch up on various things that happened. So, I didn't play with Cooper today. Instead, I sat by his side while I browsed through Steemit.

Chapati and Holige with Capacicum curry for dinner
At 8 PM, I had chapati and holige for dinner. After my dinner, I gave Cooper his and went on our night walk. I was kind of tired after our walk. So, I decided to hit the bed and curate articles in the morning instead.