Steem Income Report (SIR) Tool Update | Added Date Picker
Application URL : https://sir.steemcryptic.me
Problem
When I released Steem Income Report Tool back in January 2021, the tool was mainly being used by the BOI community while distributing the monthly curation rewards to the delegators and a few other users who used to use it to check their monthly income.


Here is a screenshot of the initial release where we could search only monthly reports
In the initial release, there was a facility to check the income report of a particular month only. While this did serve its purpose for the BOI community during the disbursal of curation rewards that we do on a monthly basis, the tool was not very useful for communities that distributed rewards on a weekly basis. One example of this is @randulakoralage's @steem-sri.lanka community.
Additionally, it would have been hard for the BOI community as well, if we had decided to distribute rewards on a weekly basis. This is why I have now made the search dates completely configurable.
Solution: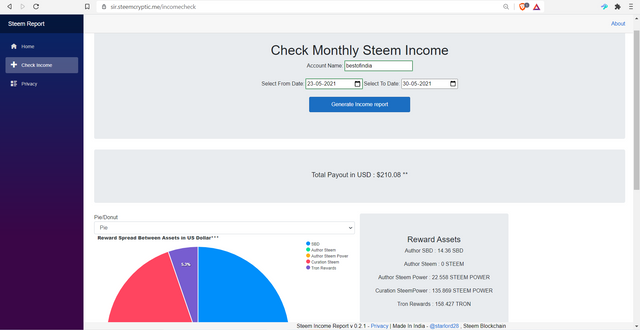 Version 0.2.1 of SIR tool now allows you to provide custom dates as inputs while calculating income reports
From SIR tool version 0.2.1 onwards, users would be allowed to search for the income report based on the From and To dates that they provide in the SIR UI. The only thing that users need to keep in mind is that all the dates are based on UTC time and the From Date should always be lower than the To Date.
The best part about providing these custom dates is that users can now also search for annual income reports as well. It would be really great to see the account growth when we have the option of searching for a longer duration.
As this application now runs entirely on @steemchiller's SDS API, you will not be facing a lot of delays when the annual reports are calculated which is great. The application can be found at https://sir.steemcryptic.me . So, please do use this new version and provide feedback in the comment section. I'm open to your suggestions on new features or even improvements to the existing application.
Thanks.