Contest Results // I delegate to @steem.skillshare // Prize fund - 100 steem! BEGINNING 2ND ROUND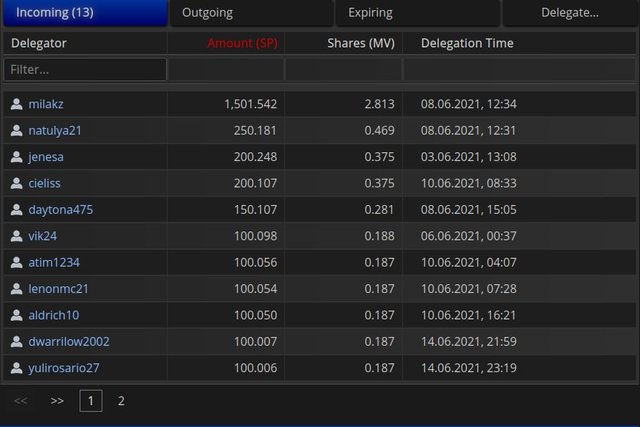 Today we have finished the first week of contest DELEGATE TO STEEM SKILLSHARE.
We decided the winners will be 3 delegators who delegated more 100 SP. Our admin @milakz as the leader of the board was not participating in this contest.
We want to congratulate and give prizes to everyone.
The first leaders more than 100 SP delegators will reciveve the prize
@natulya21 -30 STEEM
@jenesa- 20 STEEM
@cieliss - 10 STEEM
@daytona475 - 10 STEEM
The others will recieve 5 STEEM
@vik24
@atim1234
@lenonmc21
@aldrich10
@dwarrilow2002
@yulirosario27
The community is growing, which means support is needed!
Support is different!
It could be an investor's investment ...
It could be post support ...
It could be looking for a student or teacher through the community ...
There are a million options to support the community, but ...
But today we are talking about a small competition - the competition of delegating your power to the Steem Skillshare community!
More precisely, the @steem.skillshare account!

Conditions of the competition!
1.You must delegate your power to @steem.skillshare!
2.A huge and excellent plus will be if you make a detailed report on how you delegated your power to the account and how much!
3.Steemit is an international platform, so a post in a language convenient for you is welcome!
4.Be sure to write your thoughts about the community! What would you like to add to the community? Share your thoughts and wish @steem.skillshare and the Steem Skillshare community what you see fit!
5.Mandatory first tag #delegatesteemskillshare
6.Be sure to write about delegation through the Steem Skillshare community
7.No plagiarism!
8.Post size doesn't matter, but creativity is welcome!
9.Make sure to mention in the post via @ 3-5 people from different countries! After all, the more people learn about such an opportunity, the better it will be for everyone!
10.Observe etiquette!
Timing
We will start the competition right now on 06/16/2021 and finish it on 07/01/2021!
Prize fund!
By delegating to the community, you win multiple times!
Competition prizes:
1st place: 30 STEEM
2nd place: 20 STEEM
3rd place: 10 STEEM
The rest of the competition participants will receive: 40 STEEM
Go?