World of Cricket Contest Series | Contest - 2 :: Unbreakable Records in Cricket History
Hello everyone,
You all aware that World of Cricket community is organizing a contest series, one contest per week. So, this is the second edition of it.
We are really happy to announce that @steemcurator01 has already offered a package of prize upvotes from @steemcurator02 (4M SP). We will choose a total of 5 winners in each contest according to his suggestion. We would like to invite all the Steemians to participate in our contests to grab the big prizes.
For more updates, keep following @world-of-cricket.
"About The Contest-2"
---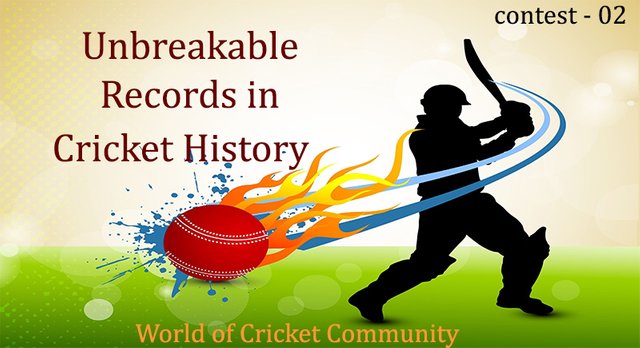 background image source
---
---
'Records are meant to be broken'. But this phrase has become a little bit of wrong with some astonishing performances over the years in Cricket History. They may not be challenged for a long time as presumed. Let's take a look at those records.
You can share with us about a "record in cricket history" which will be unbreakable or last for another few decades.
It can be an individual or a team performance, but make sure to write about only one
You can talk about the record, the player/ team, any possible player/ team to break the, etc.
---
"Rules"
---
You can write in any language.
All posts must be original.
One entry per user to maintain the quality of the post.
Write at least 150 words.
You need to make your post in the World of Cricket 🏏 community and make sure to leave the link of your entry post in the comment section of this post.
Must use the #cricketcontest2 as one of your first 3 tags.
You can add as many photos as you want but the proper sources should be cited.
Refer this contest for extra points. Your referred friend just need to mention your name in his participation post.
You can resteem this post and share your entry on the social media platform. (optional)
"Deadline"
---
This contest will Run for 7 Days. We will receive entries until 11:59 PM UTC of December 29.
---
"Prize Pool"
---
---
These votes will be increased by 10% if the posts are set to Power Up 100% and you are not powering down at the same time.
Winners will be announced on the 28th December.
---
---
JOIN US ON DISCORD
server
---
cc:
Cameroon (@njiatanga, @saxopedia), Ghana (@njaywan, @oppongk), Nigeria (@focusnow, @bright-obias, @whitestallion), Uganda (@yohan2on), Mexico (@leveuf), Argentina (@belenguerra, @fendit), Venezuela (@adeljose, @anasuleidy, @edlili24, @mariita52, @tocho2, @albenis, @inspiracion, @wilmer1988), Bangladesh (@rex-sumon, @tarpan, @toufiq777), India (@neerajkr03, @rishabh99946, @sapwood), Indonesia (@anroja, @ernaerningsih, @nazarul, @radjasalman), Japan (@cryptokannon), Pakistan (@rashid001), Sri Lanka (@besticofinder, @randulakoralage), Italy (@girolamomarotta), Russia (@filinpaul, @knopka145), Turkey (@alikoc07), Ukraine (@antorv, @olesia) and New Zealand (@kiwiscanfly)
The contest is conducted by @damithudaya.
---
THANK YOU!!!