World of Cricket Contest Series | Contest - 4 :: Tell us About Your Favourite Wicketkeeper Batsman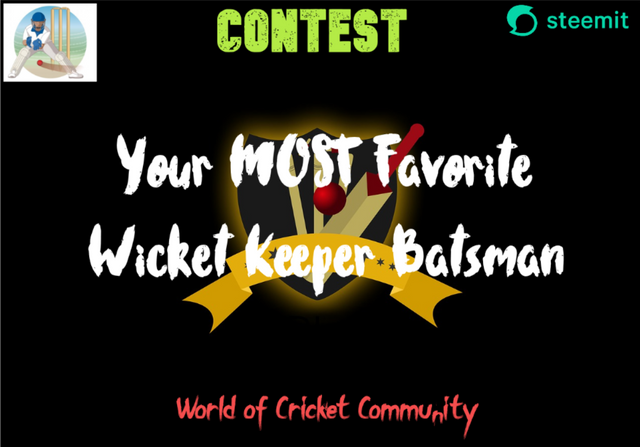 background image source
---
---
The wicket-keeper is one of the most important fielding positions on the cricket field. The wicketkeeper is generally known as the wicketkeeper-batsman. This is a very challenging fielding position. Wicket-keepers have to be very athletic, aggressive, straightforward, sharp-sighted, fast, and agile. So far the cricket world has seen many wicket-keepers, almost all of them have done a lot for their respective countries. But still, there are many of them who have crossed the borders of the country and written their names in history. Today we want you to tell us about "Your Most Favorite Wicketkeeper Batsman."
---
"Rules"
---
You can write in any language.
All posts must be original.
One entry per user to maintain the quality of the post.
Write at least 250 words.
You need to make your post in the World of Cricket 🏏 community and make sure to leave the link of your entry post in the comment section of this post.
Must use the #cricketcontest4 as one of your first 5 tags.
You can add as many photos as you want but the proper sources should be cited.
Refer to this contest for extra points. Your referred friend just need to mention your name in his participation post.
You can resteem this post and share your entry on the social media platform. (optional)
"Deadline"
---
This contest will Run for 7 Days. It will expire after this post payouts.
---
"Prize Pool"
---
---
1st Winner Prize: 6steem
2nd Winner Prize:5 steem
3rd Winner Prize: 4 steem
4th Winner Prize: 3 steem
5th Winner Prize: 2 steem

Qualified entries will be selected for upvote from the @booming curation account.
Winners will be announced on the 22nd January 2021.
---
---
JOIN US ON DISCORD
server
---
---
cc:
---
THANK YOU!!!