Holybread.io - small beta-testing "excercise"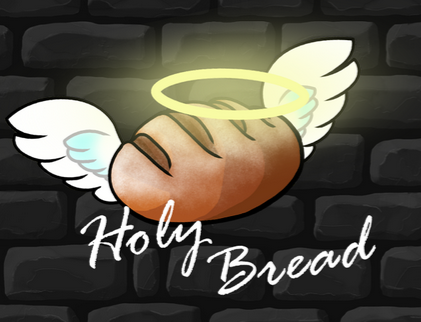 Hi guys,
@juanmolina, @jadams2k18, @lanzjoseg, @fucho80, @pedrobrito2004
This is AGAIN post which is not to shared with others or resteemed. It's not like we're talking about some secrets here, but I simply don't need attention coming from anyone who isn't either directly invited / isn't part of our small team.
So please, do not create any publication about what we do here until we discuss it together (I'm kind of refering to latest post by @fucho80, where he made announcement about project hope curation trail. And since this curation trail is only in "brainstorming idea" phase - then his post is very much complicating things.
INTRODUCTION

As you already know, I've managed to start collaboration with team behind game holybread.io (build by @thebluewin and @auminda). I told them little bit about our group and goals of project.hope:
My goal for 2020 is to set up small startup; and I'm planning to do that together with few guys from project hope. Guys I collaborate already and I know for quite sometime.
Our main idea is to offer beta-testing, consultation/feedback services for businesses mostly within tech/blockchain industry.
Since I've played in holybread for several hours and I also had great pleasure to talk to both of you - I've got some faith that your project would have chance to be succesful. Your profesionalism and amazing communication skills are outstanding.
So to cut this short: I would like to introduce holybread.io to 5 friends (Venezuelans, core team of project.hope) which would help and test your game. For us collaborating with you would bring some extra experience, which will be necessary in the nearest future.
TESTING

Right now (as far as I know) you all already joined holybread.io and their discord channels.
Please invest few hours into testing and playing in that game. I would like you to learn how does it work and hear some of your ideas,.
You can all share those ideas and your thoughts in real-time in comment section. However I will mostly need some document/file from each one of you once beta-testing will be over. This file would summarize your thoughts, feedbacks, suggestions, concerns and opinion as a POTENTIAL USER.

Check out their latest post by @holybread on steem blockchain:
Holybread RPG browsergame on STEEM - Test round is doing great!
Also please check out last few posts by @delegate4gg - he has been testing this game for quite some time and you can learn a lot since his posts.
Yours
Piotr