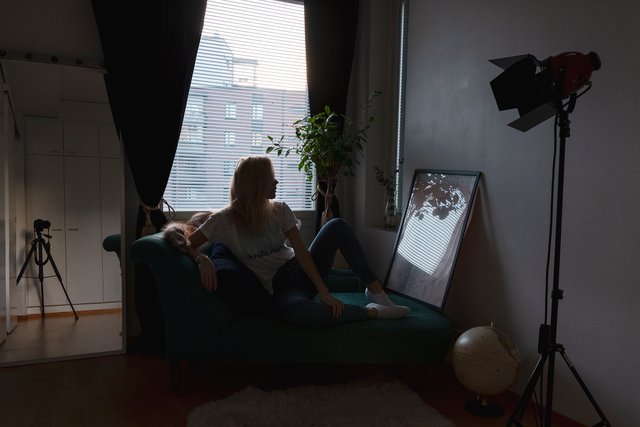 Last night I got, in my opinion, a brilliant idea to complete redecorate my apartment. I wanted to change my bedroom into a studio and the living room into a bedroom. I always have trouble shooting at home because it requires me to move a lot of the furniture and plants around and I fucking hate it. I was very inspired and wanted to do it immediately, but wanted to keep the peace in the apartment building and not move furniture in the middle of the night, so I waited until today to get working on my plan.
I realised I basically never use my actual living room, I never sit on the armchair or divan, and I haven't opened my tv in months because of that. I'm always either in my bed or sitting at the kitchen table. The living room was essentially useless as it was.
My bedroom on the other hand has the most potential for a studio because it gets nice natural light and has one completely white wall without a wallpaper, unlike all the other walls in the apartment. Even though the wallpapers are neutral, they are very hard to work with.
I dragged the bed into the living room and moved all the photography gear into the bedroom, plus the divan and a few odd bits, everything that can be easily moved around in that room, depending on what I want to shoot. I can even get in a full body shot, if I shoot against the window, or from the other room. There are limitations but it's much better than having the bed in there and having to work around that. I'm also planning on buying a backdrop, because the wood colour floor is not great if I wanna do full body shots. But what I can do if I want a black background, is I can use the curtains as a backdrop. Though then natural light is pretty much nonexisting.
My living room is now basically just a huge bed in the middle of it, with plants around, and a tv in front so I can watch it from bed, YAY. This time a year, I should also be able to wake up to a sunrise pointing straight at my bed around 9.30am, which is obviously a great photo opportunity too if I can wake up well before it to set everything up.
I snapped a few shitty pics to demonstrate what I did today and the kind of potential my apartment now has in terms of photography. You'll see it in action when I feel like doing proper photoshoots.