My daughter sent these anecdotes about school experiences today: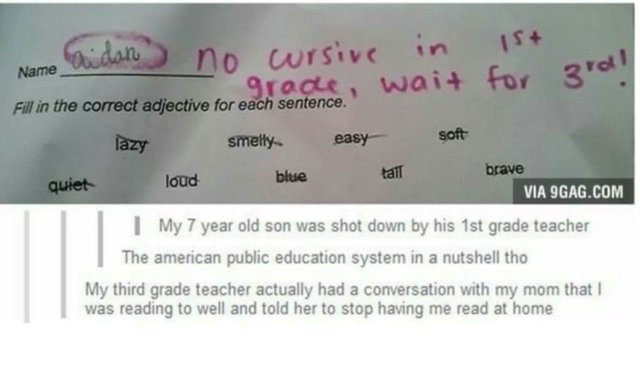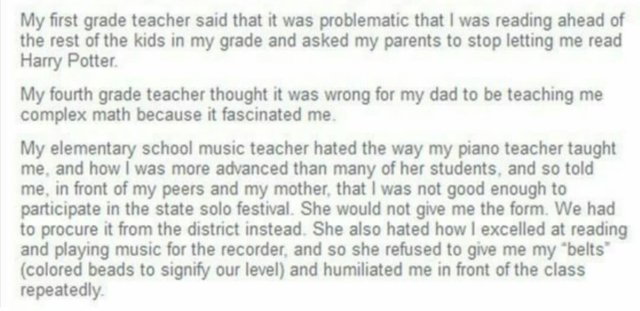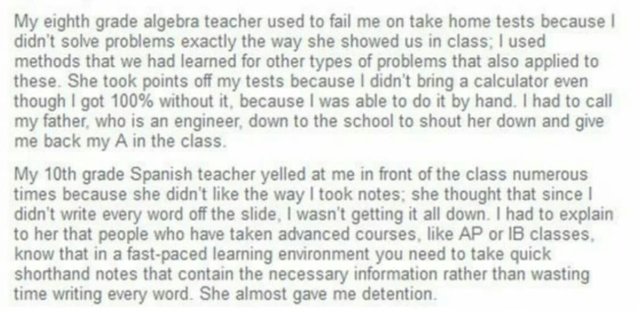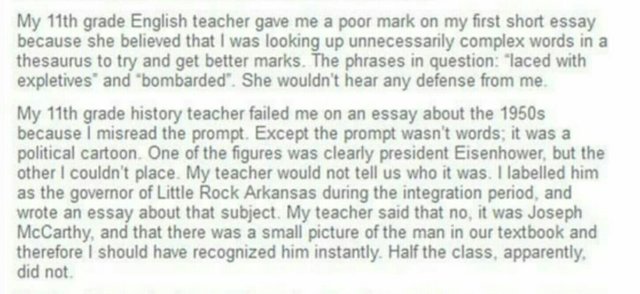 I'm not about to start bashing teachers, although these sorts of things are one of the reasons we started to homeschool. Obviously not all teachers are like this, but quite often the system is set up in such a way that many don't always know how to deal with students who move ahead quicker than they are prepared for, or who do things in a different way to what the tests demand.
Sometimes teachers only have a certain amount of resources at hand and can't offer to extend a child who has advanced past those resources. This was something I encountered with my eldest in her Reception year. Thankfully her teacher was apologetic about it and explained it, rather than being tool about it.
The problem with restricting to a grading or levels system is that it fails to give leeway for differences in ability. For example, in gymnastics we have a levels system where certain requirements need to be met for each level. There is some movement, in that you need to make a certain score to level up and this can be achieved if you are missing a couple of skills, as long as everything is performed to a good standard. However, depending on the club, you may still not move on to the next level if you're not strong in one area, even if you're ahead in other areas. One girl was doing a skill for level 4 which needed her to be touching the bar with her hips for that level, but at level 6 (two levels higher) they need to not be touching the bar. She was struggling to keep her hips against the bar and rather than just leaving her doing it the way she was, because she would be doing that in the future anyway, they pushed her to get out of the habit. Now she's having to relearn keeping her hips clear of the bar after having it drilled out of her; all for the sake of a few extra points at competitions.
School is similar with regards subjects. English, maths and science are the core subjects, yet they use our brain differently. Often students who are strong in maths and science might be behind in English, or vice versa. Yet certain courses or schools demand a certain level of competence in both maths and English for you to access them, even if you will only be going into one of those areas. A friend recently had her soon tired down for his prefered school for the path he wanted to take because he didn't get a high enough result in his English test. Yet he got A's in his maths and science, which are his strong suit and the area he wants to go into. So his educational pathway has been denied, basically because his brain functions in a way which narrows his focus.
Our system isn't set up for individuality. We try to simplify things by automating and regulating, but it means that a lot of children slip through the cracks. Home education gives the option to remedy these faults in the system and allows for children to progress at whatever pace they need.
~○♤○~