Living in my Soul Shack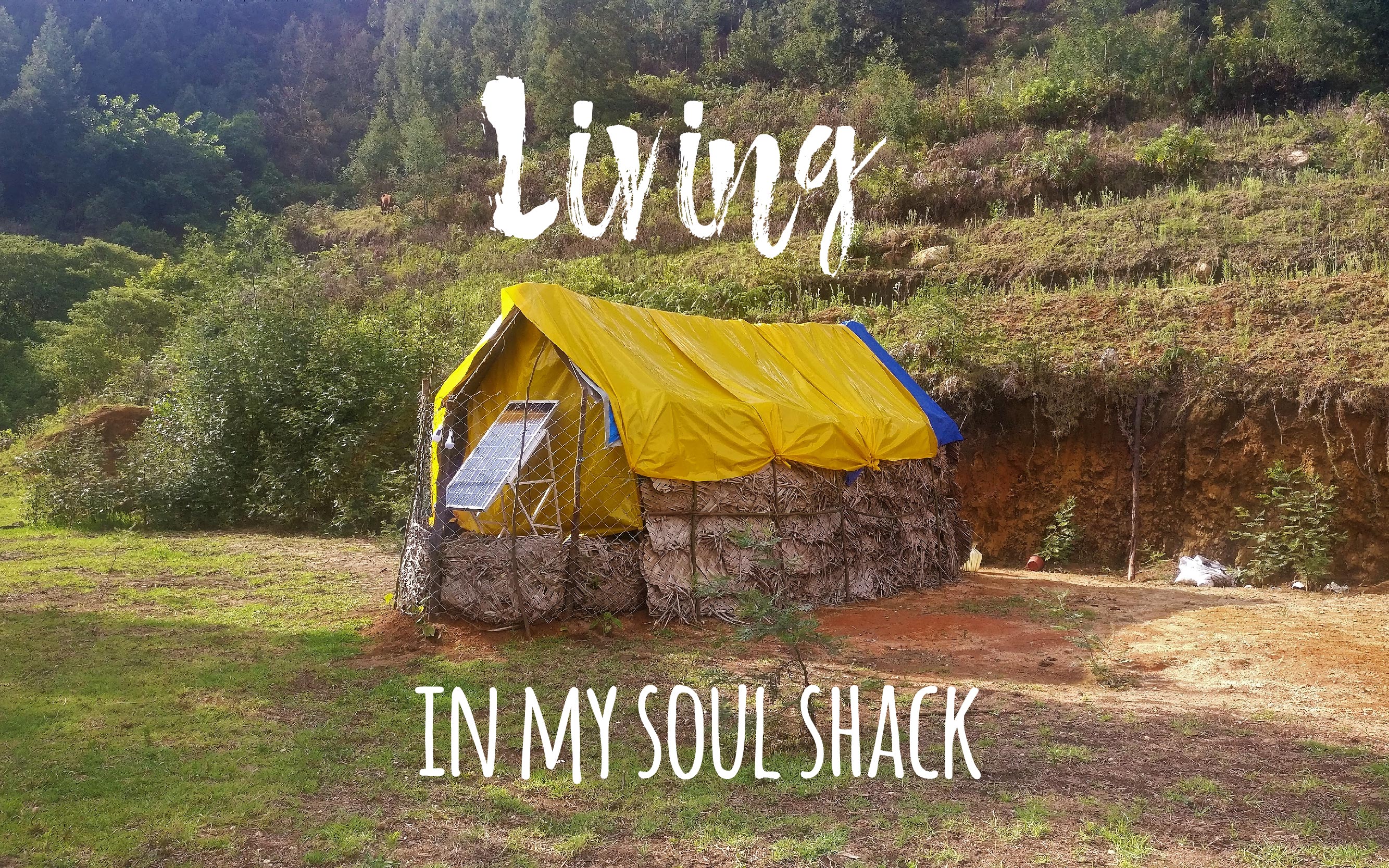 This post is about how I'm finally living off the land in a shack constructed from available materials we found locally. I returned to the hills from the city along with my family to finish setting up the shack so I could comfortably live there. I last left off where we had placed the wooden poles and tarp on site to figure out how much space the shack would occupy.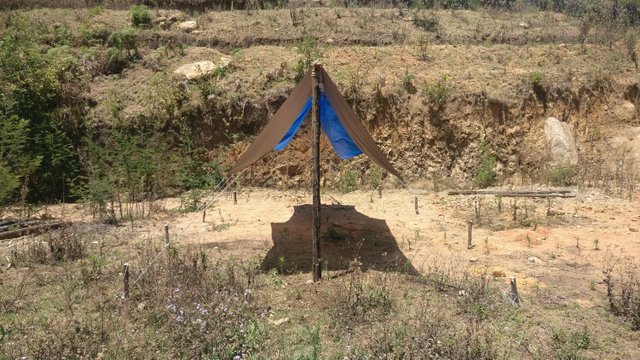 Since then, our workers finished the construction of the shack using leftover fencing material and thatch that our neighbours at Hike N Heal generously donated to us. I didn't get to see the finished shack before leaving for the city due to some bike trouble, so it was nice surprise to come back to see it in all its splendour.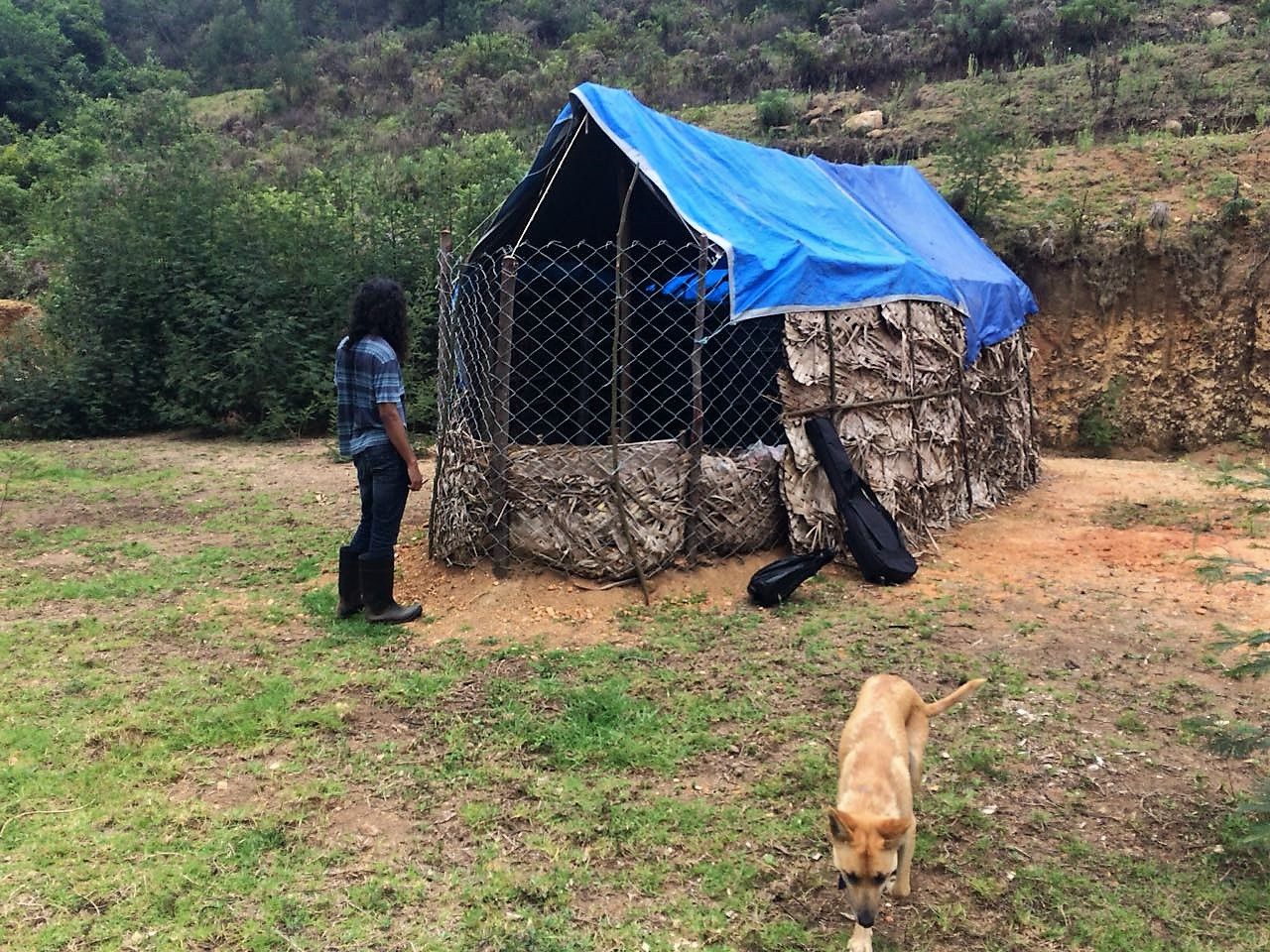 Admiring the finished shack our workers built in my absence.
As we had come from the city in our car, I also carried a lot of useful things like mattresses, a trunk and a water filter that I could use in the shack. We have road access that four wheel drive vehicles can drive down, but as our car isn't capable of driving down that route, we had to use the help of our animal friends to carry all that stuff down to the shack.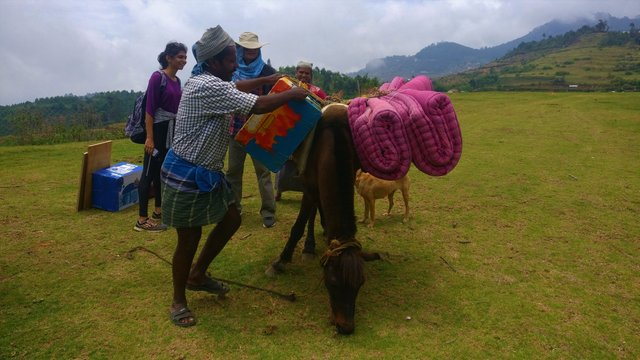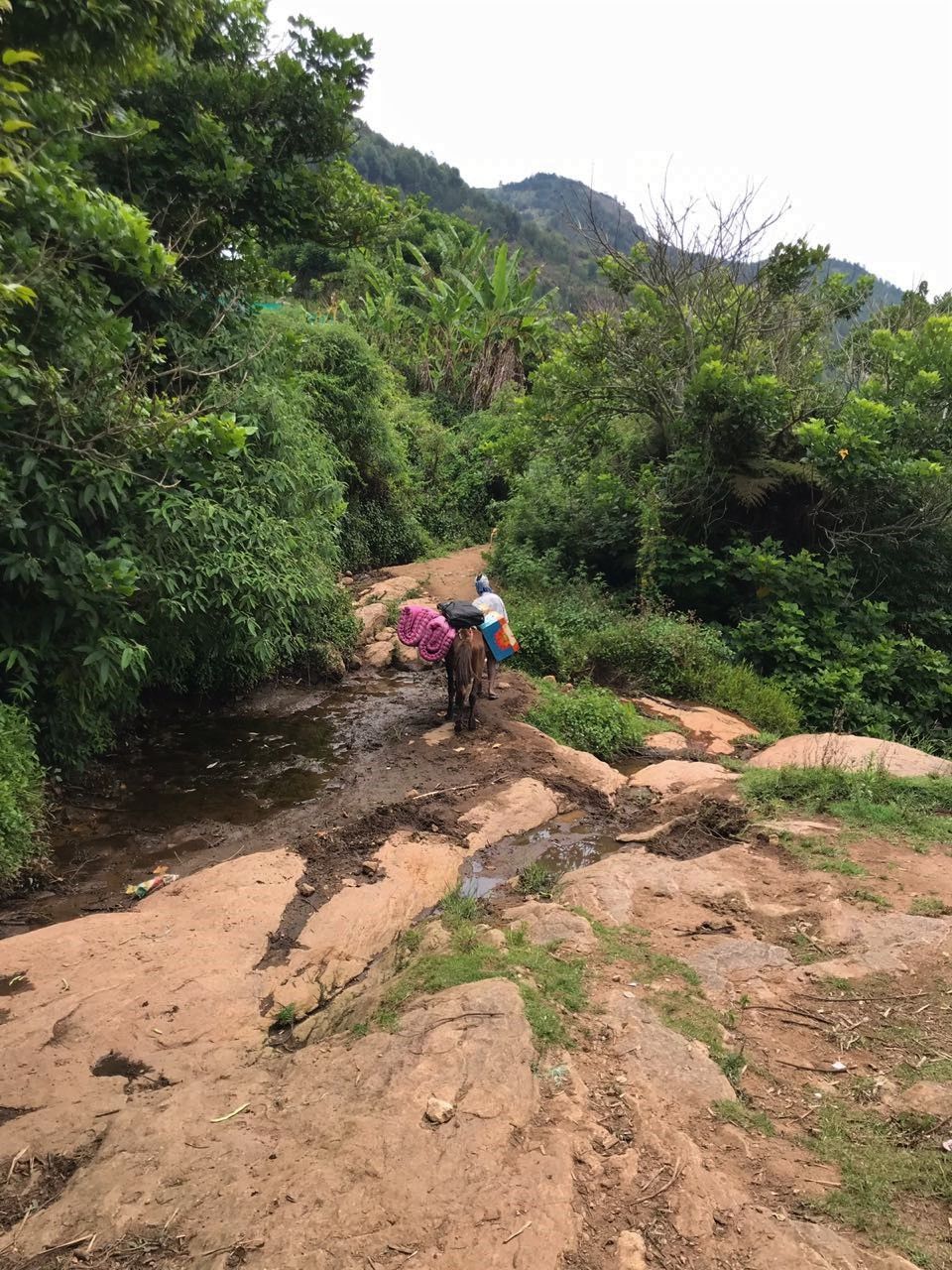 My wardrobe, suitcases, solar panel and tent had already been transported to the land, so after the pony transported the remaining stuff, I was all ready to start unpacking, helped by the family and also our four legged friends.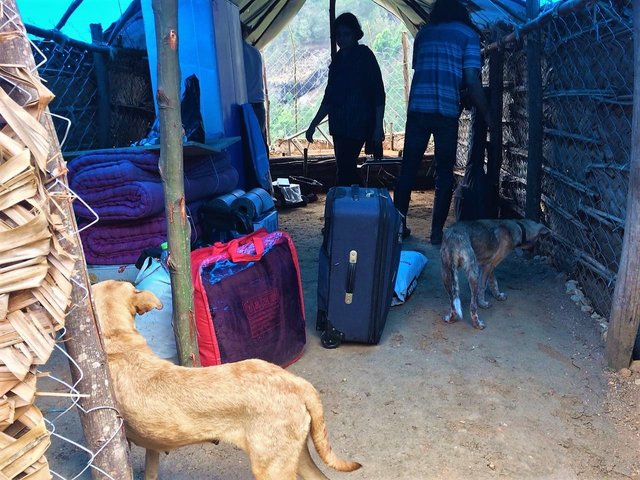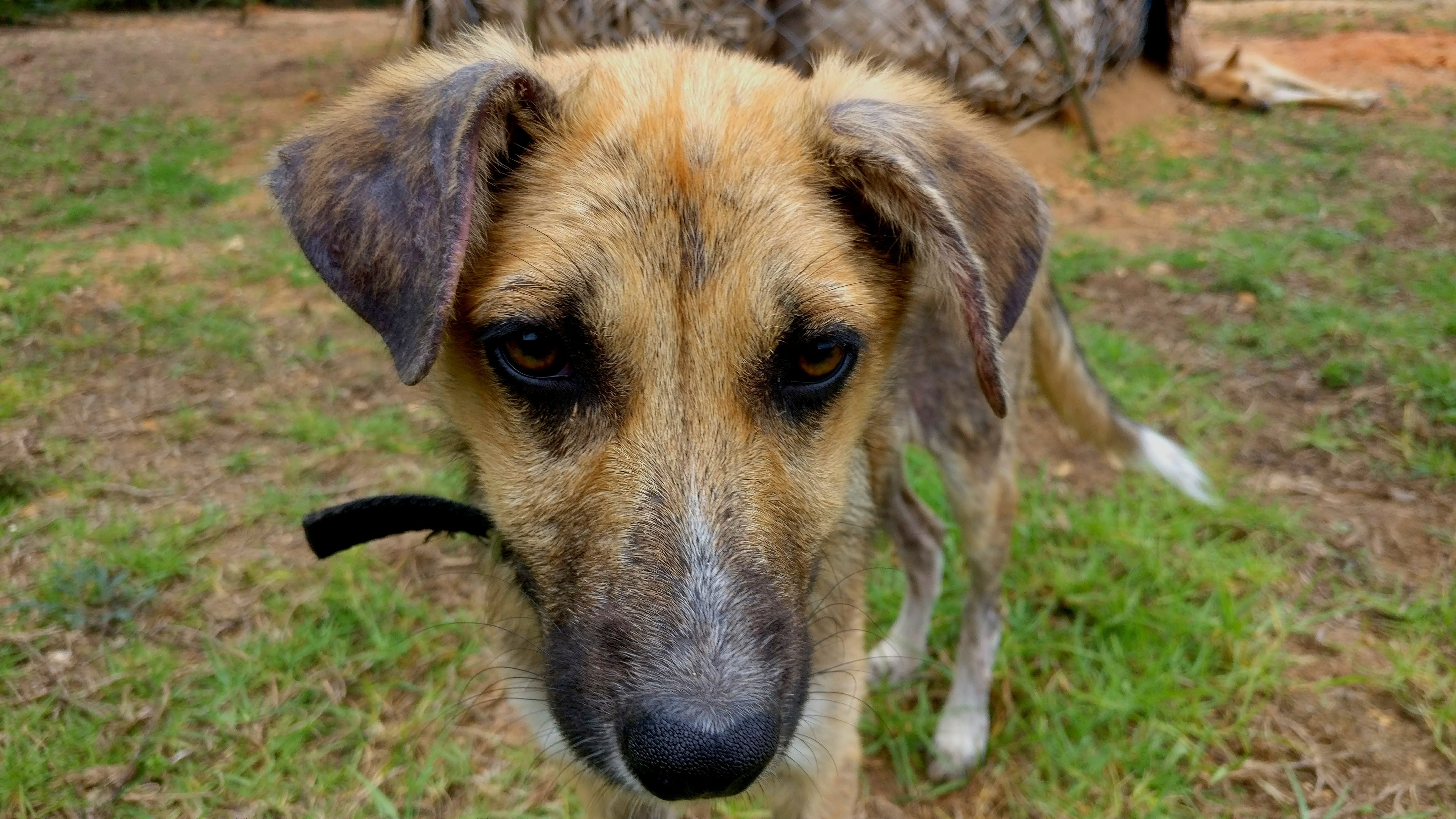 My Mom and I worked on setting up the tent and water filter while my Dad and Sister set up the solar panel.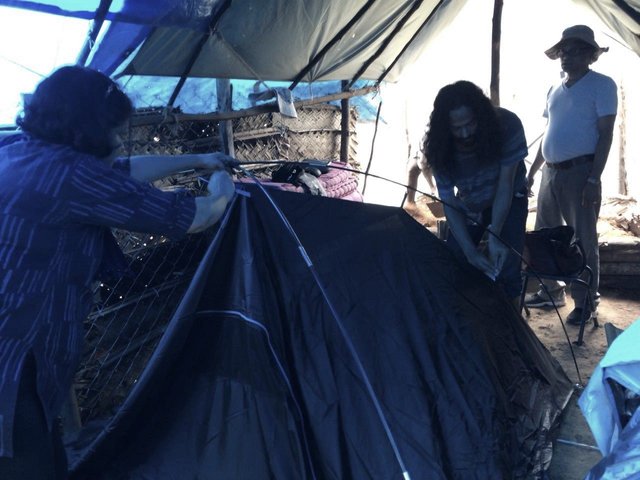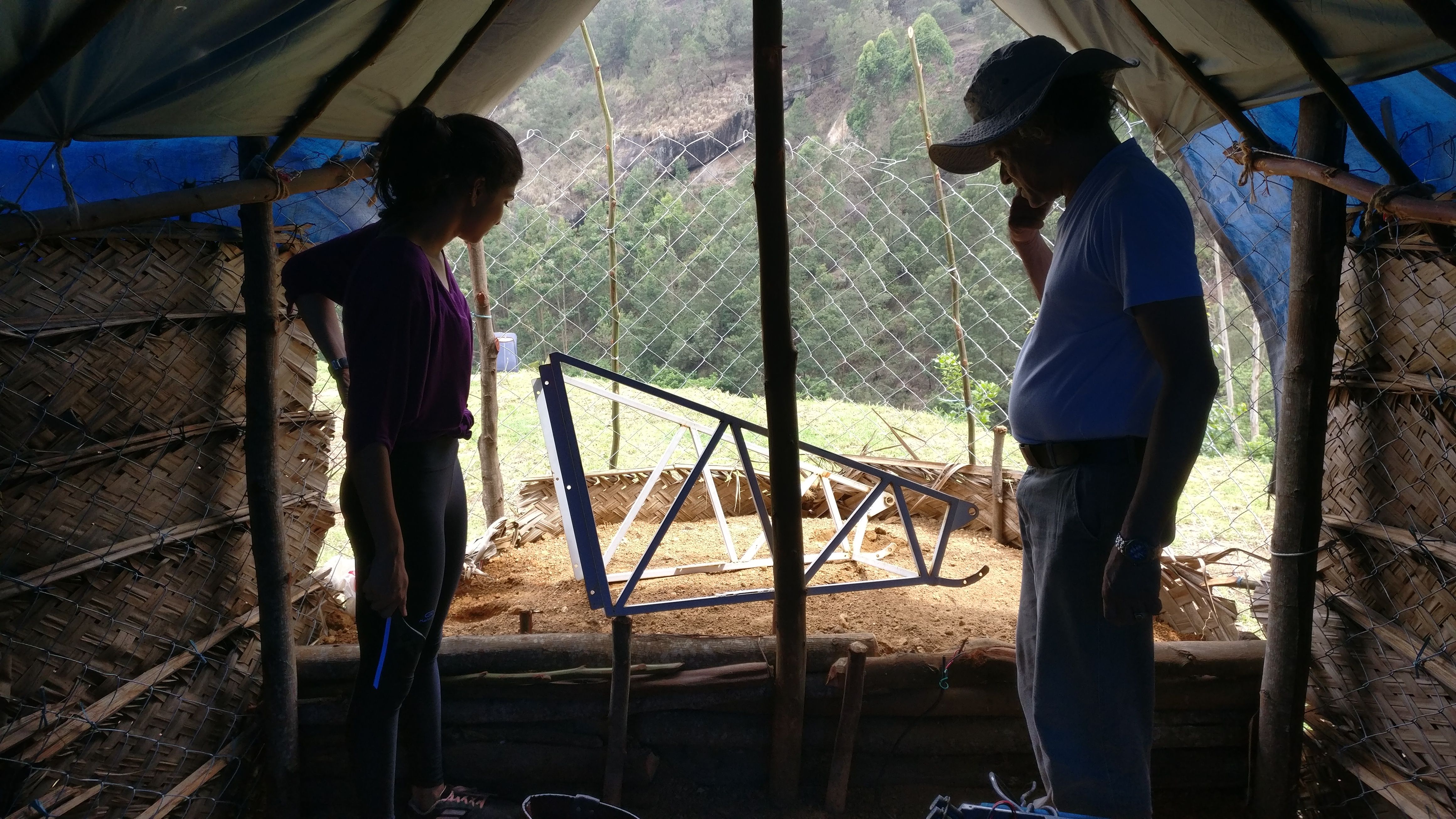 The first night I was supposed to spend in my shack, also happened to coincide with a thunder storm. I was essentially left stranded at Hike N Heal, our neighbour's backpacking lodge as the rain was too intense to make a return journey to the land. The rain was so heavy that we couldn't hear ourselves speak underneath the tin roofs. I almost thought I wouldn't have a shack to come back to, but the shack endured the weather remarkably well with only a few non consequential leaks.
To make the shack even more resilient we wrapped another layer of tarp over the roof, and also added a sheet between the solar panel and shack interior. Although I preferred the blue of our original tarp over the new tarp's yellow, the shack is now super resilient to the rainy weather and no water gets in anymore. The last step was unpacking my suitcases and adding a few decorative elements.
I now present to you, a tour of my shack
The Entrance
The doorway to my shack is located at the rear. The fencing material used as a base in the door overlaps with the wall, so I can lock the door with a padlock if required.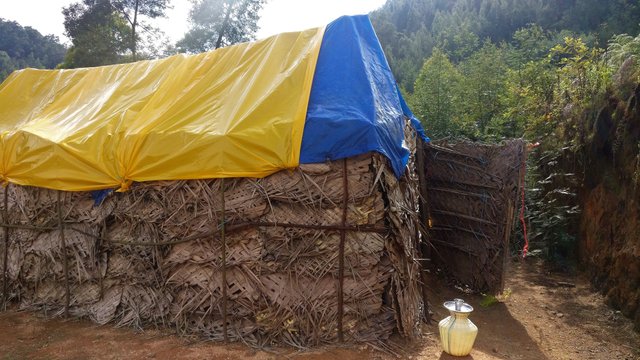 Standing at the door, you see the wardrobe, tent and screen before the solar panel.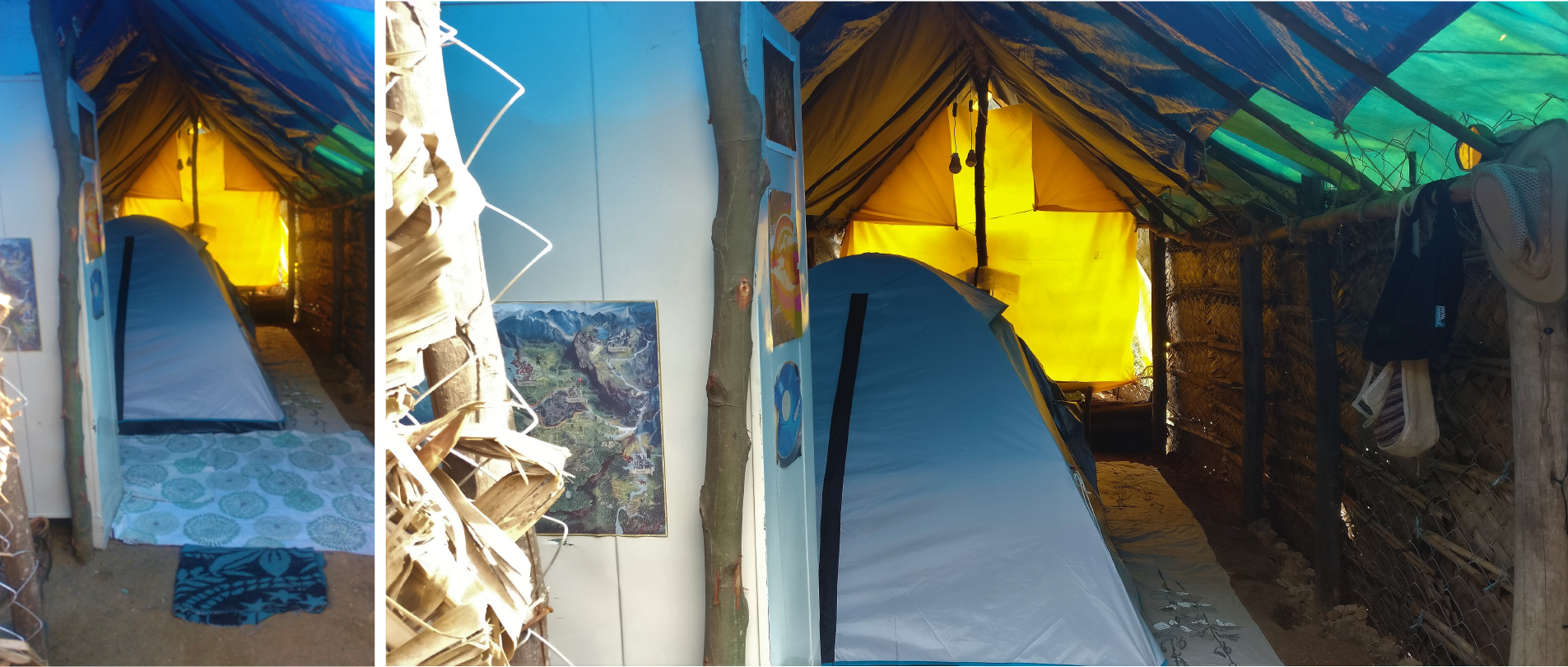 Utilities
Immediately to the left of the door is where I keep my shoes, coats and laundry bag. In front of that space is my wardrobe, and adjacent to the wardrobe is where I keep my water filter.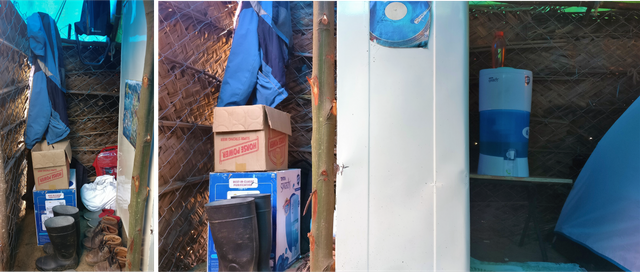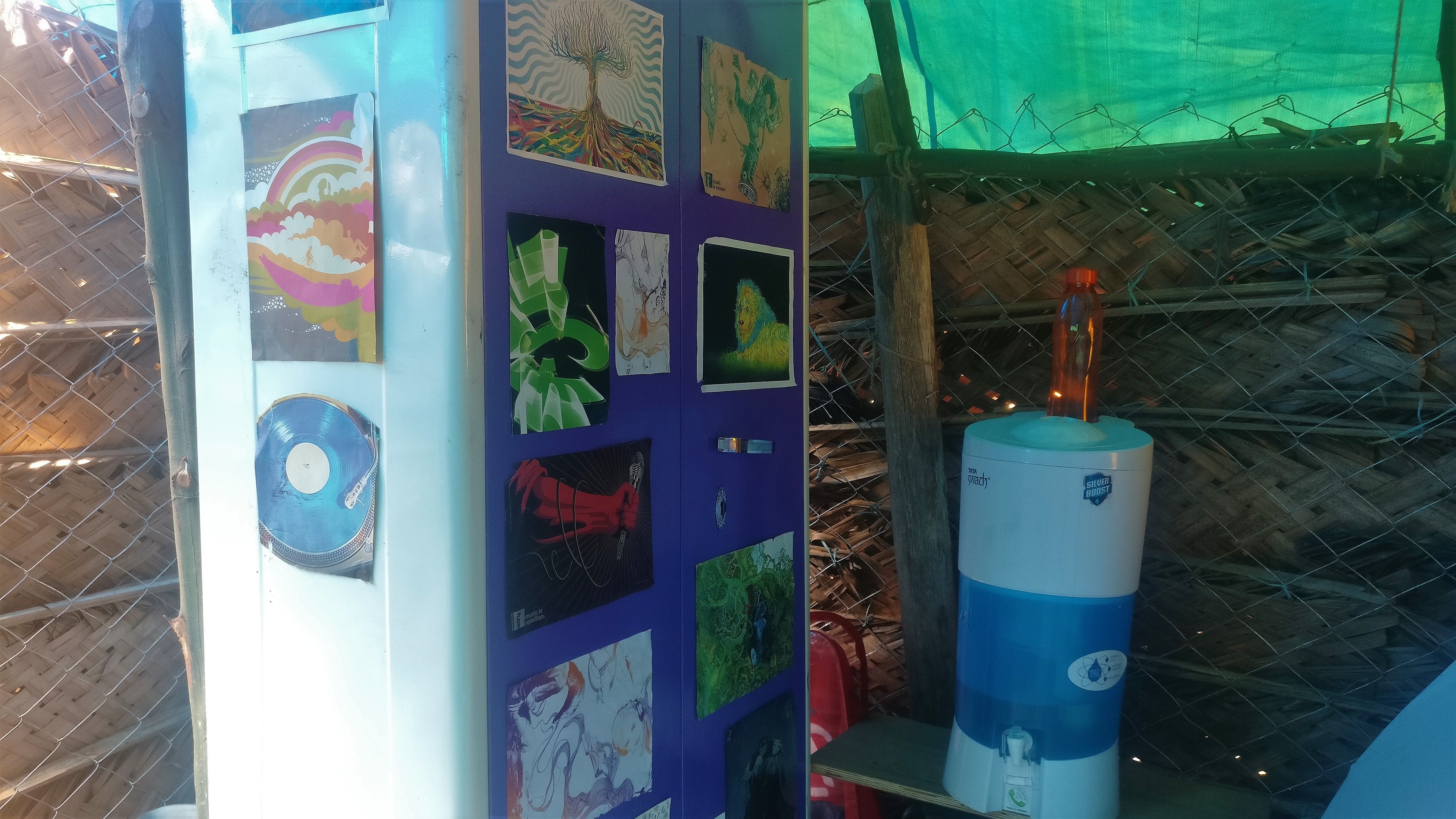 The Tent
The tent is where I sleep, chill and generally relax. It's a 3 man tent, so it's pretty spacious for me and allows me to keep my valuables and personal belongings inside as well.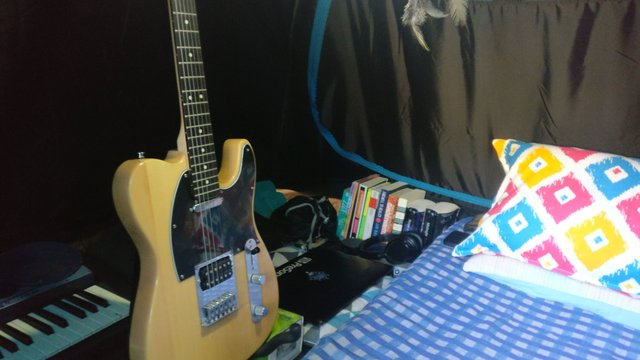 I'm still learning to play that guitar and for some reason recordings result in a hiss caused by one or more of my electronics that I need to figure out a way around. Either way, I have my art supplies and music to keep me creatively occupied in my free time. The tent itself is really comfortable as we're in the temperature range that doesn't require artificial cooling or heating.
The Work Space
In front of my tent is the work space, where I've converted my trunk to a desk and laid out some nice mats in front of it.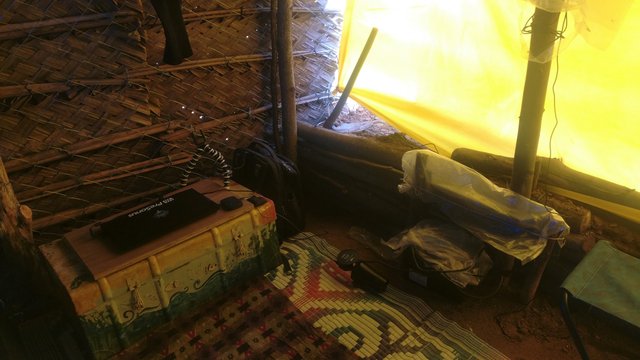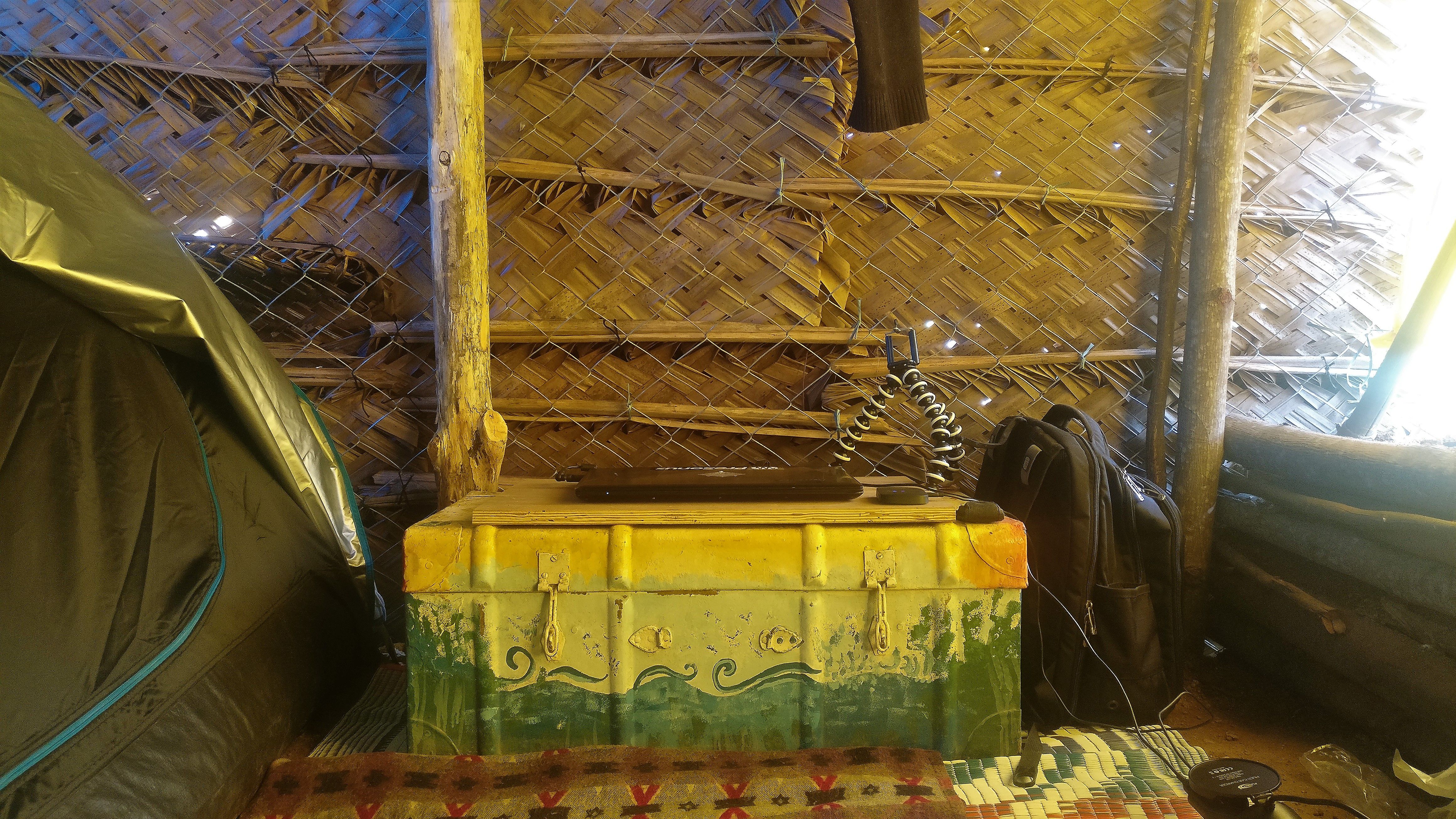 This is where I'm writing this post from now, bathed in the yellow light caused by the tarp. This section is also where my solar assembly including battery and outlets is kept to allow easy charging for all my appliances.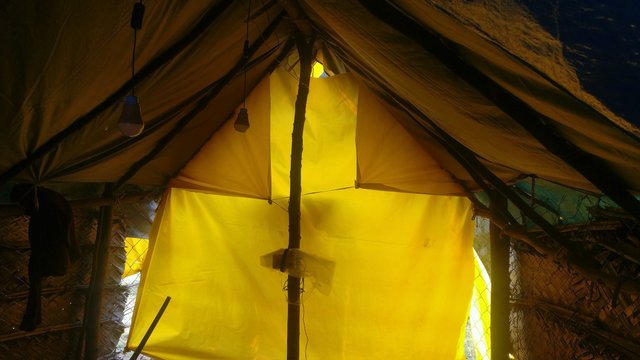 Standing in my work space, this is what I see looking back out.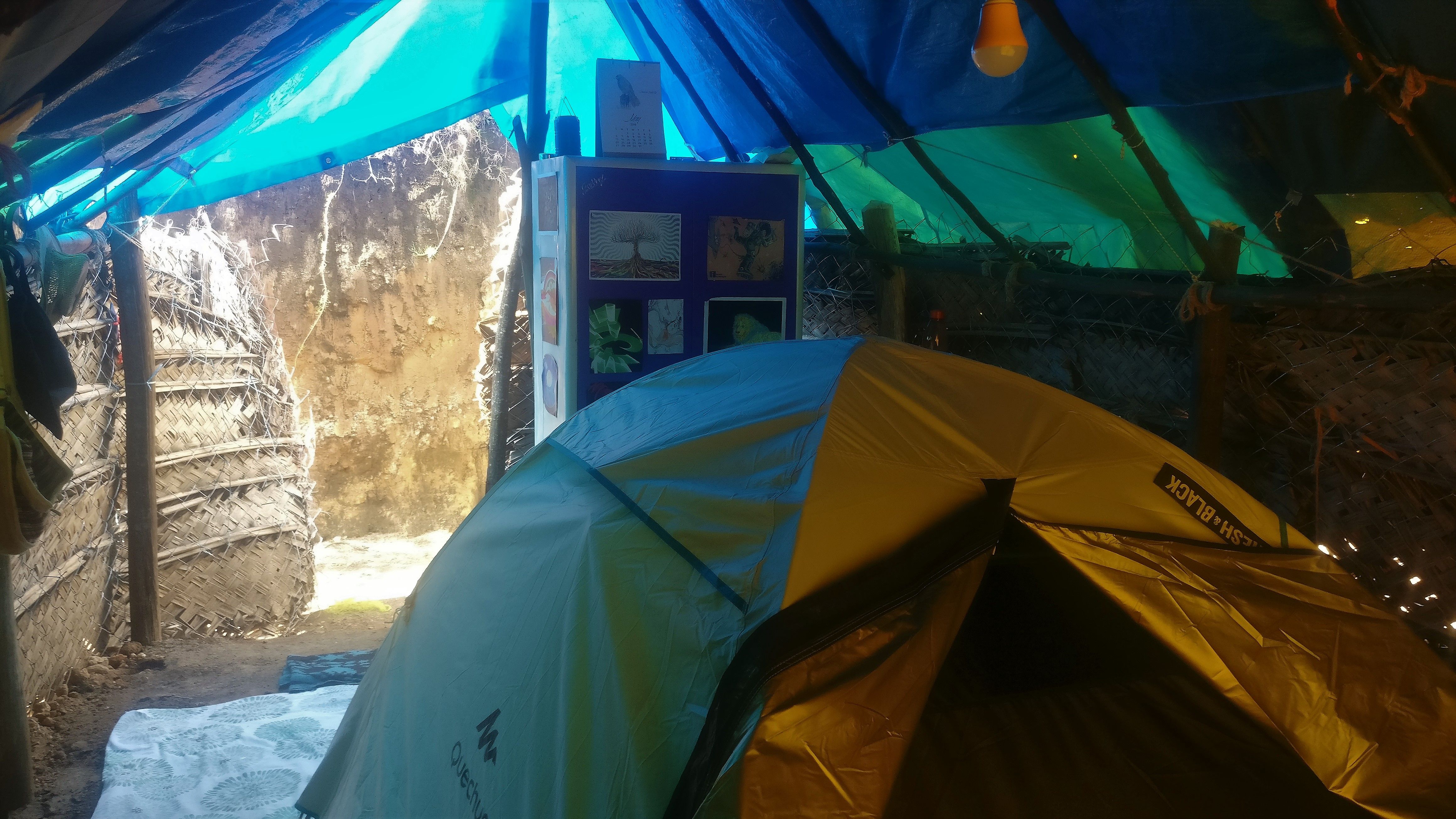 From Outside
At the front of the shack is where the solar panel is housed. I've planted a few passion fruit creepers and a flowering plant to eventually convert it to a solar garden.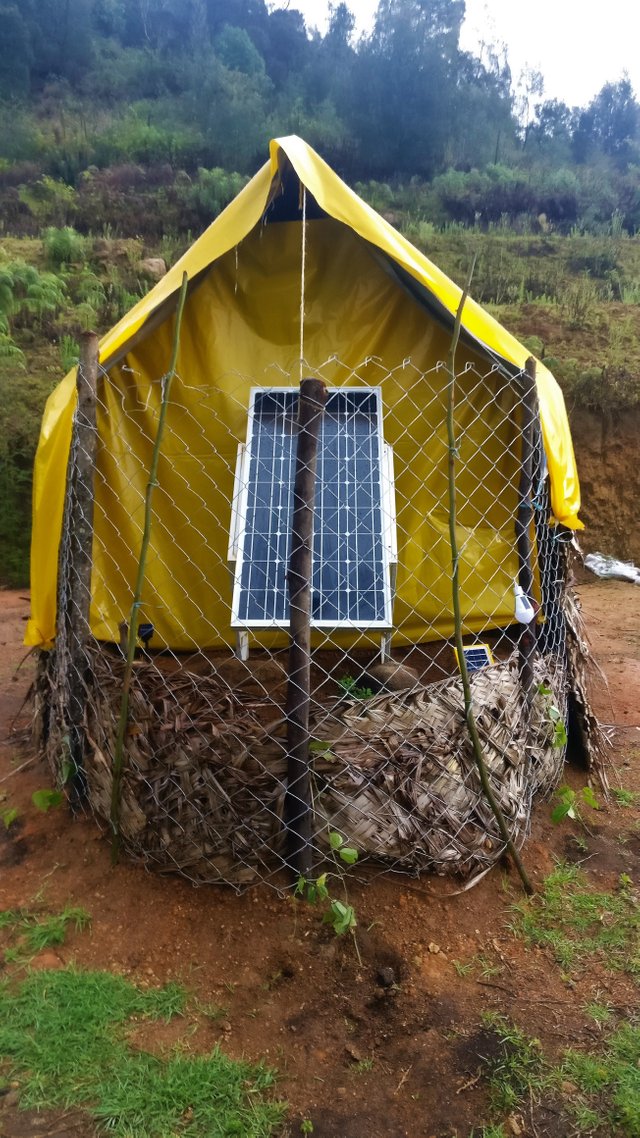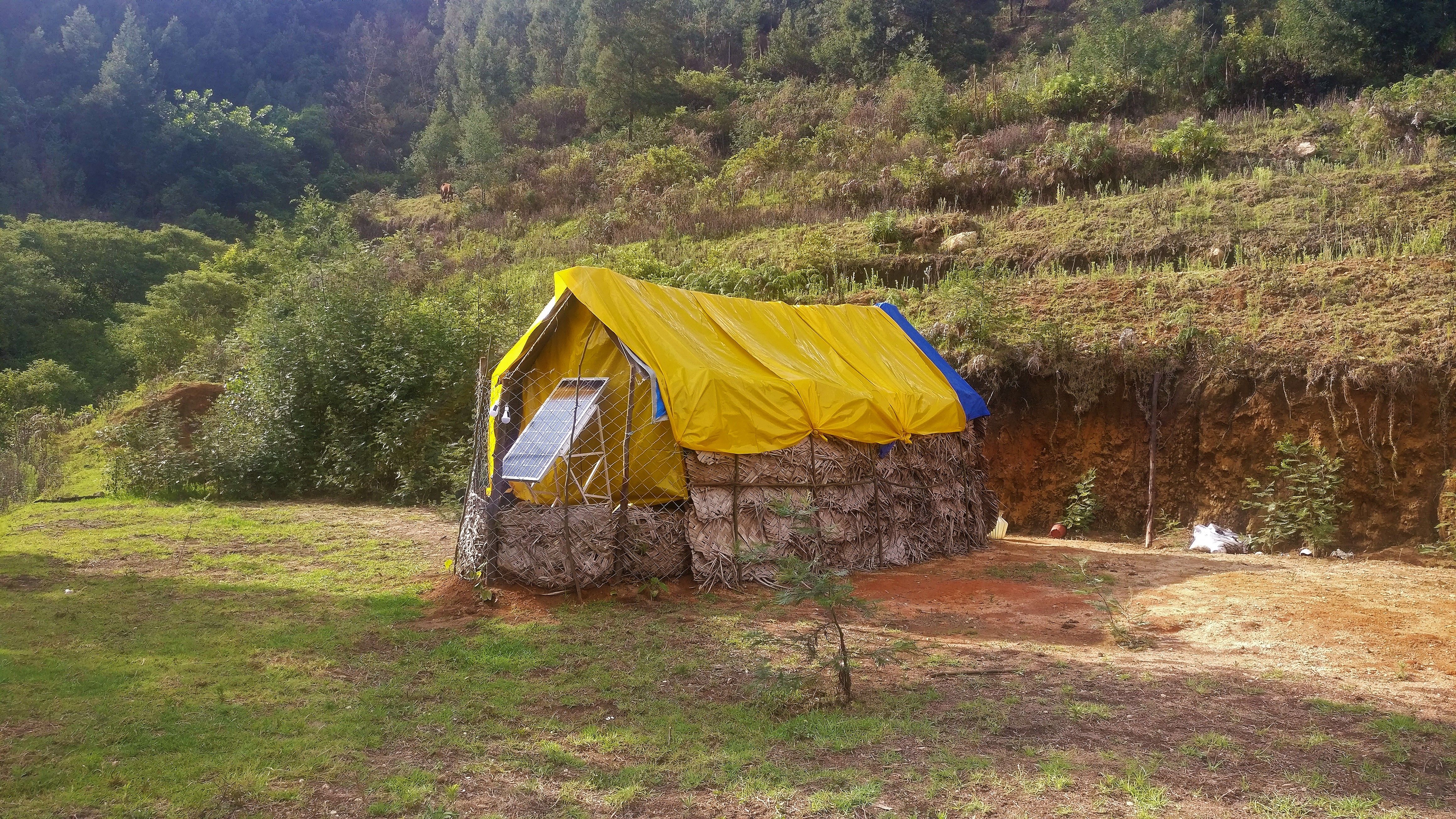 At Night
I've got a whole bunch of solar lights to light up the shack at night, including mood lighting for subtler soft light.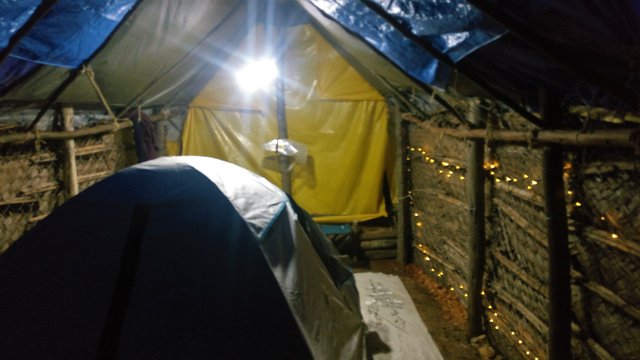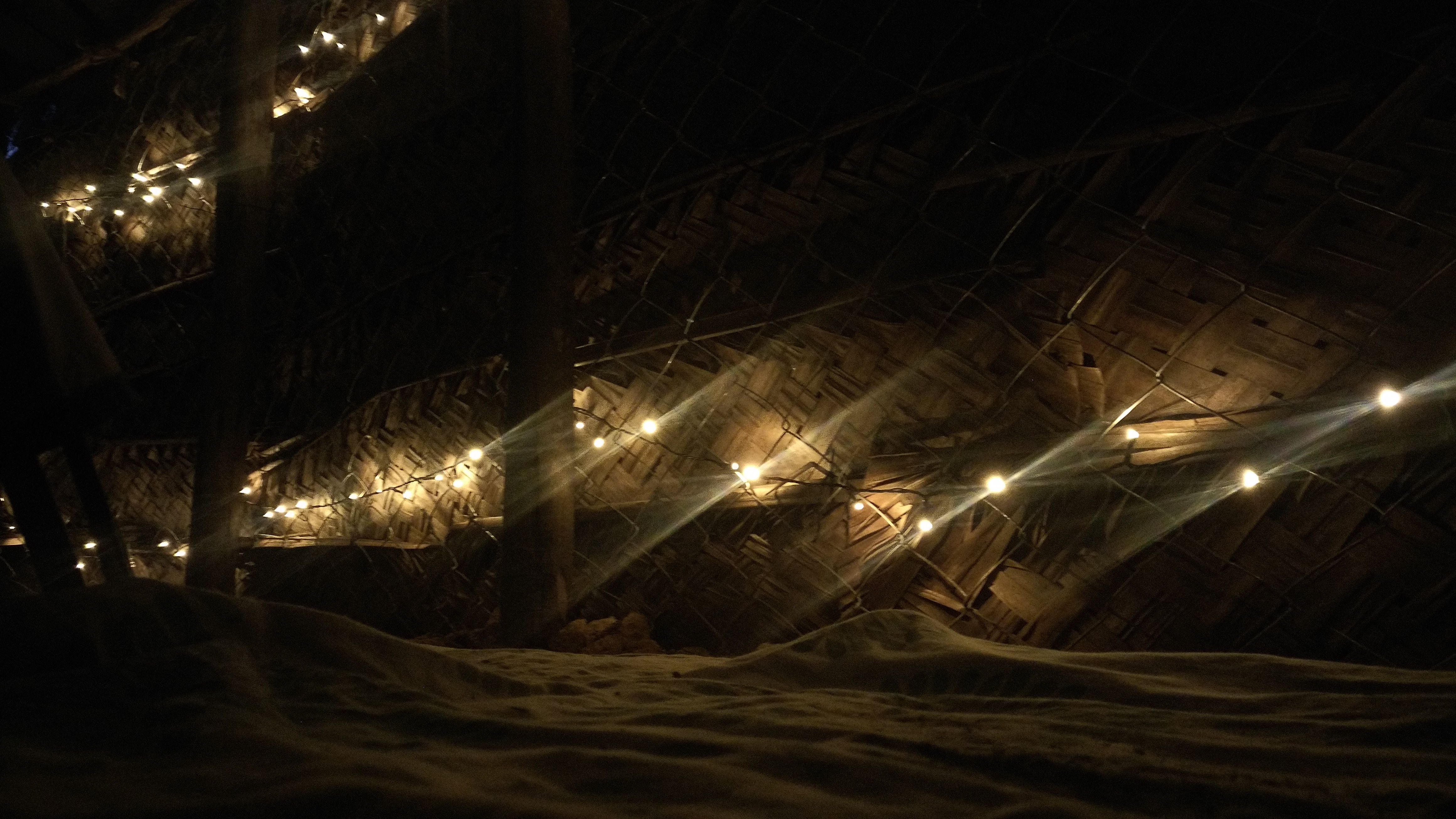 The View
This is the view of the mountain side from outside my shack.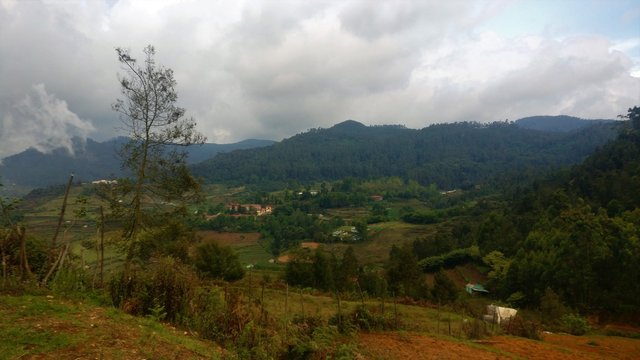 ---
My shack provides more or less everything I need to live comfortably on the land. The only thing missing is a kitchen and bathroom. Fairly important aspects, yes, but I've found a way to manage both requirements. For now I just go behind bushes for regular bathroom needs, and trek to Hike N Heal for showers. My food is parcelled by our workers in lunch boxes which I eat through the day. It took a lot of effort to get to here but as of now, my cost of living is as little as ₹ 5000 a month including expenses on luxuries. That's about 30 SBD at today's prices. If I can make that much a month through my posts I would've figured out a way to live truly free, doing what I want with no compromises. Of course, farm expenses still exist, but they're also diminishing as we've finished a lot of the people intensive infrastructure work. I've spent the last week in my shack, and I'm slowly getting used to life in the hills, finally living off the land. As I'm living on the land full time, I'm able to better plan out projects on the land. Keep an eye out for all the exciting stuff we're about to get done.