Fermenting chicken feed... Why bother?! 'Cause it's fantastic! Here's how:
I ferment my chickens' feed. Full disclosure here, fermented feed doesn't look very pretty. It's actually kinda gross-looking.
That's okay though. The benefits of fermenting feed are worth it. And who says you have to sit around looking at it anyway?!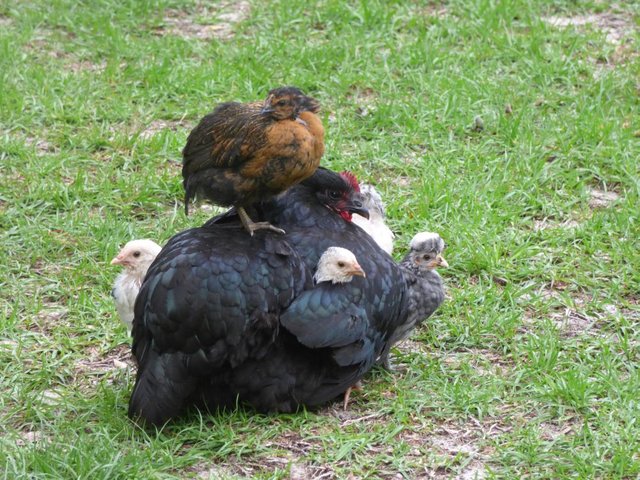 Fermenting anything is pretty awesome. The act of fermentation creates an environment of beneficial bacteria and enzymes that are SUPER good for anything that cares to consume them! That's why probiotics are so highly recommended for people. This is a fantastic way to produce all that goodness for your feathered friends.
Some benefits that fermenting food will give the chickies include:
Probiotics galore!
Enzymes galore!
Fermentation makes the feed more easily digestible, meaning they absorb more key nutrients, AND they won't need as much feed since they are using it more efficiently!
It boosts their immune system, making the birds more healthy and disease-resistant.
It can increase the egg yolk size, frequency of laying, and strength of shell.
There is less waste. The chickens just eat the wet food right away, rather than scratching the dry feed all over the place.
The chickens stay more hydrated, especially in hot weather, since they are eating wet feed rather than dry pellets.
 
Now, of course, feeding fermented feed IS messier than feeding dry feed, since it is basically gloop. My hens free-range, so daily, I pick a spot in the yard to feed them, and just throw scoops of feed down, and they eat it all up. If I were feeding in a coop, I would probably use a couple of shallow livestock tubs to dump it into, and then later take them out and rinse them.
Here's how I do it!
First of all, I like to start with some leftover feed in the bottom of the bucket, to boost probiotic action, but if you are just starting, obviously you will just start with an empty bucket. You can glop in some yougurt, kefir, kombucha, or other fermented foods to jump-start the probiotics, if you like, but you don't have to; they will grow on their own.
Take a 5 gallon bucket, and dump in whatever feed you like to give your chickens.
This can include things like:
Layer mash
flock raiser pellets
different grains such as corn, barley, oats, etc...
BOSS (black oil sunflower seeds)
food waste like eggshells, veggie scraps, leftovers, etc.
 

Next, add water to your mix.
(You can also add some milk for calcium if you like! I rinse out my goat-milking bowls and jugs and use the milky water in the feed.) I add just enough to cover the feed, so that the feed will be a thick oatmeal consistancy when finished. (It may take practice to get your consistency the way you like it.) There is no hard rule about this. I like it thick so it's easy to scoop and throw. If you are dumping it into a pan, it doesn't really matter how runny it is.
Once the water is in, I pick up the bucket and swirl it around a little to mix it up.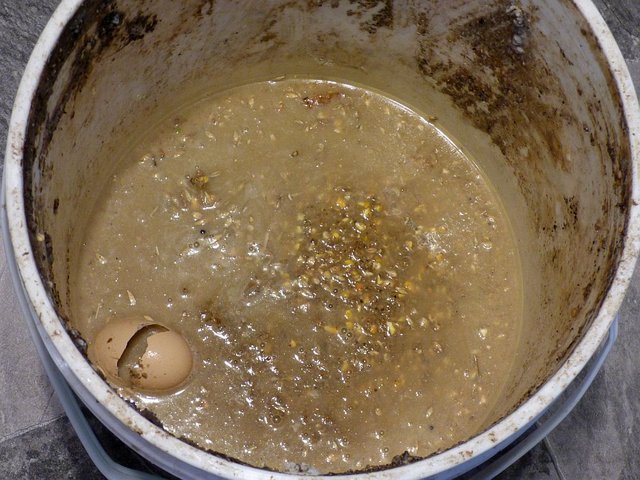 I allow the bucket to rest for 24 hours. I used to only have one bucket and it would ferment for 12 hours only, (since I feed twice a day), but have since started using an additional bucket to allow each feeding to ferment for a whole day.

Once done, it should look something like this: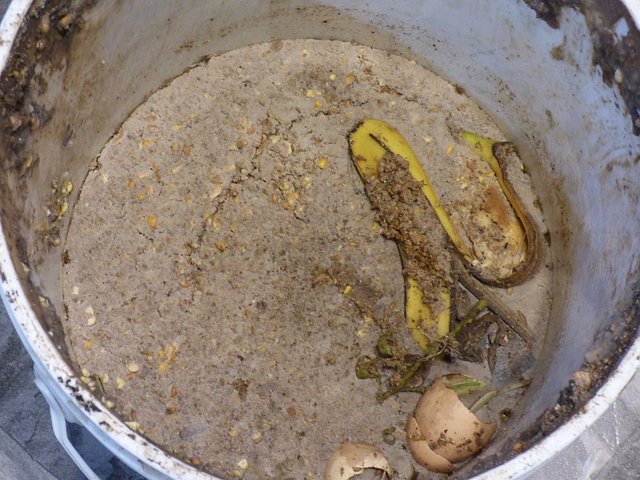 Yeah, it's not pretty, but the birds don't care, they LOVE it!
I have both buckets sitting by my back door for convenience at feeding time. They each have a lid to avoid attracting flies. During the day, if there are leftover lunch scraps, banana peels, pan scrapings, whatever, they all go into the buckets.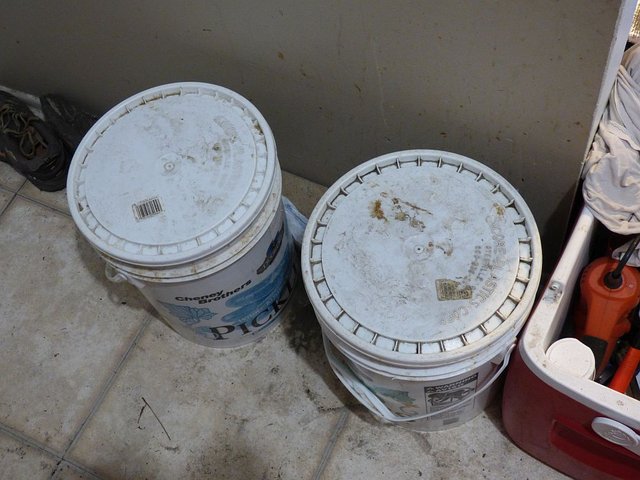 After feeding, I make sure and leave a little feed in the bottom of the bucket to jump-start my next batch. I just add my dry ingredients to this mess, add water, and let the process begin again!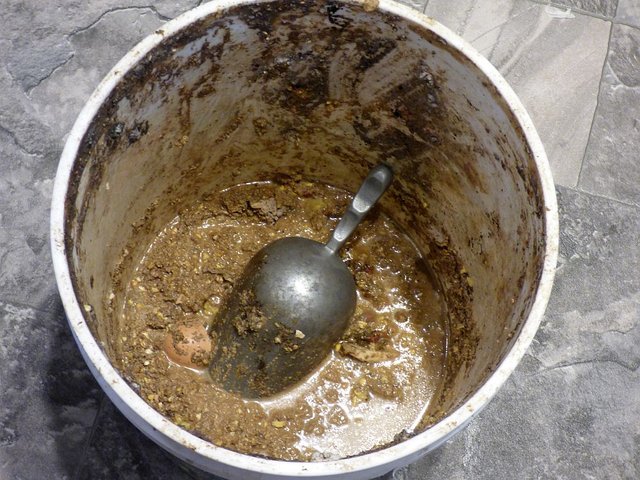 Hopefully some of you out there will find this helpful! Perhaps it will give you ideas on how to better feed your flock. I have been fermenting my chickens' feed for years now, and my chickens are happy and as healthy as can be!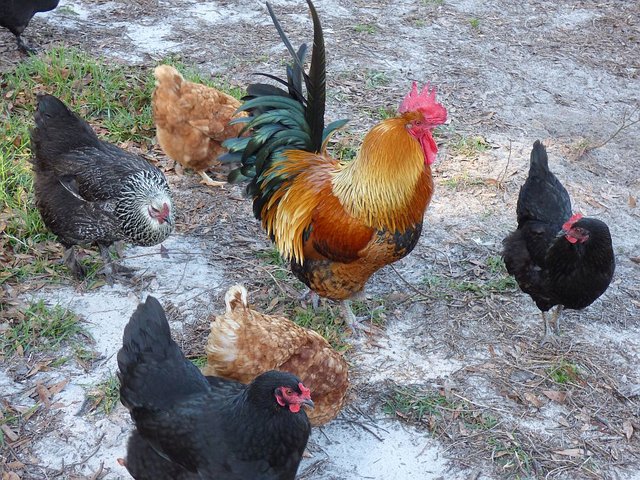 Thanks for reading!! Feel free to drop a comment with any hints and tips for feeding your chickens! What treats do they especially enjoy?
Have a lovely day! ♥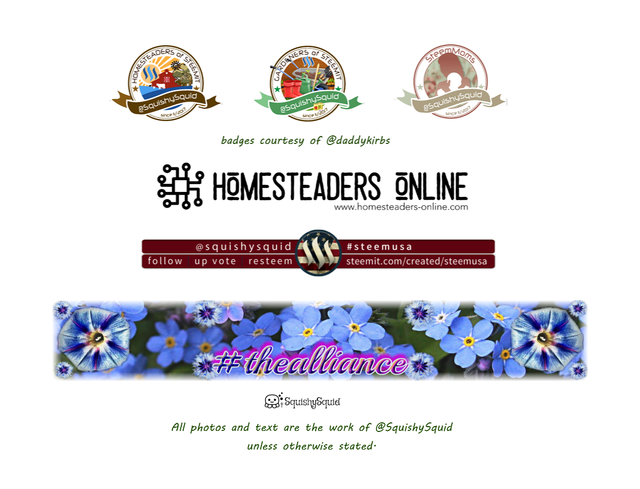 This work by @SquishySquid is licensed under a Creative Commons Attribution-ShareAlike 4.0 International License.

Click the banner above to join a group of fabulous mamas on Discord!