Were Homosexuals Created That Way By God Or Something Happen: My Reply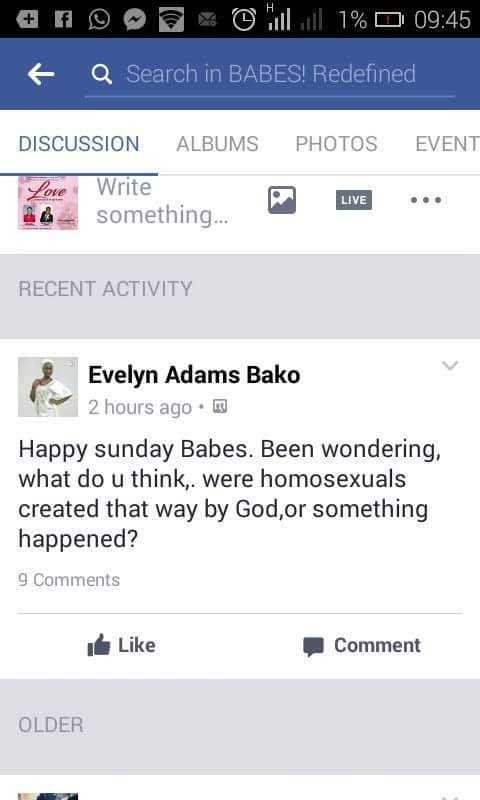 This is my reply...
In Genesis 1:27 the Bible says "So God created man in his own image, in the image of God created he him; MALE AND FEMALE CREATED HE THEM"
This is not debatable. Everything God created is GOOD.
I will rather submit that due to depravity of mind and our growing immoral generation, inordinate affection is birthed. Something happened to the homosexuals.
I was in a school to stage a talk on child sexual abuse in Lagos. After my session, I stayed back for counselling sessions.
A boy of about 7years old came crying to me and confessed practicing homosexuality. I thought I was dreaming. I questioned him till I was sure he knew what he was saying.
He said their house help asked him to pull off his trousers and he inserted penis inside his anus.
He didn't report to his parents because of the fear of being beaten.
Later the house help stole from the family and fled off.
My counselee innocently bounced on his 2 brothers and initiated them into the act.
Now if this boy didn't get help to shift his mind to the right track,he would have grown up thinking it is fine to be a gay. God didn't create any man that way. It is depravity of the mind as the scripture says.
It is an inordinate affection.
Let's teach our children the REALITY OF LIFE THROUGH THE BIBLE. Yes, Bible. If this is achieved they will naturally know what is wrong and right.
Teach them the truth, the correct truth.
Prayer works too for the recovery of such a child. There's nothing wrong in seeing a Christian psychologist for proper counseling to aid their recovery process