Orthopedic Trauma Service In A Venezuelan Hospital + PHOTOS
Hi Steemians! As many of my followers may know, I'm a medical student from Venezuela.
Right now, I'm rotating on the trauma service. My classes, are in a venezuelan hospital called "Hospital Universitario Dr. Luis Razetti" (Dr. Luis Razetti Universitary Hospital). It's located in Barcelona, Anzoátegui.
As you may had hear, the public health in Venezuela isn't well. The political-economic situation is devastated the hospitals. There are no medical supplies, and I'm not exaggerating, there aren't even a pair of sterile gloves. Yes, something that insignificant, we don't have it.
How do the doctors work?
It's not easy, but venezuelan doctors have my admiration. With almost nothing, they find the way to cure their patients.
The supplies have to be bought by the patients, anything that they will need for their procedure: antibiothics, sterile gloves, gauze, surgical suture, anesthesia, and even the surgical clothing that the surgeons are going to use on the surgery...... but those supplies are somethimes are very expensive, and there's a lot of people who don't have the possibility to buy them. So, here comes the long days of hospitalization, waiting for the moment of the patients can bring all the supplies..
It's sad, I know. I have seen how some doctors feel very frustrated because they can't help their patients, because they don't have money. 
You may ask.. how do they do in an emergency? 
Well, there's obviously not too much time for giving to the family members a list of all the supplies we need to treat the patient if he's in the deadline because of an accident or something like that, so, the very few supplies that arrive are saved for this situations.. there's not too much, don't think there's a lot, but there is on the emergency sometimes like 10 pairs of sterile gloves, some gauzes and other kind of things to use them on critical patients.. But I can assure you, that at least anthiobiotics, are not there. So, yes, while the doctors are trying to stabilize the patient with anything they can find (when I say anything, is literally anything, if we don't have something we have to create it... venezuelan doctors are learning "war medicine"...) the family members must buy the other things that are fundamental to treat the patient, that aren't available on the hospital.
Right now, I'm rotating on the Orthopedic Trauma Service. I've seen a lot of horrible things, I can assure you. Most of the emergencies are people who were shot, because in Venezuela there's a lot of insecurity and A LOT of people have guns. The police isn't enough to stop the criminality, so, in the night, it's very commom to have a lot of patients coming because they were shot. 
I want to share with you photos of the service.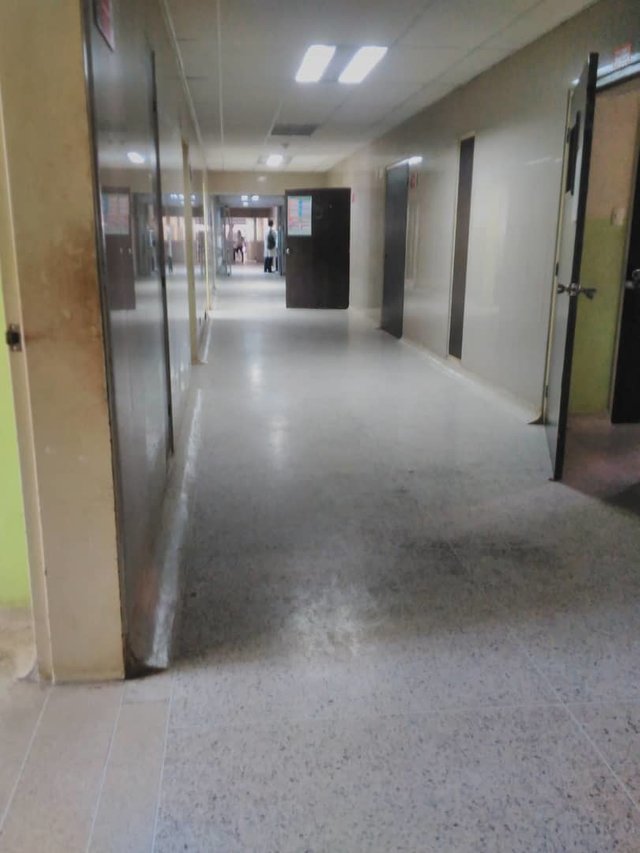 This is the hall of the hospitalization room. I didn't want to make a photo of the room itself, because most of the patients were on a really sad situation so I didn't think it was ok to take it.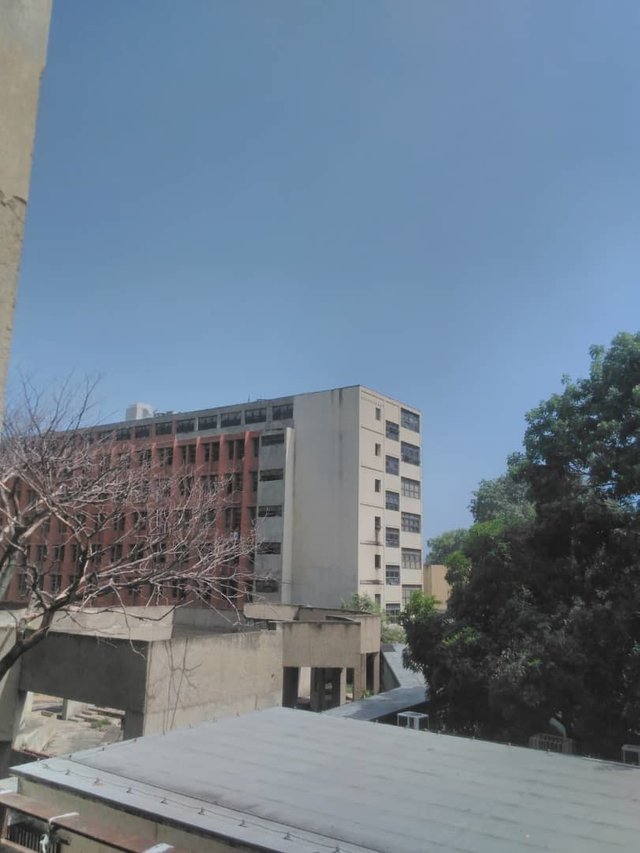 This is the view of the window on the hospitalization room. That is the pediatric area of the hospital building.
Now, some photos of the Trauma Emergency: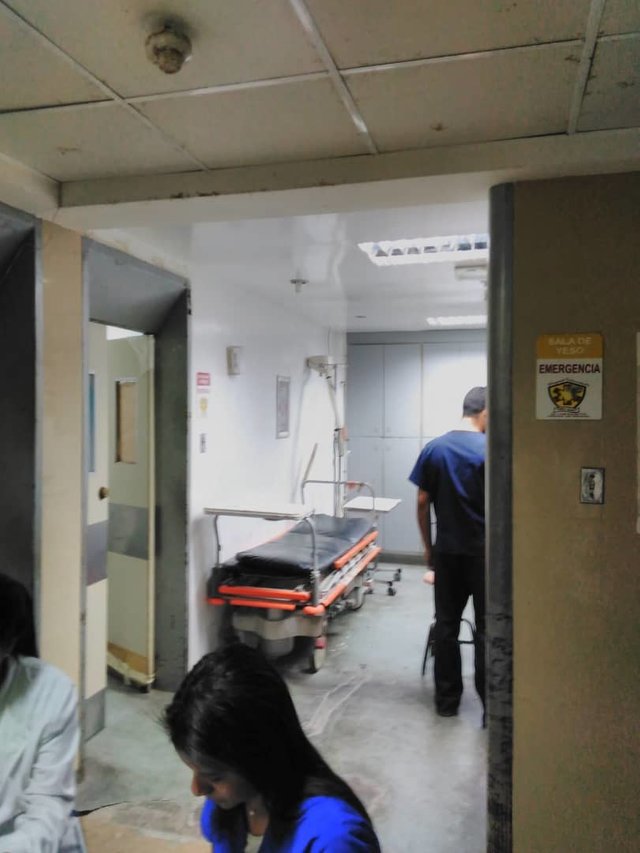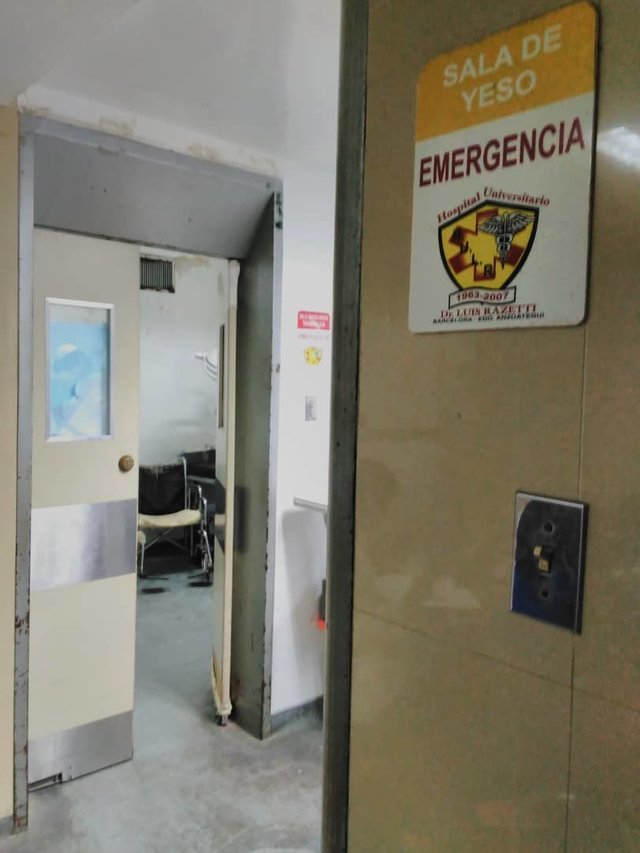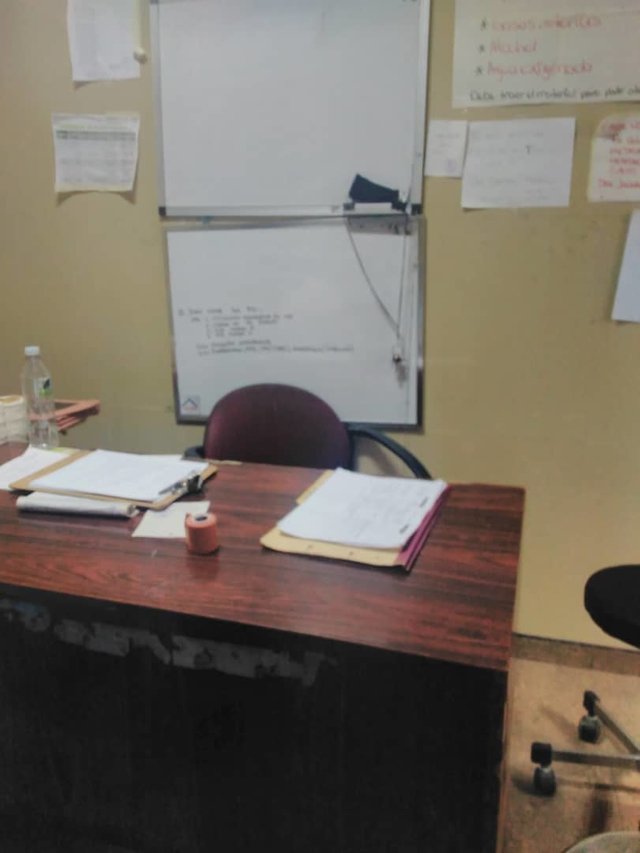 So... this is all people. Wherever you are in the world, I want you to take a moment to have gratitude for everything you have around you. 
There's a lot of people in other countries like Venezuela that are having really hard times.. take a moment to thank, to appreciate and to not worry for minimal things. You don't know how blessed you are.
An applause for all the venezuelan doctors who are still working in this country, despite the difficulties, because they deserve heaven... (and, I didn't mention that the doctor's salary is insignificant and most of the doctors have to have at least 3 jobs to survive.. and yes, it's tough).