How To Make Your Own Herbal Body Butter; Step By Step Guide
Body Butter is essentially a very rich and thick lotion. The big difference is that with lotion, you are adding water and emulsifying that with an oil. Adding water to the mix means it has a very short shelf life or needs a preservative added. I do not like using preservatives and therefore prefer this Body Butter recipe.
Now, making lotion without a preservative is possible, it just needs to be stored in the fridge and used within 3 weeks. This Body Butter, on the other hand can be stored at room temperature for at least six months.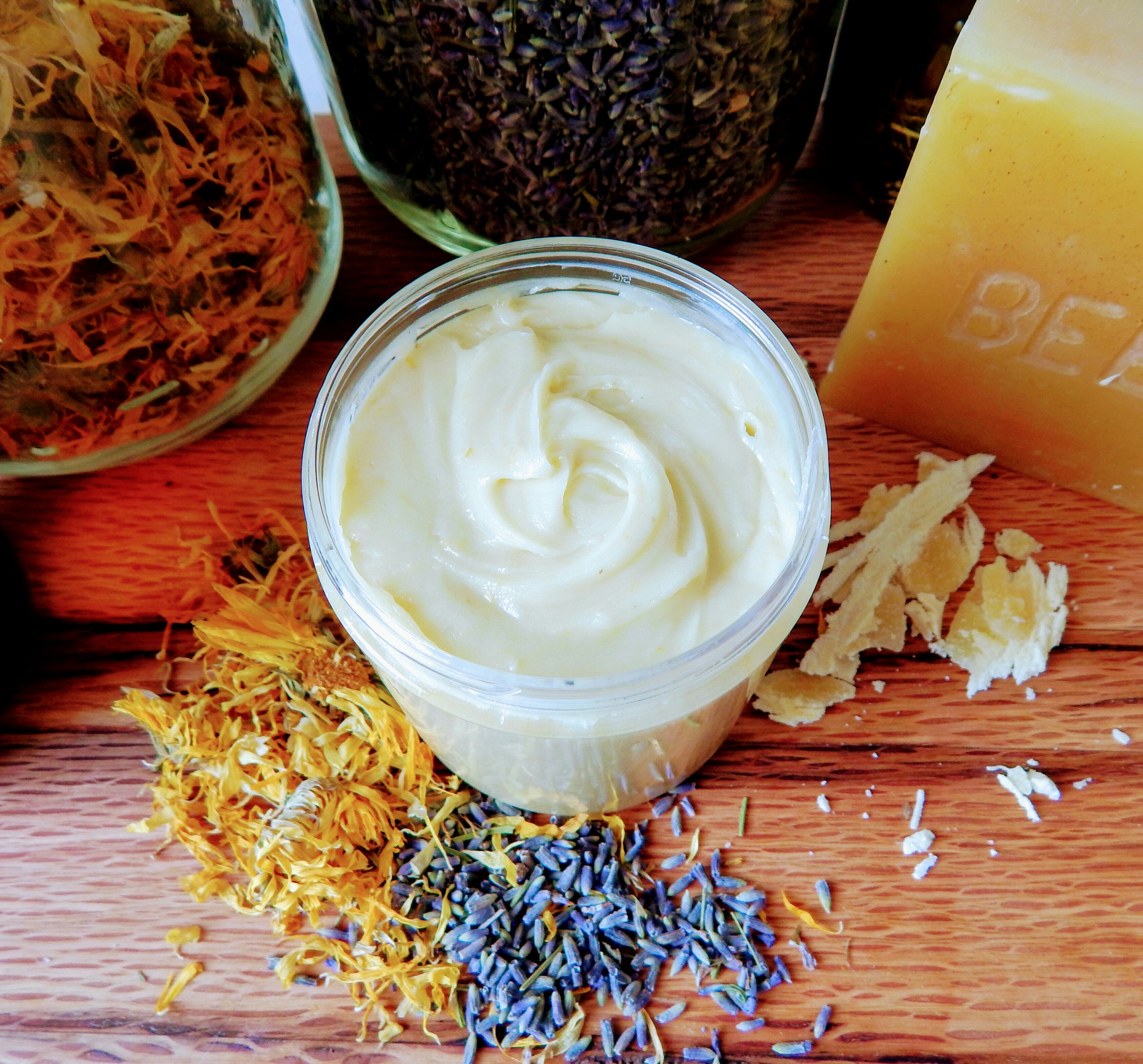 The best part about making your own products is that you essentially can use the same ingredients in different proportions to alter the end result. This is also economical, because you can then buy these ingredients in bulk saving quite a bit of money. Once you have become comfortable with the process, you can make anything.
Let's get started...
Herbal Body Butter Recipe
35g. Local Beeswax
212g. Raw Organic Shea Butter
106g. Organic Unrefined Cocnut Oil
45g. Herbal Infused Olive Oil
3tsp. Arrowroot Powder
1 Tbsp Calendula Flowers
Essential Oils of Choice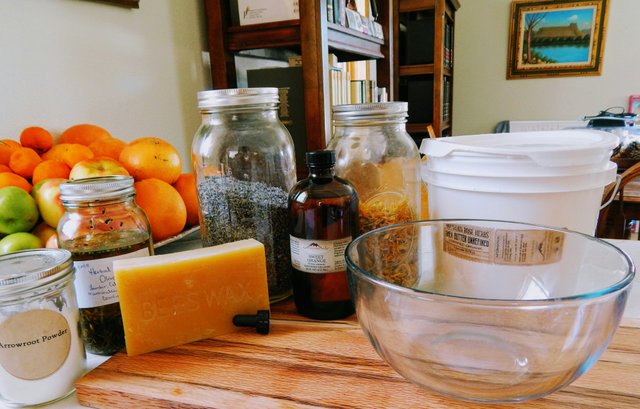 To make things a little easier for individuals just getting started, I decided to use the same Herbal Infused Oil as I did with my Herbal Diaper Ointment Recipe. These herbs can easily be changed to fit your personal preference.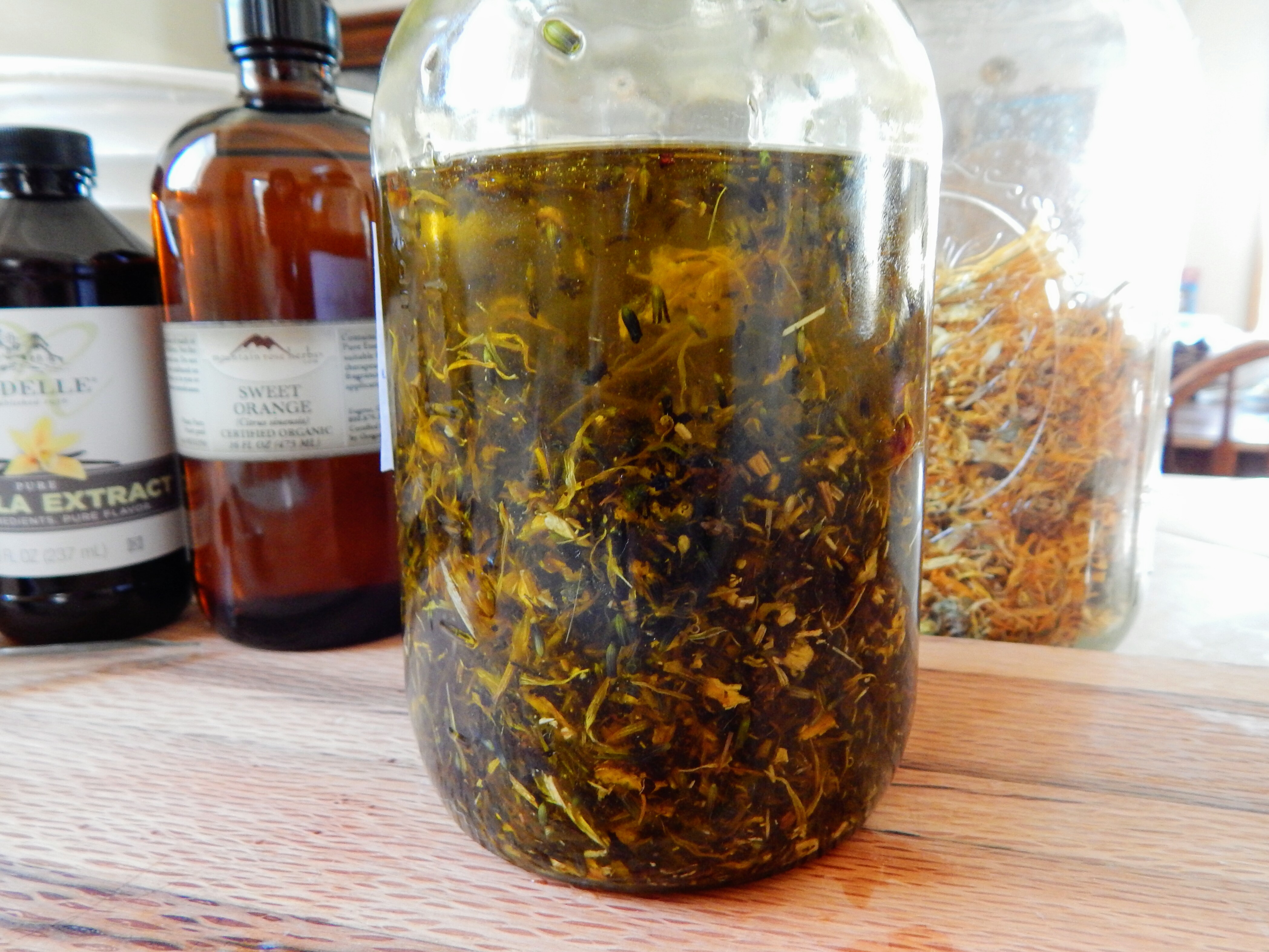 I spoke about the benefits of these herbs previously
Chamomile is known for it's calming properties, but it is also has powerful anti-fungal, antiseptic, antibacterial and anti-inflammatory properties that make it a perfect addition to this recipe.
Calendula has impressive anti-inflammatory and antibacterial properties that help speed up the healing process and protect the skin from future infections
Lavender is another herb that is packed full of anti-fungal properties along with being known to help purify the skin. It is also full of anti-inflammatory and antiseptic properties which help the skin to heal.
Lemon Balm is full of antioxidants that help to protect cells from free radicals. It also has strong anti-inflammatory and antibacterial properties and helps to stimulate circulation.
Marshmallow Root is an herb with antimicrobial and anti inflammatory properties but it is unique in the fact that it has low concentrations of ceramide precursors, which is a natural hydrator. This herb not only hydrates delicate skin but actually helps skin to retain moisture as well.
So our first step is to measure your Beeswax and place in a glass bowl...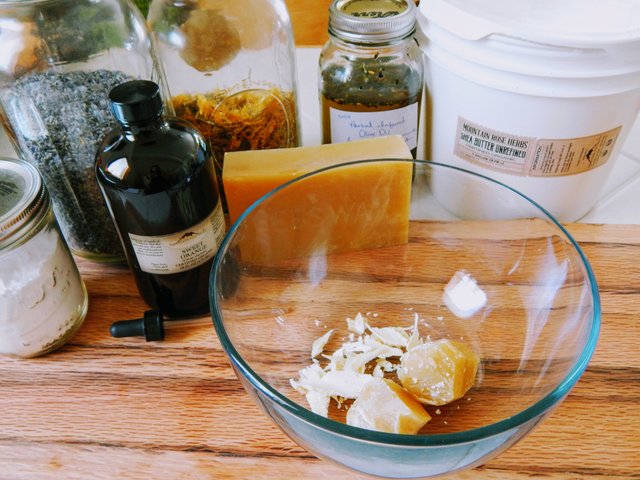 Then do the same with your Shea Butter and Coconut Oil...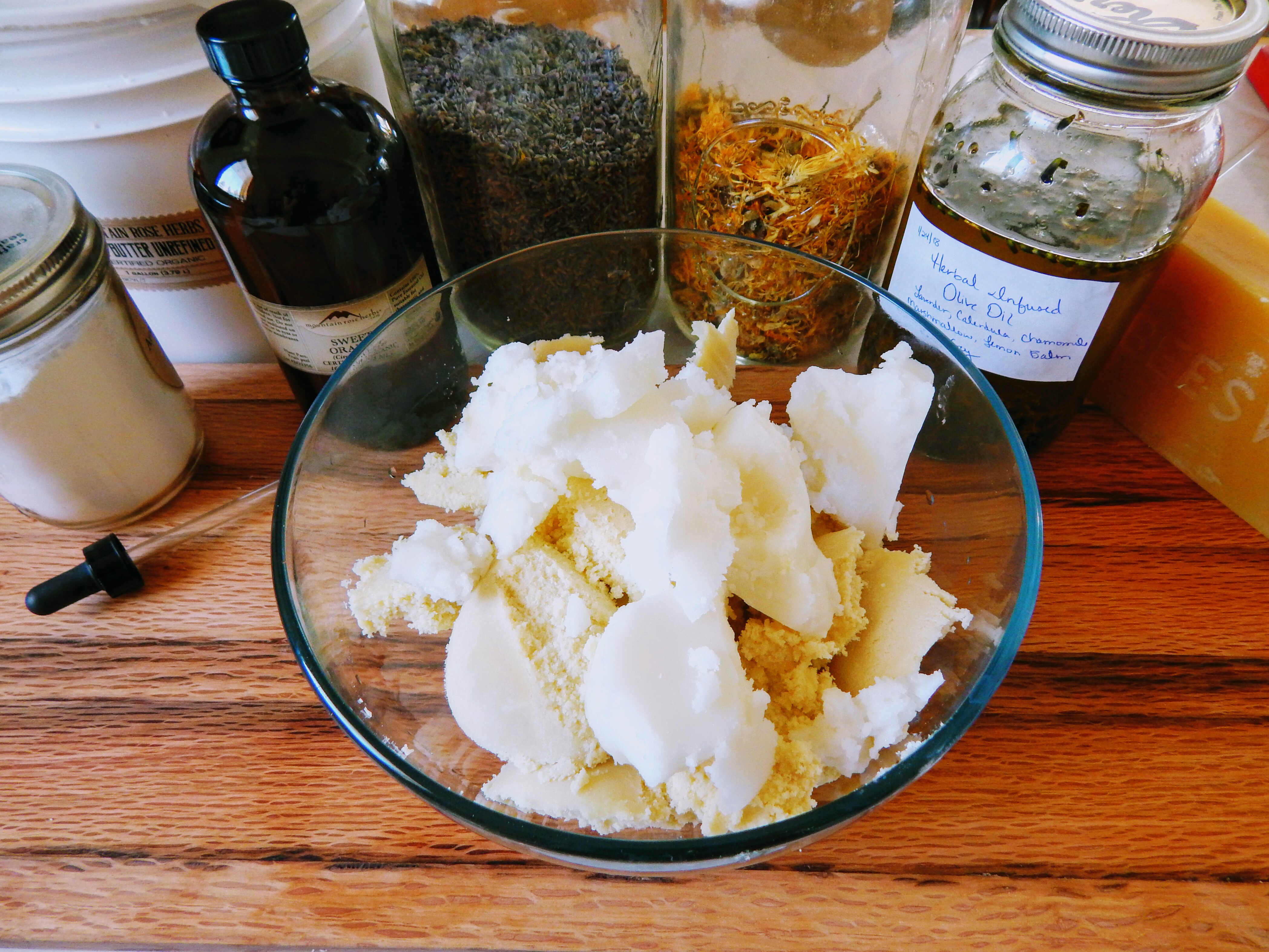 Shea Butter and Coconut Oil are extremely nourishing and something I try to keep on hand. They could be switched out for Mango Butter or Cocoa Butter as well.
Organic Raw Shea Butter is full of high concentrations of fatty acids and natural vitamins which makes it an extremely nourishing ingredient. When Shea Butter is left in its raw state it is also full of anti-inflammatory properties and high levels of vitamin A and E. It not only moisturizes the skin, but protects it as well.
Organic Unrefined Coconut Oil is an excellent moisturizer along with being full of anti-bacterial and anti inflammatory properties
Now just add the bowl to a pot of water on the store (making a double boiler) and put over low heat...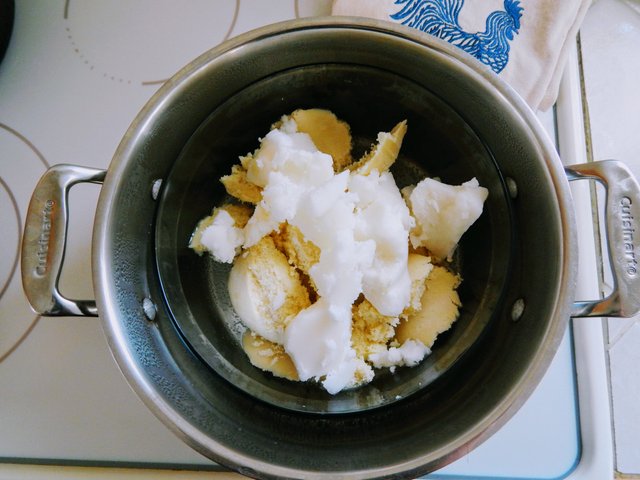 Stir to help speed the process along...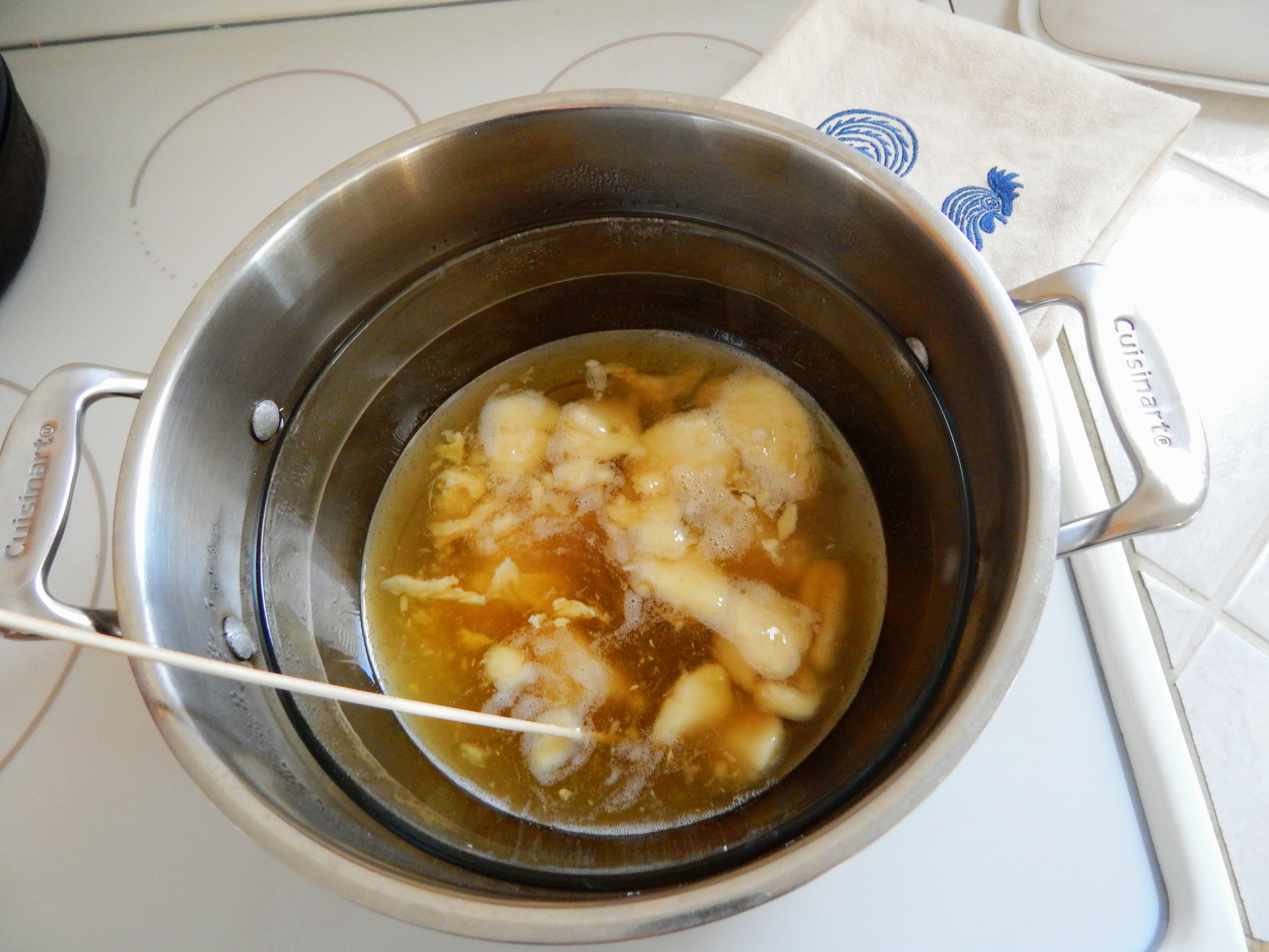 Once the mixture is fully melted and no lumps remain, remove from heat.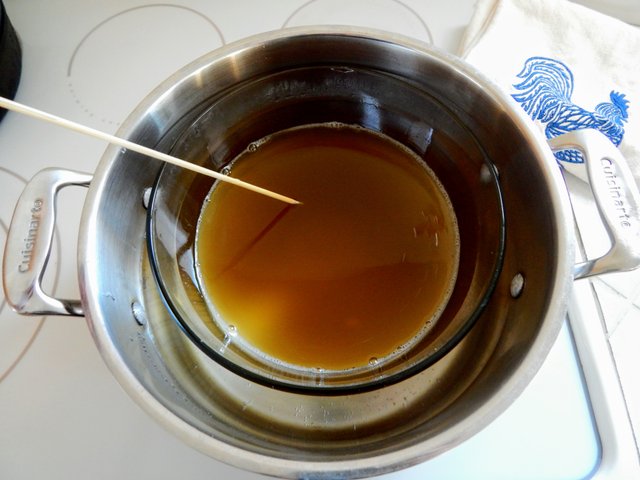 At this point we want to strain our Herbal Infused Oil and add to our melted Shea Butter Mixture.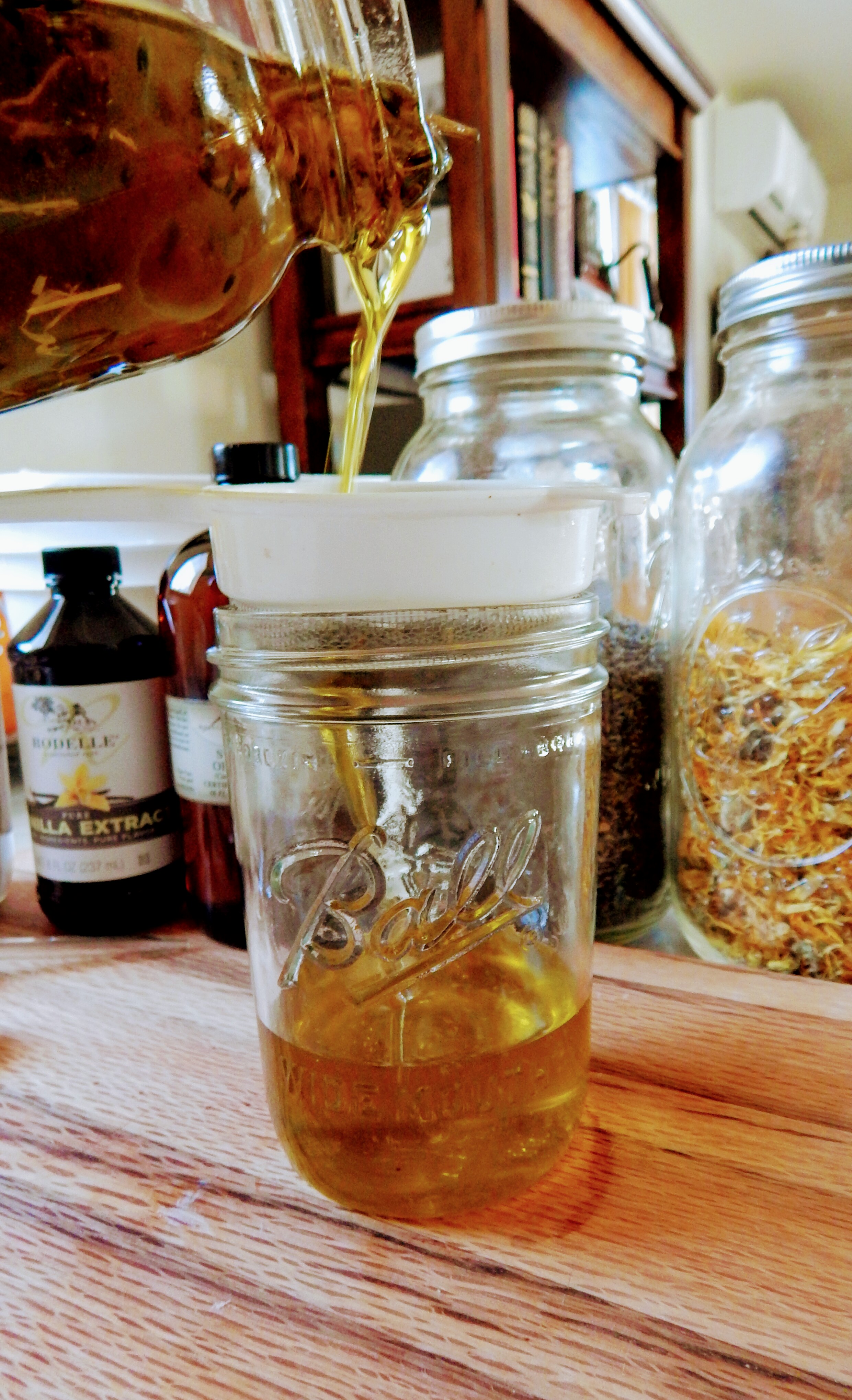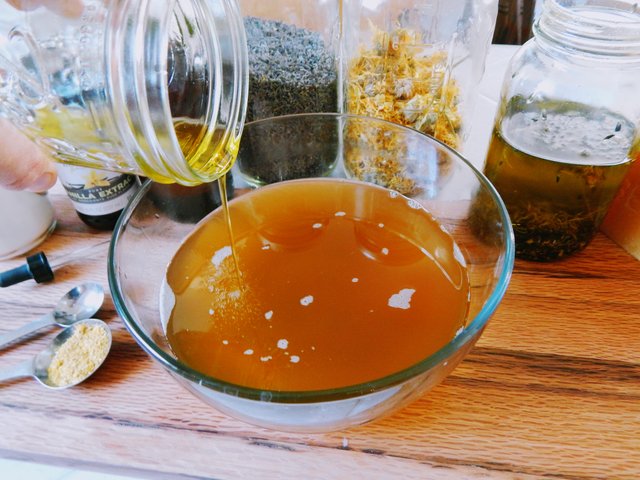 Now, because I really like to incorporate as many herbs as possible to my products.... I grind up some Calendula Flowers and add them to the mixture.
These actually add a very nice color to the end product as well.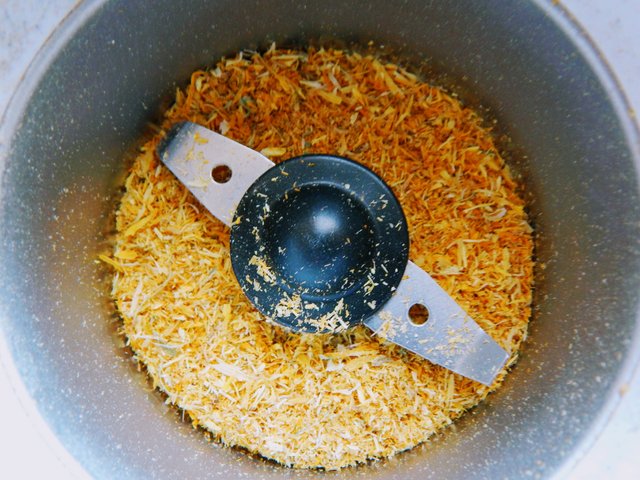 I add about 1 TBSP of the ground flowers into the mixture.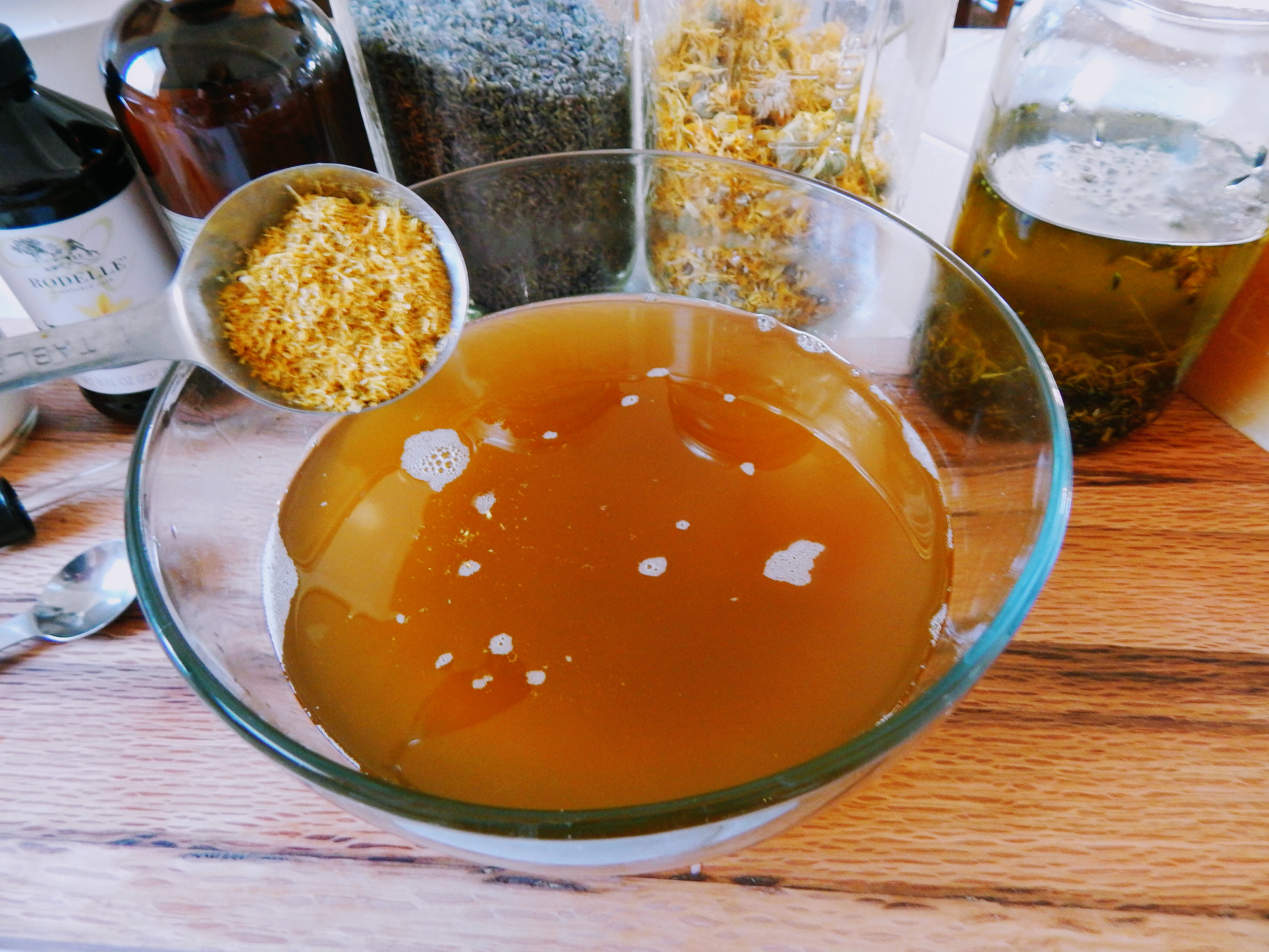 Then I add the Arrowroot Powder. This helps the Body Butter to absorb into the skin, therefore not leaving a greasy residue.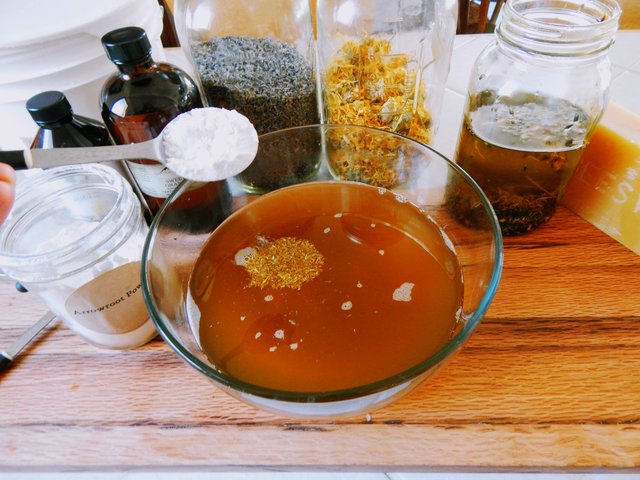 Stir to combine and let the mixture cool. After about 30 minutes it will start to become firm but not set completely.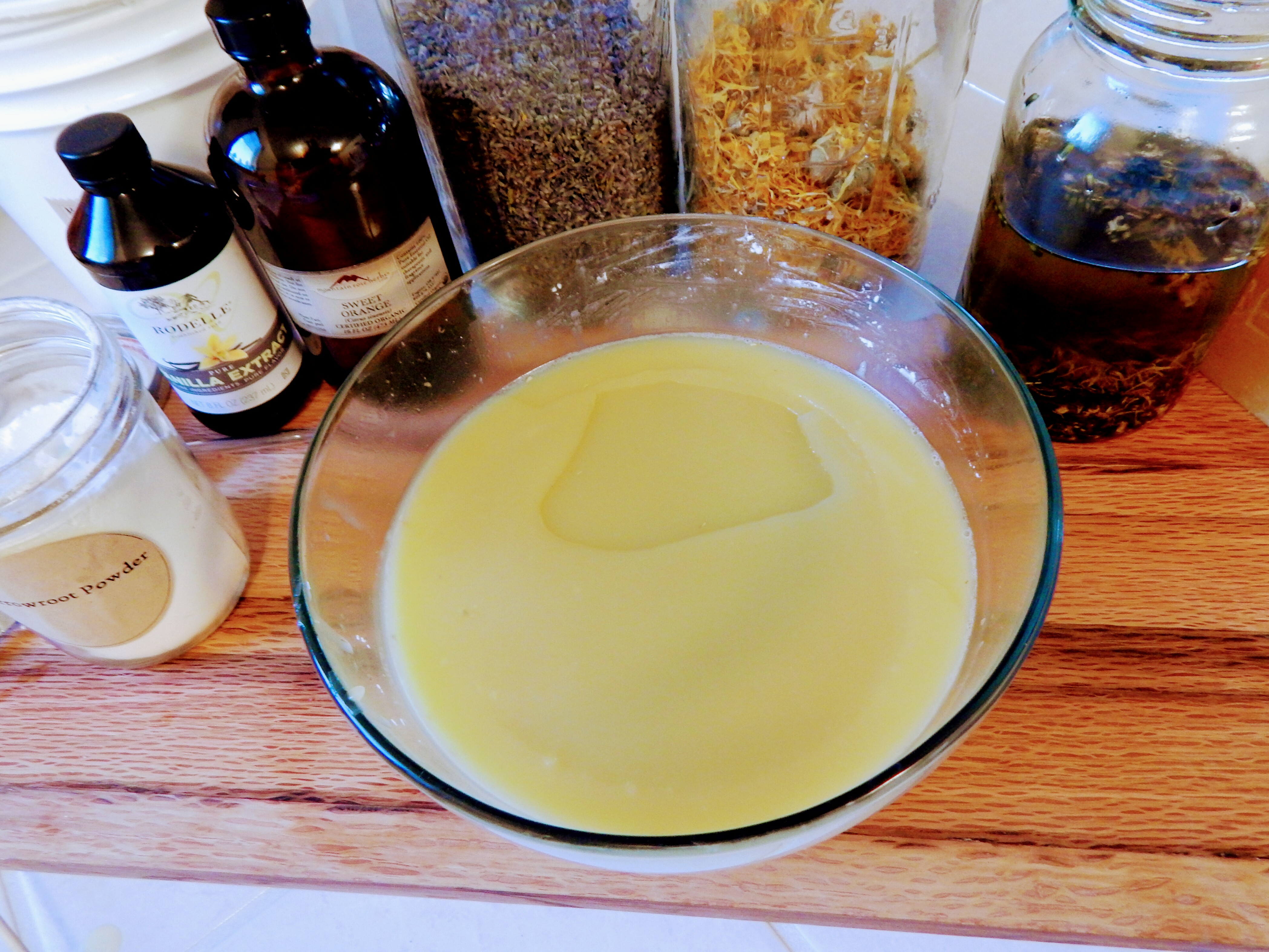 At this point, I like to mix it to combine all of the flowers that have now probably settled on the bottom. I also have seen that doing this helps with the texture of the Body Butter overall.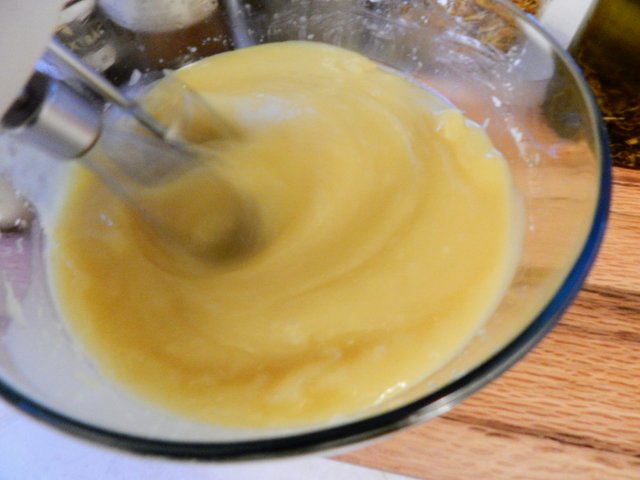 Then let it continue to firm up until it is mostly solid (about an hour)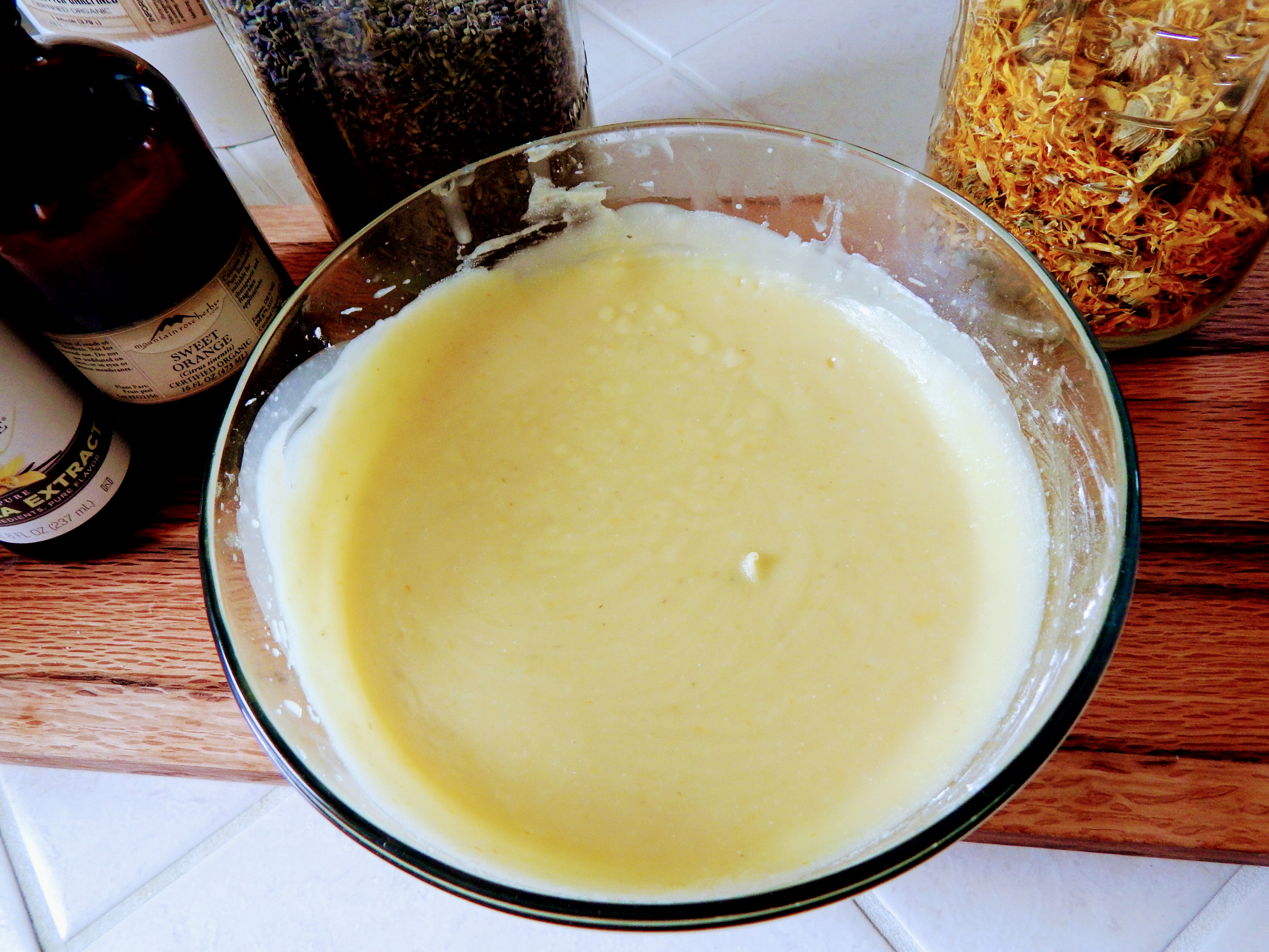 Now the fun part, adding your fragrance. This is completely optional...but because Raw Shea Butter has a very "nutty" smell, I really think adding an essential oil takes this Body Butter to another level.
I personally like to combine Sweet Orange Organic Essential Oil with a Pure Vanilla Extract. Make sure you are using Essential Oils that are safe for topical use and try to avoid "hot" oils like Cinnamon and Oregano.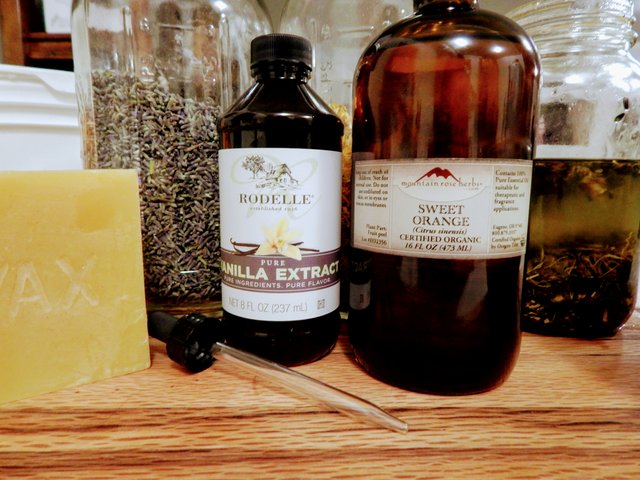 I add about 30 drops of Sweet Orange Essential Oil...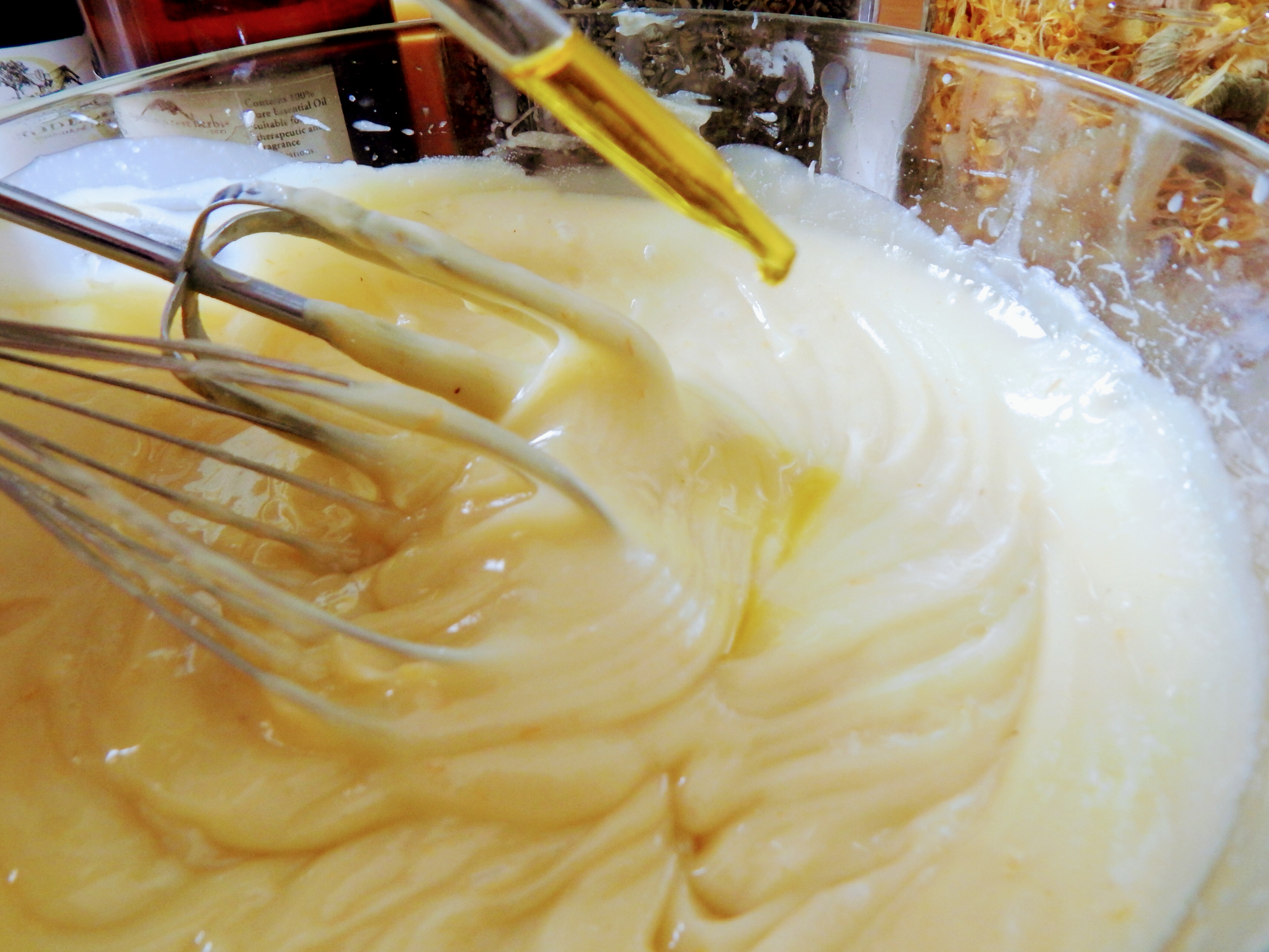 and a 1/2 tsp of Vanilla Extract. Adjust the scent until you get something you are satisfied with.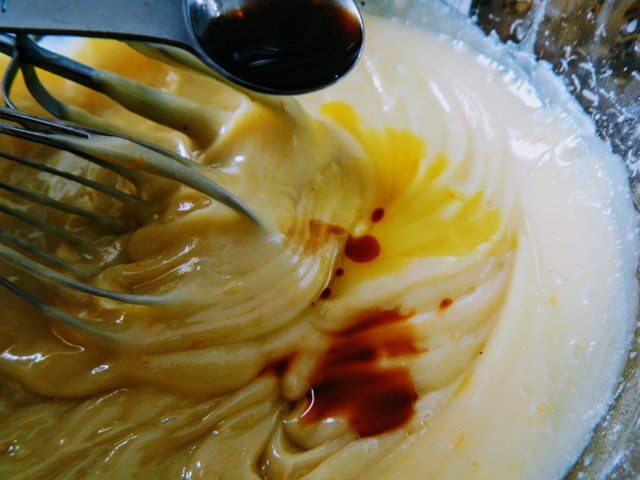 Then mix it all together until smooth and velvety.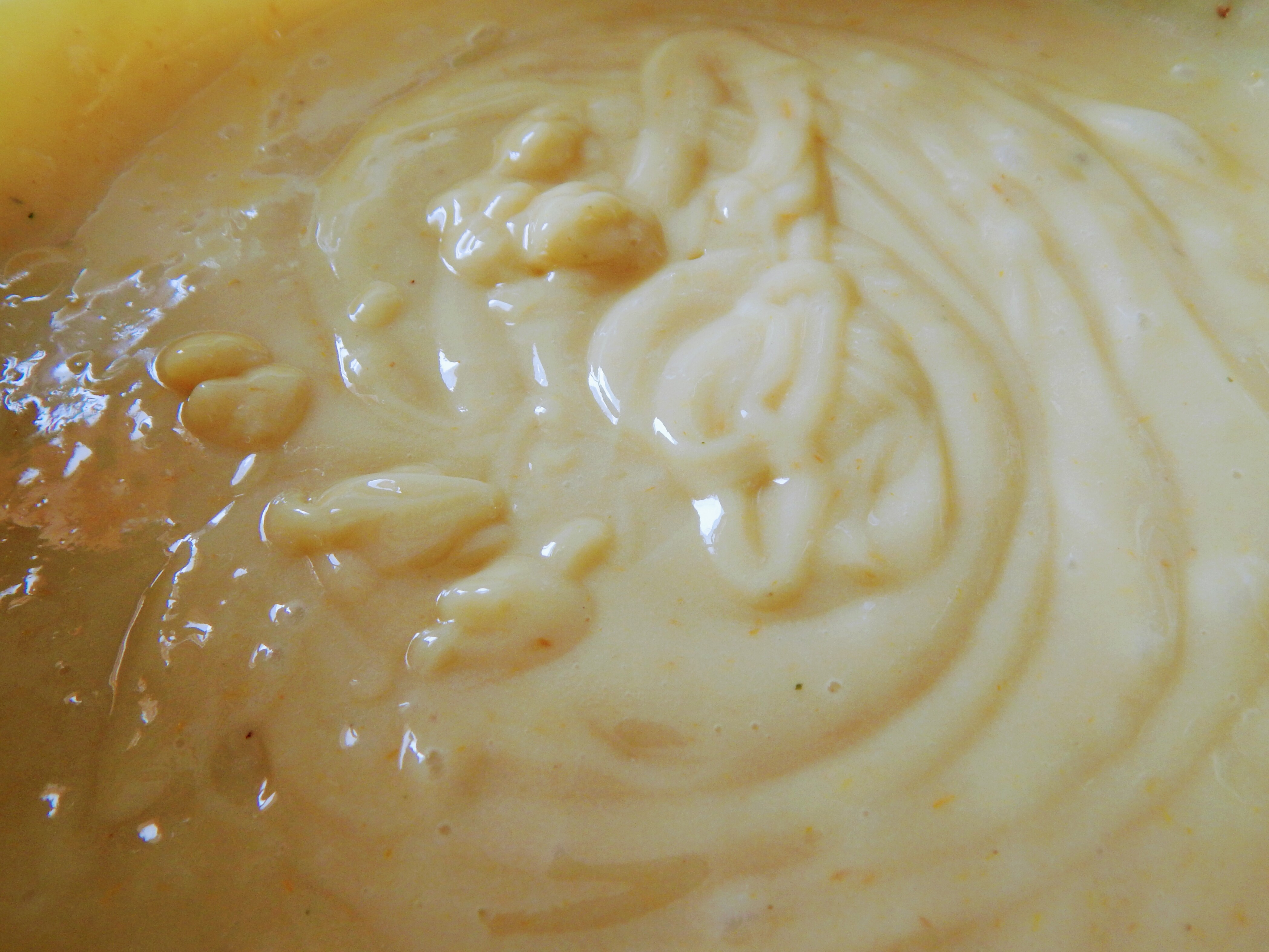 Then just spoon your new Body Butter into a container of choice and enjoy!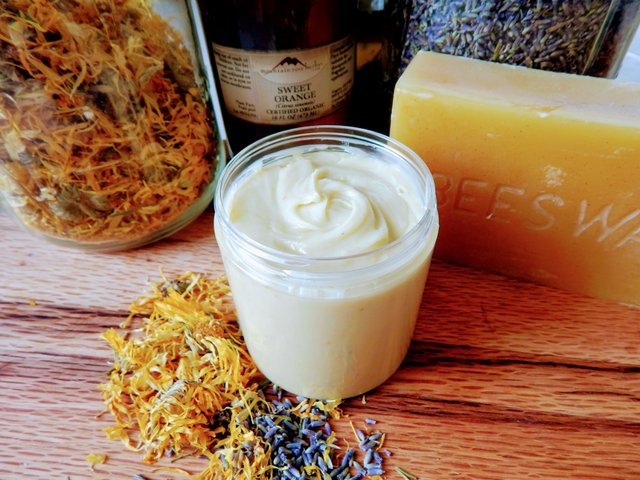 I hope you found this post helpful!
Happy Homesteading!